SOURCE: IDRW NEWS NETWORK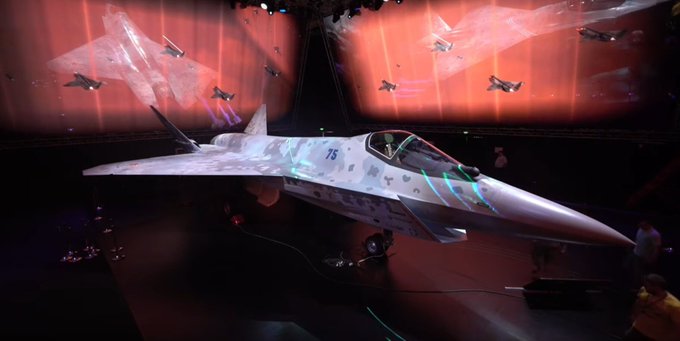 In 2018, India walked out of the proposed development of the Fifth Generation Fighter Aircraft (FGFA) based on the Russian Su-57 after having major disagreements over the Transfer of the technology and lack of access to the program to evaluate the jet independently without Russian interference. India walking out of the program might not have affected the development of the jet directly but shook the confidence of many countries that were interested in the program who later became reluctant and were not coming forward due to low production rate and also since not many wanted to be the launch customer of a jet that is yet to enter mass production.
Russia officially unveiled Checkmate at the MAKS-2021 air show in Moscow, with unusually pointy nose air intake below the cockpit in addition to "internal weapons bay" that has been touted as an export-oriented low-cost fifth-generation fighter jet that can rival American F-35 that nearly half the unit cost. Vietnam and India have been identified as a potential export customers for the Checkmate that plans to complete its first flight by 2023.
Russian officials are keen to brief Indian officials on the upcoming development of the Su-75 as part of a new marketing strategy and give complete access to India on the plane's technical capabilities. idrw.org has been told that Russia plans to rely heavily on external customers to help launch and finance the production of Su-75 for which India might be offered access to the new jet just after the first flight in 2023 and Indian crew and Test Pilots will be allowed unrestricted access to the prototype demonstrator jet just like old times when Indian Pilots were always among the first non-Russian pilots to fly brand new jets even before it entered production.
Russians are relying on a unit price point of $25-30 million to attract India and other export customers as Russian Aerospace Forces (VKS) is not keen on acquiring a single-engine Su-75 after reluctantly placing orders for 72 Su-57 jets that are yet to enter into service. Russia plans to offer customization of the Su-75 along with a local production license as part of the deal along with the AL-41F1 engine that also is on offer to India to be equipped on the upgrade Sukhoi-30MKI fleet.
Russia will continue to offer Sukhoi-35 and Mig-35 to India under the MRFA project where India plans to procure 114 jets and Su-75 offer to India will be over MRFA project where chances of India going for Dassault Rafale remains high due to previous orders of 36 jets from France. IAF Top brass has backed the development of the AMCA program that will be IAF's first and lone 5th generation fighter jet to join the service from 2030 onwards and is not considering a second 5th gen jet after walking out of the FGFA program with Russia.
idrw.org has been told by a senior retired IAF official that trust has been broken after the FGFA fiasco that forced India to walk out of the program due to the rigid behavior of the Russian officials even when the success of the program depended on its export orders that were supposed to come from India. FGFA Program was planned to be a successor to the Sukhoi-30MKI program in India and a separate deal from the MMRCA contract but now IAF is backing Tejas MkII and AMCA to fill the gap that FGFA was supposed to fill in and it will be difficult for IAF to come aboard Checkmate project now.
NOTE : Article cannot be reproduced without written permission of idrw.org in any form even for YouTube Videos to avoid Copyright strikes