SOURCE: JOYDEEP GHOSH / FOR MY TAKE / IDRW.ORG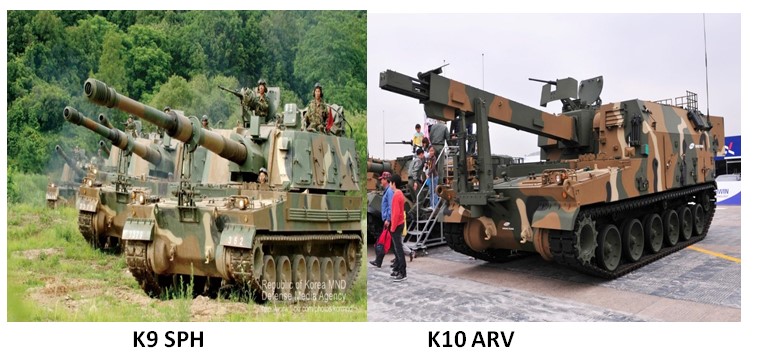 The Indian Army currently operates five no's of K9 Vajra T155mm/52 caliber Self-Propelled Howitzer(SPH) regiments. Each regiment is equipped with 18 guns and two reserve units totaling 100 guns. These guns were acquired by the Army under the initial contract signed with joint venture of South Korean defense company Hanwha Defense and L&T in May 2017.The contract to deliver 100 K-9 Vajra T SPH worth Rs 4,500 crore was signed for delivery to the army by 2022.
L&T which built these SPH at the Hazira, Gujarat plant delivered them before time with Indian Army receiving the 100th cannon in February 2021.The guns were acquired ostensibly for use in Punjab's plains and Rajasthan's semi-desert terrain along the Pakistan India international border. Impressed by the performance talks were on to procure 40 more of such SPH for Indian Army. what happened to that contract no one knows for sure.
In the meantime, skirmish with China started along the LAC in eastern Ladakh and Indian Army decided to field these SPH in Ladakh. Following the successful trials of three K9 Vajra, which were sent to Ladakh, Indian Army decided to procure at least two more regiments of these SPH that are to be deployed in the high-altitude areas. This after engineers from L&T upgraded the SPH to optimize them for operations in Eastern Ladakh. The optimization included changes in range tables and software that guided these guns to operate in the mountainous terrain, as well as special kits to function smoothly in cold temperatures.

As Indian Army decided to field these SPH all along the Line of Actual Control (LAC) with China, especially in entire Eastern Ladakh sector and Sikkim; instead of 2 regiments of 40 SPH, a new deal for 200 new K-9 Vajra SPHor 10 new regiments worth over Rs 10,000 crore is being floated. The new deal could well be signed at Defexpo 2022, to be held at Gandhinagar, Gujarat, from March 10 to 13, 2022.

All this is fine but where is theK10 ARV Automatic Resupply Vehicle (ARV)??K10 based on K9 platform, is the resupply vehicle that follows the K9 SPH. K10 sharing most of the components and characteristics with K9, and has a high level of protection which is the same as that of K9. The resupply vehicle with a combat weight of 47 tonscan support a team of K9 by carrying and resupplying 104 shells of 155 mm/52 calibre artillery ammunition and 504 units of charges under heavy fire. The K10 vehicle is operated by 3 crews, that requires only one loader by applying fully automated control system.it transfers ammunition at a maximum speed of 12 rounds/min. K10 takes 37 minutes to fully load, and 28 minutes to empty.

For K9 to effectively operate the K10 ARV is a must have. The world's first automated robotic ammunition carrier,K10 ARV was conceptualized in Nov 1998 by Samsung Aerospace Industries and Pusan National University. Work on it began on Feb 2002 by Samsung Techwin, the ADD, and the DTaQ and the South Korea army declared it completion Oct 2005. The first vehicle rolled out in Nov 2006 with South Korea becoming the first nation to operate. Since then, most countries who have bought the K9 SPH have also purchased the K10 ARV. On a average for every 2 K9 SPH 1 K10 ARV is needed. It is surprising that Indian Army is yet to order any K10 ARV. Let us hope K10s are also ordered quickly.
Disclaimer : Articles published under " MY TAKE " are articles written by Guest Writers and Opinions expressed within this article are the personal opinions of the author. IDRW.ORG is not responsible for the accuracy, completeness, suitability, or validity of any information on this article. All information is provided on an as-is basis. The information, facts or opinions appearing in the article do not reflect the views of IDRW.ORG and IDRW.ORG does not assume any responsibility or liability for the same. article is for information purposes only and not intended to constitute professional advice .
Article by JOYDEEP GHOSH , cannot be republished Partially or Full without consent from Writer or idrw.org