SOURCE: JOYDEEP GHOSH/ FOR MY TAKE / IDRW.ORG
Zorawar Singh Kahluria was a general of the Dogra dynasty of Jammu, who were a vassal of the Sikh Empire. A subordinate to Dogra ruler Gulab Singh, his legacy of conquests in Himalaya Mountains include Ladakh, Tibet, Baltistan and Skardu. It is because of his exploits he is sometimes referred to as the "Napoleon of India".
Early Life and Career
He was born in September 1784 in a Hindu Kahluria Rajput family in Kahlur (Bilaspur) state, of Himachal Pradesh.His family migrated to the Jammu region where, on coming of age, Zorawar Singh first took up service under Raja Jaswant Singh of Marmathi (modern Doda district), and then Raja Gulab Singh of Jammu. He was placed under the commandant of Reasi fort (Bhimgarh fort),he found about financial waste occurring in the fort administration, and boldly presented to King Gulab Singh his scheme to effect savings. Gulab Singh was impressed by Zorawar's sincerity and appointed him commandant of Reasi, and later governor of Kishtwar and given title of
Ladakh Campaigns
In 1834 the Raja of Timbus, sought Zorawar's help against the Gyalpo of Ladakh. At that time Kishtwar had gone through a drought that caused a loss of revenue and forced Zorawar to extract money through war.Zorawar had no trouble in crossing mountain ranges and entering Ladakh through source of Suru River with 5000 men and defeated an army of local leaders.Then he moved to Kargil to subdue the landlords.Though he got Ladakhis o submitbut Tsepal Namgyal, the Gyalpo, sent his general Banko Kahlon to cut off Zorawar's communications. The general doubled back to Kartse, where he sheltered through the winter. In 1835 he defeated the large Ladakhi army of Banko Kahlon and marched his victorious troops towards Leh. The Gyalpo agreed to pay 50,000 rupees as war-indemnity and 20,000 rupees as an annual tribute.
Alarmed the governor of Kashmir, Mehan Singh, incited the Ladakhi but Zorawar quickly marched back and subdued the rebels, forcing Raja of Zanskar valley to also pay a separate tribute to Jammu. In 1836 Mehan Singh, instigated the Gyalpo to revolt but Zorawar force-marched his army in ten days to surprise the Ladakhis and forced them to submit again. He Built a fort outside Leh with a garrison of 300 men under Dalel Singh, the Gyalpo was deposed and a Ladakhi general, Ngorub Stanzin, was made King. But the latter did not prove to be loyal hence the Gyalpo was restored to his throne in 1838.
Baltistan Campaign
Muhammad Shah, the son of Raja Ahmad Shah, the ruler of Skardu, Baltistan. fled to Leh and sought help of Ladakh Gyalpo and Zorawar against his father. Butsome Ladakhi nobles helped Ahmad Shah imprison his son and sought help against Dogras. Zorawar invaded Baltistan in 1839/40, with a large contingent of Ladakhis in his army. when the advance party under Nidhan Singh lost its way in the cold and was surrounded by the enemy; Zorawar got Mehta Basti Ram, to help them. They defeated a contingent from Skardu and chased to the fort of Skardu.After Some fighting,he captured the fort and then began firing at the main fort and forcing Raja to surrender. Zorawar Singh built a fort on the banks of Indus with a contingent of Dogra soldiers. He then placed Muhammad Shah on the throne for an annual tribute of 7000 rupees, and later sent a Dogra contingent under Wazir Lakhpat to conquer the fort of Astor.The raja who was taken prisoner was tributary to Mehan Singh, governor of Kashmir, who complained to Lahore after which Raja Gulab Singh ordered the Darad Raja to be released.
Tibet Campaign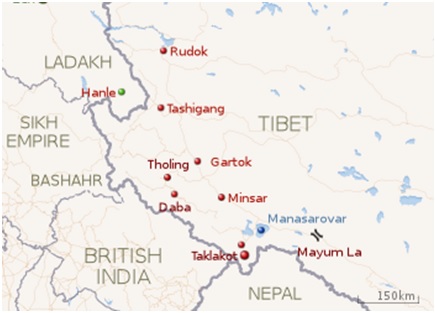 Zorawar Singh then turned his energies towards Tibet and in May, 1841, with 6000 he marched into Ladakh,then invaded Tibet having trained his soldiers and horses on the frozen Panggong Lake before invading Tibet Kailash-Mansarovar area. While one column under Ladakhi prince, Nono Sungnam, followed course of Indus River Towards Tashigang (Zhaxigang),another column of 300 men under Ghulam Khan, marched along the mountains leading up to Kailash Range Zorawar Singh leading 3,000 men along the Pangong Lake swept all resistance passing Lake Manasarovar to towards Rudok capturing it and later converged at Gartok, where they defeated the small Tibetan force.He then stormed Taklakot fort on 6 September 1841
Zorawar Singh then invoked the historical claims of Ladakh to western Tibet up to the Mayum Pass (originally called Maryul of Ngari), which were exercised prior to 1648 Treaty of Tingmosgang. All the captured forts including Suru Fort Were garrisoned, while the main force was encamped at Tirthapuri,west of Lake Manasarovar. Administration was set up to rule occupied territories, and Minsar (now called Menshixiang), a Ladakhi enclave by the 1648 Treaty,] was used to store supplies.
He then went on pilgrimage to Mansarovar and Mount Kailash. He extended his communication and supply line in the inhospitable terrain by building small forts and pickets along the way. The huge fort of Chi-T'ang was built near Taklakot, where Mehta Basti Ram was put in command of 500 men, with cannon.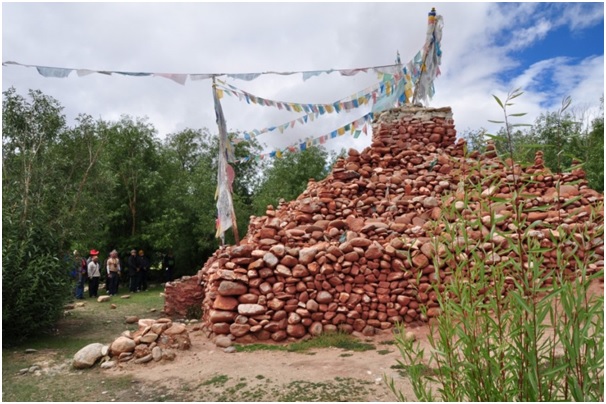 Samadhi
Debacle & Death
After complaints by British, Lahore Durbar ordered Zorawar Singh to return to Ladakh. He withdrew officers and troops from "advance posts" and from British border, and promised to carry out the rest of the withdrawal after winter. However,winter meant supplies for the Dogra army failed.Many soldiers lost their fingers and toes to frostbite., some starved to death, while some burnt the wooden stock of their muskets to warm themselves. The Tibetans and Chinese regrouped to give battle andabout 10,000 troops bypassed Mayum Pass at Matsang retaking Taklakot on 9 November 1941. Reconnaissance missions sent by Zorawar Singh were wiped out forcing him to risk to recapture Taklakot.To cut supply lines of Tibetan forces at Taklakot, his forces marched on a side route from Minsar, along the upper course of Ghaghara River, and encamped at Kardung (Kardam). Tibetans intercepted them at To-yo slightly to the north of Taklakot, on 12 December 1841 where the great General Zorawar Singh was wounded and killed early in battle. He was cremated at Taklakot, near Mansarovar lake.
Summary
General Zorawar Singh under Raja Gulab Singh had extended the frontiers of India and Dogra Empire across the Himalayas to include Ladakh and parts of China and Tibet, upto 550 miles deep from Ladakh. Based on his exploits the Chinese think that the only worthwhile offensive by the Indian Army can be staged only from eastern Ladakh/eastern Himachal Pradesh and northeast Uttarakhand, which is why they are so hell bent on stopping India from developing infrastructure in Ladakh and Aksai Chin.
(this is first in series of China Tibet Aksai Chin Ladakh related article)
Disclaimer : Articles published under " MY TAKE " are articles written by Guest Writers and Opinions expressed within this article are the personal opinions of the author. IDRW.ORG is not responsible for the accuracy, completeness, suitability, or validity of any information on this article. All information is provided on an as-is basis. The information, facts or opinions appearing in the article do not reflect the views of IDRW.ORG and IDRW.ORG does not assume any responsibility or liability for the same. article is for information purposes only and not intended to constitute professional advice .
Article by JOYDEEP GHOSH/,  cannot be republished Partially or Full without consent from Writer or idrw.org