SOURCE: Satyajeet Kumar/ FOR MY TAKE / IDRW.ORG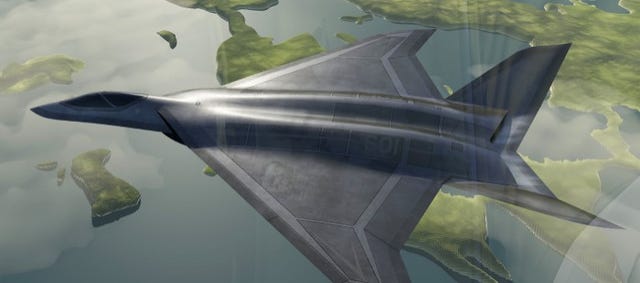 Lockheed Martin concept of a sixth generation fighter.
Russia, UK-Italy, Germany-France, United States and even China have publically announced their intention to pursue development of new stealth fighter jets which are so advanced that they all will be categorized as 6th Generation fighter aircraft in a way completely redefining combat air sector for next two to three decades to come.
Taking best from the 5th generation aircraft technology, the concept of 6th Generation fighter revolves around additional capabilities which are certainly missing in a 5th generation aircrafts. features of 6th Generation concept are yet to be defined but aircraft will incorporate stealth directly into the designs of aircraft, will carry weapons internally and have a reduced radar signature.
6th Generation concepts showcased by Lockheed Martin, Boeing, Airbus, and BAE are much sleeker in design and application of the stealth is much more radical than ever before and it does show up physically as well and it also sets them apart from the all the 5th generation aircraft which have been already been developed till now. 6th Generation design concepts have borrowed best from flying wing concept and yet it has managed to look distinctly different with the addition of elements of design studies which never made it into 5th generation programs.
BAE's concept of a sixth generation fighter.
What will set them apart from 5th generation aircraft are the impressive addition of sensors and electronics which make them further smarter and situationally more aware than its predecessors and will come with next-generation direct energy weapons and a high degree of Artificial intelligence reducing a considerable workload on the pilot even allowing plane to be flown from a Virtual cockpit based on ground station and will have ability to control swarms of unmanned aerial vehicles.
Boeing's new sixth generation design.
All companies more or less are targeting post-2030 period for their concept to be turned into a reality and move or complete at least the first phase of Technology demonstration of their concept so the aircraft enter production at least by 2035-40 period so that it will be able to replace contemporary 4.5 Generation fighter aircrafts like Eurofighter, Dassault Rafale, Sukhoi-35, and in the United States they will replace world's first 5th generation F-22 fighter jets .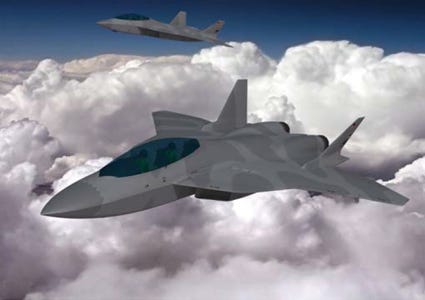 Airbus Defence and Space's FCAS concept 
For India which has started working on the development of 4.5 Generation Tejas MK1A and MCW (MK2) fighter jet just now will operationalize them in the same period when the world might have already moved on to 6th Generation fighter program and India's own 5th Generation AMCA fighter program which is yet to kick-start officially is scheduled to go into production around same time when many countries around the world could have started producing 6th generation aircrafts which make India look like grossly late to the Big Boys Club when the advanced countries have already moved on to the next generation .
Indian military planners should take notice of changes which are happening in the combat arena and how the world is already shifting focus and also making efforts to move on to the 6th Generation fighter program. AMCA not only have to fast-tracked even Ghaatak UCAV Program too should be moved in Fastlane so that when the world moves to the 6th Generation fighter, India must necessarily have at least working 5th generation fighter in hand so that it can have enough expertise to start working on the 6th Generation program simultaneously so that India is not left behind too far .
Replacement of Sukhoi-30 by 2050 and Failure of FGFA joint venture with Russia has provided Indian designers and aerospace ecosystem in the country to come up with an alternative which can take on and replace Heavy Class fighter like Su-30 and yet be India's frontline fighter in terms of technology. Indian military planners should start work on Advance Heavy Combat Aircraft (AHCA) concept which could be India's 6th Generation fighter program which should materialize by 2040.
Not investing in FGFA Program might have saved India tons of money but that doesn't mean India should sit back and relax. Investment meant for FGFA has to be re-channeled back into India's AMCA Program so that program remains on schedule and creates necessary infrastructure and aerospace ecosystem in the country just like LCA-Tejas program did to develop next-generation fighters. India will still need a fighter to replace Sukhoi-30s when they are due for retirement and with FGFA out of the picture they lyes a position which even Medium category aircraft like AMCA cannot step into shoes of Heavy Class and the birth of AHCA Concept post-2025 could be ideal for India.
Disclaimer : Articles published under " MY TAKE " are articles written by Guest Writers and Opinions expressed within this article are the personal opinions of the author. IDRW.ORG is not responsible for the accuracy, completeness, suitability, or validity of any information on this article. All information is provided on an as-is basis. The information, facts or opinions appearing in the article do not reflect the views of IDRW.ORG and IDRW.ORG does not assume any responsibility or liability for the same. article is for information purposes only and not intended to constitute professional advice .
Article by Satyajeet Kumar ,  cannot be republished Partially or Full without consent from Writer or idrw.org
Note: If you have personal opinion and want to contribute for" MY TAKE "on Defence matters kindly email us at idrw.org