SOURCE: RAJESH AHUJA / FOR MY TAKE / IDRW.ORG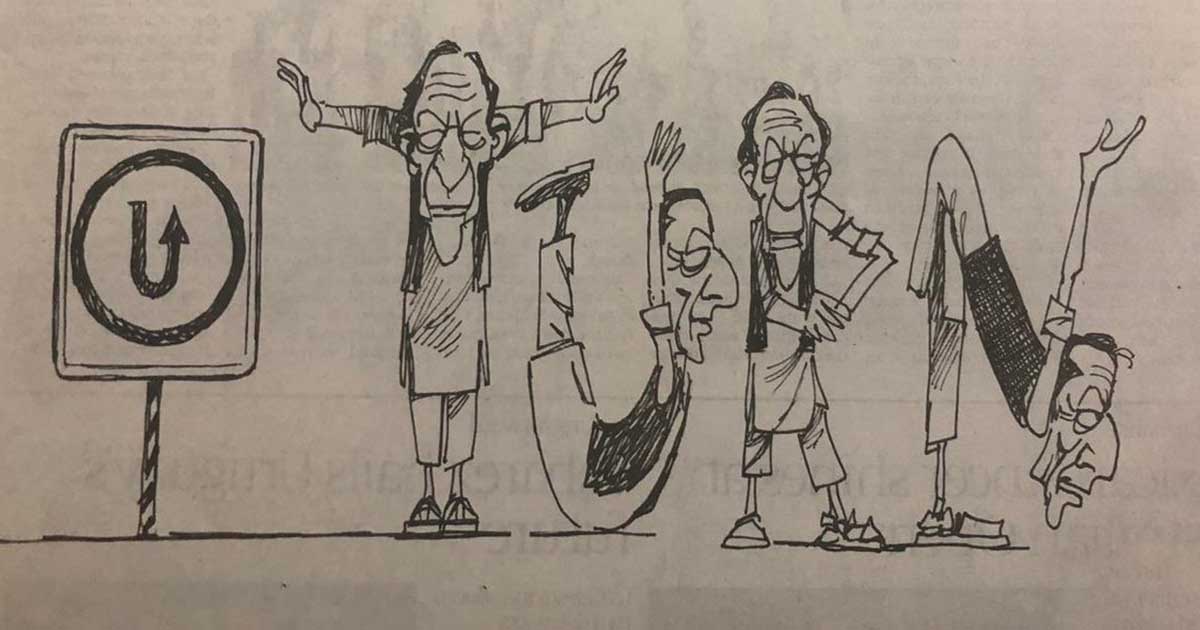 Within 24 hours of declaring plains of the selected government to open up trade deals between India and Pakistan for the supply of Cotton and Sugar, Prime minister U-Turn Khan of Pakistan had to revert his own decision after facing unexpected backlash from its lapdog private media that is partly funded by dubious deep state establishment to the online troll army of the Inter-Services Intelligence (ISI).
A repeated lie of the deep state establishment and the Pakistani government on being on one page on all matters related to the country was also somewhat exposed when the establishment appointed interior minister of Pakistan, Sheikh Rasheed Ahmed along with Shireen Mazari, Minister for Human Rights, and Fawad Ahmed Chaudhry for Fawad Ahmed Chaudhry forced U-Turn Khan to back down from opening trade relations with India.
Previous high claims that were made that no talks or trade will be held without India reversing its decision to remove Article 370 and Article 35A also came to hit back present selected government of Pakistan that were not sure why trade deals were opening up when India was yet to reverse its decision. U-Turn Khan had built an impression within Pakistan that India will be forced to reverse its decision not knowing that it's not going to happen even after Modi is not in power due to lesser chances of India having a full majority party in power and no opposition party in India could like to be seen surrendering to Pakistani demands.
Lesser chances are that India will heed to demands of giving constitutional guarantees that will maintain 99% of the Muslim population intact in the valley when India already has started giving out residency certificate for lakhs of people who have settled in the valley decades ago but were denied local residency certificates due to Article 370 and Article 35A. Indian government denying rights to its citizens for trade deals with Pakistani is comical of thinking that rampant in Pakistan due to widespread misconception, especially with the current establishment and its troll ministers.
U-Turn Khan tried to fix its image at the International stage by repeatedly offering peace deals with India, and after making a U-turn on the trade deal, U-Turn Khan has fallen into his trap that was well played by PM Modi who played along with Pakistan's peace talks counting on abilities of the Khan to take U-Turns on a dime on most of his own words and policies. PM Modi has no interest nor any will to improve relations with Pakistan but didn't want to be seen as a deal-breaker so it was brilliant of him to play along while counting on U-Turn Khan to flutter on his initiatives.
Biden administration and other middle eastern countries that were the force behind back-channel talks between both countries have seen how U-Turn Khan went back on its word and can't be trusted nor is reliable when it comes to foreign affairs that are usually controlled by the deep state establishment. Chinese foreign minister on his visit just couldn't stop himself from taking a dig at U-Turn Khan and this flip flops on the majority of the decision that has brought CPEC developments to a standstill. The ability to turn on a dime is what even the Chinese are worried about Pakistan now.
Disclaimer : Articles published under " MY TAKE " are articles written by Guest Writers and Opinions expressed within this article are the personal opinions of the author. IDRW.ORG is not responsible for the accuracy, completeness, suitability, or validity of any information on this article. All information is provided on an as-is basis. The information, facts or opinions appearing in the article do not reflect the views of IDRW.ORG and IDRW.ORG does not assume any responsibility or liability for the same. article is for information purposes only and not intended to constitute professional advice .
Article by RAJESH AHUJA/, cannot be republished Partially or Full without consent from Writer or idrw.org