SOURCE: THE WEEK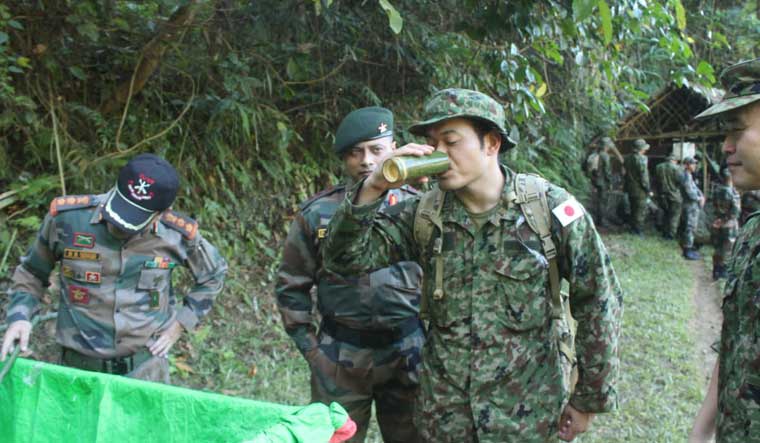 With an aim to strengthen counter-terrorism cooperation, the armies of India and Japan will hold war games at the jungle warfare school in Vairengte in Mizoram. The two-week-long exercise will be held from October 19 to November 2. This will be the second in the series of such military exercises between the nations.
The military exercise with Japan is happening a week after Prime Minister Narendra Modi and Chinese President Xi Jingping held an informal summit in Mamallapuram (also known as Mahabalipuram), where the two leaders discussed a variety of bilateral issues. Incidentally, India is part of the Quadrilateral group with the US, Japan and Australia. During its meeting in November last year in Manila, all members of the Quadrilateral had expressed their concerns over China's reclamation activities and belligerence in the South China Sea region that might impact the freedom of navigation.
According to the Indian Army, the joint military exercise, named Dharma Guardian-2019, between India and Japan will be conducted at the Counter Insurgency and Jungle Warfare School, Vairengte. "Indian Army and Japanese Ground Self Defense Force (JGSDF), comprising 25 soldiers each, will participate in the exercise with an aim to share experience gained during various counter-terrorism operations in respective countries," the Indian Army said in a statement.
The decision to have joint army exercises with Japan was taken at the 2017 India-Japan summit between Modi and his Japanese counterpart, Shinzo Abe, and the focus of the military exercise was on increasing interoperability between the forces of both countries.
Notably, in the series of military training exercises undertaken by India with various countries, Exercise Dharma Guardian with Japan is crucial and significant in terms of security challenges faced by both nations in the backdrop of global terrorism, the Indian Army said in its statement.
"The scope of this exercise covers platoon-level joint training on counter-terrorism operations in jungle and urban scenario," the Indian Army said. The Indian Army is yet to announce the regiment that is going to take part in the military drill. Last year, the Indian Army was represented by 6/1 Gorkha Rifles, while 32 Infantry Regiment was deployed by the Japanese Ground Self Defense Force.
"The joint military exercise will enhance the level of defence cooperation between Indian Army and Japanese Ground Self Defense Force, which, in turn, will further foster the bilateral relations between the two nations," the Army further said.
Observers believe that Exercise Dharma Guardian will not only help in deepening the military relations between the two countries but will also contribute to developing mutual understanding and respect for each other's armed forces and for the purpose of fighting the global menace of terrorism.