SOURCE: IDRW NEWS NETWORK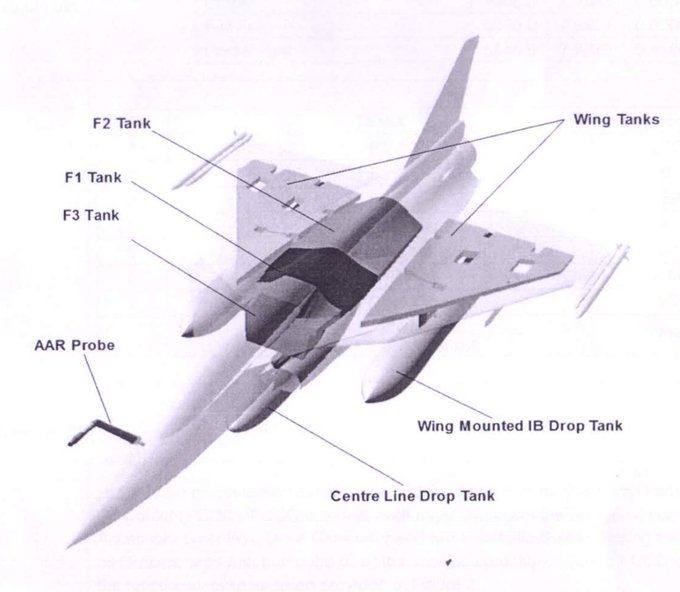 Indian Air Force (IAF) has ensured that the upcoming Tejas Mk2 will not only be superior to the upgraded French Mirage-2000V but also outperform it in many fields and as per tender documents for the construction of the fuel system test rig (FSTR) reveal Internal fuel carrying capabilities of the Mk2 jets stands at 3388 kg that is 228 kg more than the Mirage-2000V which Internal fuel carrying capabilities of 3160 kg.
When it comes to contemporaries in the segment, Gripen-E Internal fuel carrying capabilities stands at 3400 kg that is quite similar to Tejas Mk2. 3388 kg of Internal fuel will translate into a 2500km+ Ferry Range and a combat radius of 1500km+ thanks to fuel-efficient American GE-F414 engines that both fighter jets will be using as a power source.

Tejas Mk2 will have a total internal + Drop tank fuel carrying capacity of 7148kg that will give it an impressive Ferry and combat range for the 17.5tonne aircraft that will be similar to Gripen-E even though Mk2 will have a Ground up take-off weight of 1 tons more then Gripen-E and has per Tejas Mk2 tender documents can manage up to 18.2 tons Ground-up take-off weight in rare emergencies.
Commencement of the First metal cutting process for construction of the Tejas Mk2 will begin by mid of 2021 and as per HAL, the first aircraft will be ready to roll out in the next 18 months that could be by end of 2022 for first flight trials in early 2023. The final Design freeze will happen by early 2021 and the final design configuration likely will be seen at the Aero India 2021 to be held in Bengaluru.
IAF has kept the upgraded French Mirage-2000V as a Benchmark for the designers and engineers of the Tejas Mk2 to supersede and put perform in each field. Tejas Mk2 will be replacing 50 Mirage-2000V and 80 Mig-29UPG in active service from the IAF fleet by 2040, while total aircraft entering production might cross 200 units to compensate for retired Mig-27 and Jaguar jet fleet too.
NOTE : Article cannot be reproduced without written permission of idrw.org in any form even for YouTube Videos to avoid Copyright strikes