SOURCE: MANJUNATH REDDY/ FOR MY TAKE / IDRW.ORG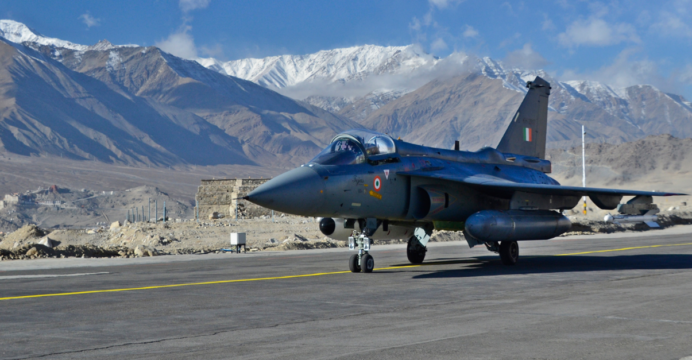 Recently there was an uproar in social media and in mainstream media, after it was found that HAL has asked for 463 Crore per unit of Tejas MK-1A which is exactly 100 Crore more then what HAL was charging IAF for per unit cost of Tejas MK-1 which till now is 363 Crore per unit, but real uproar was when people realised that HAL made Sukhoi-30MKI costs just 415 Crore per unit and MK-1A actually costs more than a Sukhoi-30MKI.
Many simply couldn't understand how a Small Punny fighter aircraft like LCA-Tejas could cost more than a Mammoth of an aircraft like Sukhoi-30MKI. Yes MK-1A do come with additional capabilities and will feature In-flight refueling capabilities, Integrated Electronic Warfare (EW) Pod, AESA Radar, Re-configured to reduce dead space and make it more maintenance friendly which all and all should not cost more than few extra crores right ?.
Yes and No, If we compare only direct purchase price of this additional subsystems then Yes it shouldn't cost more but the greatest problem of developing a fighter with high import subsystems is that while subsystems can be brought off the shelf from first rank suppliers many wrongly are assuming that integration costs of this subsystem will be borne by suppliers which usually is not the case.
Just, for example, Israeli Elta EL/M-2052 Active Electronic Scan Array Airborne Fire Control Radar which will be used in MK-1A will need to seamlessly work and integrate with all existing components and subsystems which are of different suppliers meaning the software architecture needs to support all Weapons, Sensors, Data fusion of all these subsystems which is complex and requires millions of lines of additional coding specifically only to meet the demands of specific customers like that of India.
While the basic software of Elta EL/M-2052 remains the same addition of new sensors and weapons requires specialized programs which can be easily added or removed whenever new hardware is added to the aircraft without the need for change or direct access to the main software source code of the radar. These Specialised programs need to be developed either by the supplier of the subsystems to work in sync with the software of Elta EL/M-2052 or developed with the help of associated labs within the country which easily adds up to the additional integration cost which again can run into few millions after calculating their breakups and units ordered by Indian Air Force.
While HAL has outsourced many fuselage related components like wings, front, the mid and rear section of the main fuselage to private companies now, prices of this components actually should have been going down since orders for MK-1A placed by IAF is much larger than MK-1 yet the prices are going up even when aircraft externally remains the same. Some experts are blaming HAL for inflating prices of the outsourced components adding their own hefty margin to it while others are blaming private companies which are charging more for faster production of this components to meet demands by HAL and IAF leading to additional deployment of manpower in their own facilities.
HAL is soon likely will list out a complete breakdown of MK-1A and even experts who have followed LCA-Tejas program for years now and understand the developmental methodology used by HAL say that at best, price of MK-1A largely will remain the same but if MOD and IAF continue to press for additional price cuts then HAL might reduce makeup margin costs of the outsourced components in its supply chain which might lead to unnecessary delays or outsourced vendor backing out of the supply chain which will only harm the MK-1A program in the long run.
Disclaimer : Articles published under " MY TAKE " are articles written by Guest Writers and Opinions expressed within this article are the personal opinions of the author. IDRW.ORG is not responsible for the accuracy, completeness, suitability, or validity of any information on this article. All information is provided on an as-is basis. The information, facts or opinions appearing in the article do not reflect the views of IDRW.ORG and IDRW.ORG does not assume any responsibility or liability for the same. article is for information purposes only and not intended to constitute professional advice .
Article by  MANJUNATH REDDY ,  cannot be republished Partially or Full without consent from Writer or idrw.org
Note: If you have personal opinion and want to contribute for" MY TAKE "on Defence matters kindly email us at idrw.org@gmail.com