SOURCE: RAUNAK KUNDE / NEWS BEAT / IDRW.ORG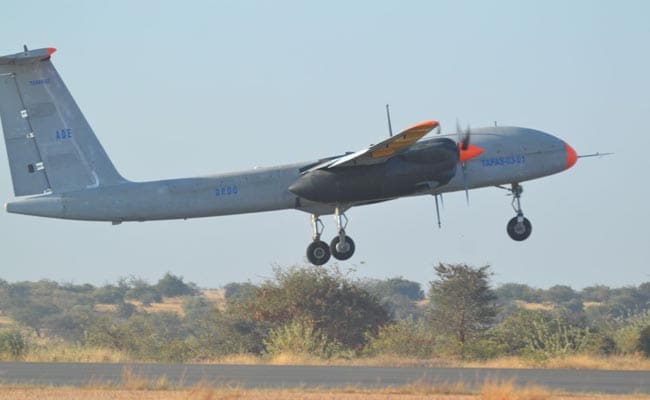 After suffering years of developmental delays, the Aeronautical Development Establishment (ADE) plans to accelerate the Tapas BH-201 (Rustom II) program and now plans to expand the envelope of the flight trials and increasing the range, altitude, and endurance in the second half of this year in which all the payloads, imported as well indigenous, will be flight tested.
To meet the immediate requirement of the programme, An imported Electronic Intelligence (ELINT) payload has been used but the development of an indigenous ELINT is completed and is undergoing flight trials with EMBRAER aircraft. Indigenous development of Synthetic Aperture Radar (SAR) payload for the Drone already is in an advanced stage with one prototype undergoing flight trials and evaluation in Dornier manned aircraft and the indigenously developed medium-range electro-optic payload is already developed and been successfully flight tested.
So far, six airframes have been realized and 25 flight trials have been carried out and Tapas has achieved a maximum endurance of 85 minutes, at an altitude of 14200 ft and range of 40 km during the trials. In our Previous report, (Indigenous Diesel Turboprop engine for Rustom-2 Developed) idrw.org had mentioned the development of Two Prototypes of the indigenous higher power engine has taken place and the program already has achieved 50 hours of endurance testing at the Ground trials.
ADE and DRDO are confident that Tapas BH-201 will be able to meet requirements of Tri-Services for Intelligence, Surveillance, and Reconnaissance (ISR) missions and will be ready for User trails from 2020 onwards and to accelerate the program more drones will be built in near future. Tapas BH-201 program suffered from over-engineering due to which it was unable to remain within its target weight, weight reduction measures were initiated but the drone was still found to be overweight due to which to compensate weight growth a new powerful engine was installed which could deliver optimal in-flight performance.
Salient Features
Multi-mission capabilities with a variety of payloads.
State-of-the-art real-time simulator to train an external pilot.
World class GCS & data links.
Advanced Ground Support Systems (RAIR & HILS).
Flight Control (GTH & GHH) Logics.
Airworthiness Certification by CEMILAC (DO178B-Level A); first time in the country for UAV.
Easy up-gradation and customization based on user requirements.
Easy maintenance and cost-effective product lifecycle support.
Technologies being developed, a legacy for future UAV/UCAV.
NOTE : Article cannot be reproduced without written permission of idrw.org in any form