SOURCE: IDRW NEWS NETWORK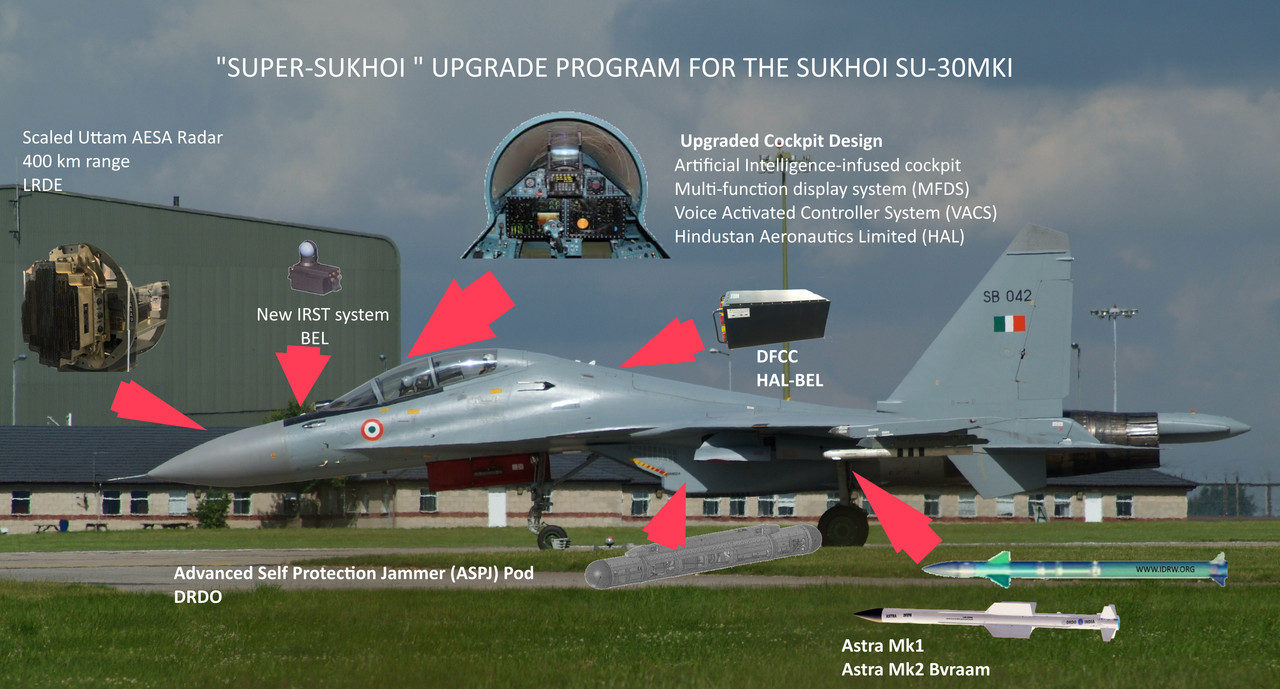 The Russian defense industry proposed, modernization package to breathe in a new life into India's 200 Sukhoi-30MKI program inline of the upgrade program currently being pursued by the Russians for its Su-30SM fleet is more or less over after Russian officials confirmed that dialogue with their Indian counterparts over the matter is stalled. India's state-owned Hindustan Aeronautics Limited (HAL) in partnership with DRDO is coming up with its modernization package that will make 200 Sukhoi-30MKI fleet, now more Indian and less Russian.
Some of the Indigenous upgrades proposed equipment fit for the Super Sukhoi has been listed below along with many other subsystems that will be replacing Russian origins ones. India plans to upgrade its Avionics, Electronic warfare suites, and its Radar, while it still will be operating with AL-31FP engines.
Some of the Major Indigenous upgrades Proposed
Scaled Uttam AESA Fire Control Radar (FCR): LRDE developed Uttam AESA Fire Control Radar (FCR) for Tejas Mk2 Program has been cleared to be upscaled for the Radome that can house a bigger Antenna with more solid-state transmit/receive module (TRM) for which a feasibility study has been completed that has been accepted by the Indian Air Force (IAF).
Infrared search and track technology (IRST): Bharat Electronics Limited (BEL) has been tasked to develop an IRST system that will be superior to the current OLS-30 in terms of range, precision, and reliability for the Super Sukhoi program.
Upgraded Cockpit: Hindustan Aeronautics Limited (HAL) is in charge of developing an Upgraded Cockpit that now features, Two 230mmx305mm high-resolution LCDs with a multifunction control panel with a wide 20°x30° field of view head-up display that brings it at par with the Cockpit of the Sukhoi Su-35. "The heart of the cockpit upgrade, however, is a new Artificial Intelligence system which with Voice Activated Controller System (VACS), will be able to understand verbal commands with 98% speech recognition accuracy for an Indian accent.
New Digital Flight Control Computer (DFCC): HAL will be replacing the present indigenous Mission Computer onboard Su-30MKI with an upgraded DFCC that will have a significantly higher processing power
and many more advanced capabilities in the FCS.
Advanced Self Protection Jammer (ASPJ): Defence Avionics Research Establishment (DARE) is developing that will be replacing Russian and Israeli Airborne Self Protection Jammer (ASPJ) pods are a standard fit on the SU-30MKI.
Indigenous Air to Air Weapons: Sukhoi-30 already has started receiving Astra Mk1 Air to Air missile and currently it has been prepped for the Astra Mk2 that will be replacing both R-27 and R77 Medium-Long ranged Air to Air missile of Russian origins in the entire fleet. India is also planning to equip Astra with IR seeker and in the future Astra Mk3 Air to Air missiles on the entire Su-30Mki fleet when they're available.
Other smaller but significant Indigenous upgrades Proposed
Upgraded VOR/ILS
GPS Splitter
Flight Data Transfer Unit
Software Defined Radio (SDR)
Indigenous DMG
Enhanced FDR
Aviation Clock
IFF CIT
Integrated stand by Instrument system
Blanking Unit
Digital HUD
HMDS
Advanced TACAN
HUMS
Modified INGPS
Upgraded Radio Altimeter
Advanced Weapons control system
Enhanced EW suite
Indigenous SSDVRS
NOTE : Article cannot be reproduced without written permission of idrw.org in any form even for YouTube Videos to avoid Copyright strikes