SOURCE: Rajesh Kumar/ FOR MY TAKE / IDRW.ORG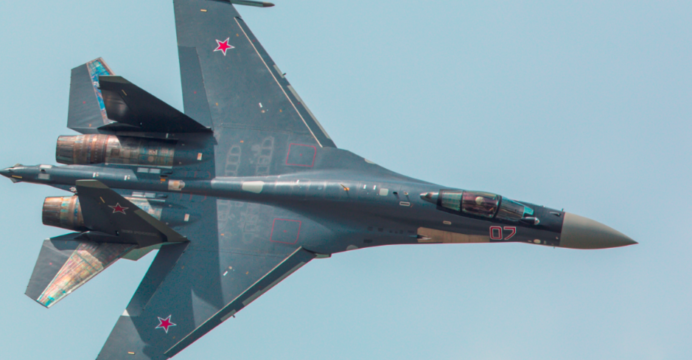 The Sukhoi Su-35 Flanker-E recently entered in the race to supply 114 units of fighter jets to Indian Air force amid allegation of a Scam on previous fighter jet purchase from France. Dassault Rafale which was one of the two fighters which made to last round on its technical capabilities alone with Euro fighter Typhoon is still the best of the aircraft in the race to win an enlarged order from India if Current Government comes backs in power in 2019 in full majority.
But If India does select a fighter out of this two clear winners of the last MMRCA Tender then current dispensation should be aware that opposition will again raise this issue of India buying an inferior fighter jet for the air-force and allegations of scams will also likely come back to haunt the new government.
Sukhoi Su-35 Flanker-E is the top Russian air-superiority fighter in service today and represents the pinnacle of fourth-generation jet fighter design it also receives key updates from PAK-FA stealth fighter which was kept out of the previous tender on purpose by Indian military planners to avoid a large fleet fleet of heavy class fighter aircraft.
People who have followed MMRCA tender and have studied previous tender results will know that other aircraft in the race had failed in technical evaluation round itself and buying any other aircraft which previously failed technical trials will only invite further criticism of the government and also the allegation of corruption.
Procuring next best jet which is Euro fighter Typhoon will also be a very expensive proposition for India if it decides to refrain from procuring more Rafales due to current scam allegations, which means the only aircraft which can win this tender at least in terms of technical trials might be Sukhoi Su-35 Flanker-E and no doubt will also be cheaper than the Euro fighter Typhoon and Dassault Rafale.
similarities with Sukhoi Su-30 will also mean it will not require India a new logistical ecosystem to support this jets and it can also fill in the vacuum left by lack of purchase of Su-57s from Russia in the heavy class of fighters. While MMRCA was supposed to be all about the purchase of Medium class fighter jets but we should also remember that now India is also developing its own Medium class fighter jets in the class of Mirage-2000 locally by 2025.
Entry of Sukhoi Su-35 Flanker-E have not raised any eyebrows in India but it well could be Governments backup plan.
Disclaimer : Articles published under " MY TAKE " are articles written by Guest Writers and Opinions expressed within this article are the personal opinions of the author. IDRW.ORG is not responsible for the accuracy, completeness, suitability, or validity of any information on this article. All information is provided on an as-is basis. The information, facts or opinions appearing in the article do not reflect the views of IDRW.ORG and IDRW.ORG does not assume any responsibility or liability for the same. article is for information purposes only and not intended to constitute professional advice .
Article by Rajesh Kumar ,  cannot be republished Partially or Full without consent from Writer or idrw.org
Note: If you have personal opinion and want to contribute for" MY TAKE "on Defence matters kindly email us at idrw.org