SOURCE: SHUBHAM KUMAR/ FOR MY TAKE / IDRW.ORG.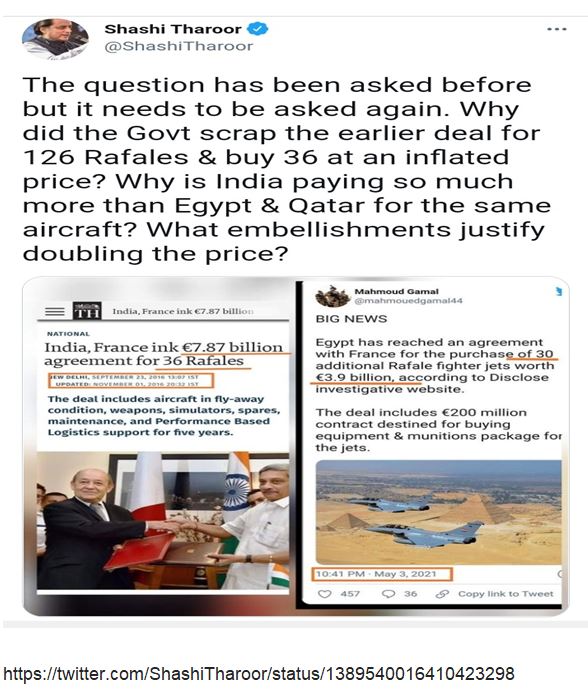 From the last 5 years we all are watching this Rafale debate where all people are accusing the government of wrong doings in Rafale procurement in one way or the other except the people who have authority like courts and expertise in defense procurement and tendering like CAG. Surprisingly, both institutions have given thumbs up to the procurement including on the cost parameters multiple times yet motivated people are raking the issue again and again by presenting partial truth and manipulating the facts.
The latest addition in the above list is a tweet by former union minister and MP Shashi Tharoor in which he tweeted on 4th may about the Egypt's procurement of Rafale fighter jets and comparing the respective amounts paid by India and Egypt claiming that the India paid more money as compared to Egypt. Well, it is a deliberate manipulation of truth by presenting partial information. The complete truth is that above news quoted by Mr. Shashi Tharoor is a follow on deal of a previous deal that the Egypt had inked with France in 2015 for 24 Rafale jets at the cost of € 5.2 billion while in the follow on deal. Egypt is buying 30 Rafale jets for € 3.75 billon.
So, basically Mr. Shashi Tharoor is comparing the first deal of India for 36 Rafale at cost of € 7.87 billon with the follow on deal of Egypt.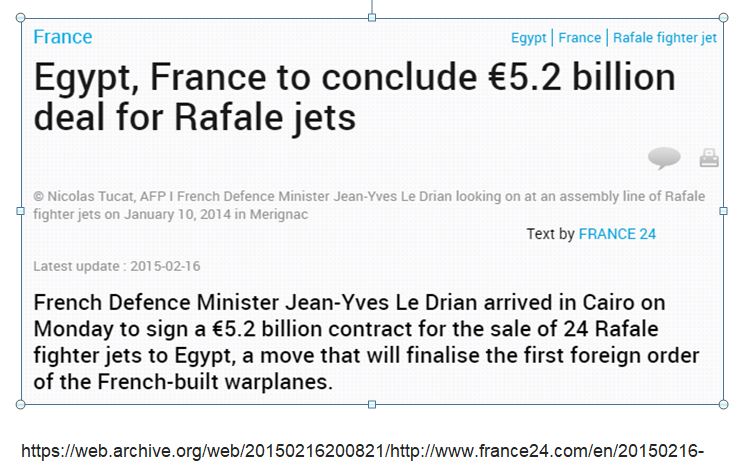 This is not the first time and this will not be the last time
Well, this type of misinformation is not happening for the first time and it will not be the last time. Same things had happened in the general election of 2019 when similar misinformation was spread regarding the Rafale deal. At that time the follow on deal of Qatar was being compared with the first deal of India. At that time 2017 the Qatar had ordered 12 Rafale fighters at the cost of € 1.1 billion as the follow on order of earlier deal of 2015 in which 24 Rafale fighters were ordered for € 6.3 billion.
Why follow on deals are cheaper than the first ones
Well, the answer is simple, there are few one-time, on-repetitive costs in each equipment induction like infrastructure, training etc. that do not get repeated in follow on purchases. It is like when you purchase a costly pen you also purchase the pen stand for it but if you decide to buy second pen of same type, you simply put it in same pen stand that you brought with the first pen. Another example can be of inverter batteries. When you buy one battery you need to buy inverter to charge it but a second battery can be plugged in the same inverter for charging and you do not need to buy a second inverter for the second battery.
Whose cheaper and whose costlier
Well if figures are checked, anyone can conclude that the Rafales brought by India are cheapest than rest of the buyers.
It must be mentioned that Indian Rafales are being customized for India specific enhancements whose cost around € 1.4 billion euros is included in the above deal. Also Indian Rafales are more capable than the Qatar and Egypt as India is a member of MTCR club while the other two are not.

Conclusion
It is both frightening and depressing that the above manipulation is coming from a former union minister for external affairs and a sitting MP. Also it is to be noted that Mr. Shashi Tharoor has serving in Congress party at very senior positions and such behavior not only undermines the character of the person involved but also questions the credibility of organizations and institutions that he is associated with. It also indicates the sad state of Indian Politics where person like Mr. Tharoor who is considered as potential replacement of current Indian opposition leader is just reduced to truth manipulator pushing narratives rather than facts.
It also draws attention to the current crises in virtual world of social media where the twitter and Facebook who consider themselves as the sole arbitrator of truth and fact checking have just reduced themselves as a fake news peddlers and manipulative media that fail to check these information manipulation even when it is coming from eminent personalities having blue ticks like Mr. Tharoor.
Disclaimer : Articles published under " MY TAKE " are articles written by Guest Writers and Opinions expressed within this article are the personal opinions of the author. IDRW.ORG is not responsible for the accuracy, completeness, suitability, or validity of any information on this article. All information is provided on an as-is basis. The information, facts or opinions appearing in the article do not reflect the views of IDRW.ORG and IDRW.ORG does not assume any responsibility or liability for the same. article is for information purposes only and not intended to constitute professional advice .
Article by SHUBHAM KUMAR ,  cannot be republished Partially or Full without consent from Writer or idrw.org