SOURCE: TUSHKAR SHIRODKAR / FOR MY TAKE / IDRW.ORG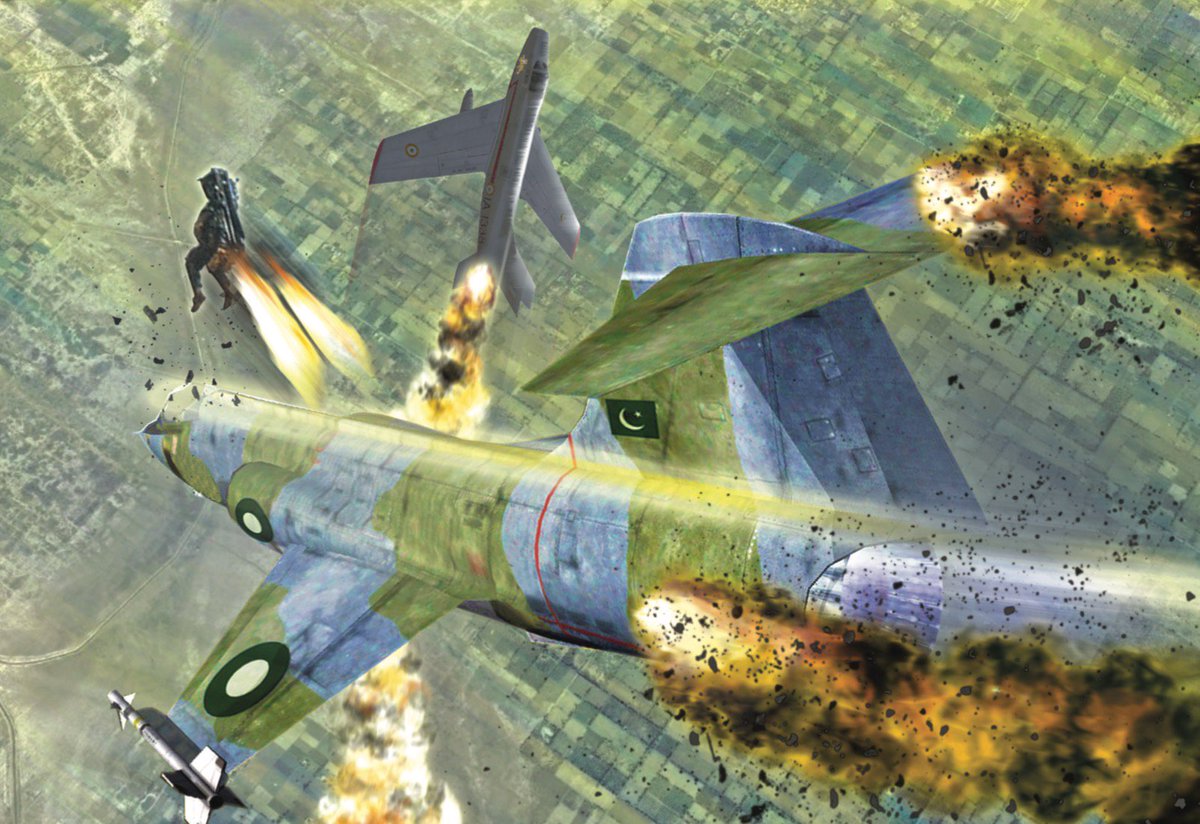 If you think, Wing Commander Abhinandan Varthaman taking down an F-16 with an older Mig-21Bis was a rare feat, then let me jog back some memories of 1965 Indo-Pakistan war, when Indian Air Force Pilot Ajjamada Boppayya Devaiah brought down a Pakistan's F-104 Interceptor fighter jet while flying a French Dassault MD.454 Mystère IV fighter-bomber aircraft and was awarded Param Vir Chakra after 23 years of his death.
Squadron Leader Ajjamada B. Devaiah was part of 12 crew aircraft strike mission over Sargodha airfield in Pakistan. PAF dispatched pair of F-104 Interceptor fighter jet to take on Mystère IV fighter-bomber which was seen as easy picking for the pilots since Mystère IV was a sub-sonic fighter bomber which had a habit of punching its rivals over its weight and had seen some success against MiG-15, MiG-17, and Hawker Hunter in Suez Crisis of 1956 flown by Israel, but F-104 was a generation ahead of Mystère and was a challenger to the Soviet Mig-21s.
In 1957, IAF received 104 units if Mystère IV from France and in 1965 war it tasted its first blood by bringing down a Pakistani Army operated Cessna L19 which was used as a liaison and observation aircraft. Mystère IV was largely used as a fighter-bomber rarely it was used for interception missions. Devaiah after completing his bombing run was heading back to base when he was intercepted by F-104 Star-fighter flown by Pakistani pilot Flt. Lt. Amjad Hussain.
According to the British writer, John Fricker who was commissioned by the Pakistani Air Force to write an account of the war derived from Pakistani sources in 1979. Hussain moved his F-104 Star-fighter close to the Mystère IV for an easy kill but was challenged in mid-air by senior ranked Squadron Leader Devaiah who used his exceptional flying skills to avoid handing over an easy kill to his rival.
Frustrated Hussain moved his F-104 Star-fighter even closer to the Mystère IV. Devaiah's aircraft was already low on fuel and he had Sensed that it was impossible for him to make it back to his base due to precious time which was wasted while avoiding getting shot down, that he decided to ram in the air his Mystère IV into F-104 Star-fighter which caused considerable damages to both the aircrafts. Hussain shaken by the acts of his rival carried out a late but successful ejection but they were no confirmation if Devaiah had ejected but he was found dead on the ground by locals and was quickly buried around Sargodha airfield.
When Devaiah didn't return back, IAF declared him Missing in Action and later declared him Killed in Action and didn't know about his bravery and sacrifice till 1988 when John Fricker wrote a book " Battle of Pakistan " the air war of 1965 which finally shed light on his actions on that fateful day and in the same year he was awarded Maha Vir Chakra posthumously, 23 years after the battle.
Squadron Leader Ajjamada B. Devaiah is still buried somewhere in the complex of Sargodha airfield.
Disclaimer : Articles published under " MY TAKE " are articles written by Guest Writers and Opinions expressed within this article are the personal opinions of the author. IDRW.ORG is not responsible for the accuracy, completeness, suitability, or validity of any information on this article. All information is provided on an as-is basis. The information, facts or opinions appearing in the article do not reflect the views of IDRW.ORG and IDRW.ORG does not assume any responsibility or liability for the same. article is for information purposes only and not intended to constitute professional advice .
Article by TUSHKAR SHIRODKAR ,  cannot be republished Partially or Full without consent from Writer or idrw.org
Note: If you have personal opinion and want to contribute for" MY TAKE "on Defence matters kindly email us at idrw.org@gmail.com