SOURCE: IDRW NEWS NETWORK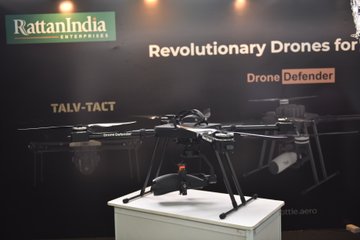 On Wednesday, Rattan India Enterprises launched Defender, its first anti-drone product. Throttle Aerospace Systems, a step-down subsidiary under Rattan India Enterprises, developed the anti-drone. NeoSky India Ltd, a wholly owned subsidiary of Rattan India, had earlier this year acquired a 60% stake in Throttle Aerospace. NeoSky India is the platform on which Rattan India runs its drone business in India.
Defender will comprise 30% foreign BLDC motor and batteries and 70percent indigenous parts. The manufacturing will take place at the Throttle Aerospace facility in Bengaluru.
"The drone captures the rogue drone with a net. This soft-kill approach makes the drones cost-effective as instead of using a gun, Defender utilizing a net to neutralize the rogue drone for which Defender needs to be at least 30 metres away.
Defender has a maximum speed of 26 m/s and a range of up to 20 km in a single flight," stated Nagendran Kandasamy, founder and CEO of Throttle Aerospace.