SOURCE: SHAILJA KANT UPADHYAY / FOR MY TAKE / IDRW.ORG
It has been widely reported in the media that in the joint statement of 2015 in Paris that the 2 countries have agreed to purchase the aircraft that will be in the same configuration as tested by IAF earlier as part of the MMRCA process but once you examine the article 14 of the joint statement you will find that it clearly states that terms will be better than conveyed by Dassault as part of a ongoing separate process (MMRCA).

Even if we take the "same configuration", there are few development that had taken place in the following year of 2016, which challenges this argument of "same configuration"
MTCR: India became the member of the MTCR regime in April 2016, 4 months prior to signing of IGA, which now allows it to purchase the cruise missile of range longer than 300 km.By this development, the range of Scalp/ storm shadow air launched cruise missile purchased as part of IGA would become their true range of approx. 550-600 km as compared to less than 300 km if they were part of negotiations of 2011-12. It is to be noted that a downgraded version of the scalp missile is exported to Qatar as part of the 24 Rafales purchased by it for € 6.3 billions, making € 9.45 billions by opposition logic for 36 Rafales, making it much costlier than € 7.87 billions for 36 Rafales of IAF that too improved version of French planes.
Meteor missile: We all know that meteor BVR missile is a game changer in the subcontinent and can alone keep the opposition forces grounded in case of confrontations..Meteor came into service in 2016, to it is difficult to understand, how it can be part of the negotiations of the weapons package of 2011-12.
F3R Version: As per reports € 1 billion was allocated in the year 2014 for the development of F3R version of Rafale. It is also open secret that the F3R version is nuclear capable version of Rafale and India is buying the F3R version among other thing. So how this version could be part of negotiations in 2011-12 when this version was not existed at that time.
The most teething problem with this is that both India and especially France can't acknowledge it, because France is a signatory of NPT (nuclear nonproliferation treaty) which restrict its signatory members, France in this case to help or transfer nuclear technology, material and means of delivery of nuclear weapons(nuclear capable Rafale in this case). So it will be very embarrassing for both France and India if world start saying that France gave India a means of delivery of nuclear weapons. It is also to be noted that France was the only member of the P-5 group which had congratulated India when it had tested the nuclear devices in 1998 and this excuse will also strengthen the argument of China for blocking of NSG membership of India on grounds of Nuclear Proliferation. This part can be verified in the NPT document and website: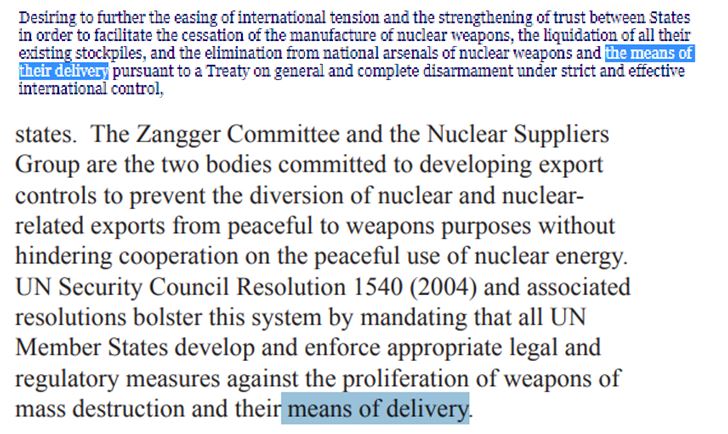 Apart of above concrete points, there are also noise that India has also decided to extend the weapons package of Rafale partly in the up-gradation package and integration in its Mirage fleet, especially the scalp missile after the opening of MTCR regulations for it to increase the quality for its declining quantity strength as an interim measure
It is to be noted that Scalp/ Storm Shadow has also a naval submarine launched version with range of around 1000 km and Indian Navy might have also chosen it for integration with Scorpene submarine till the time submarine launched version of Brahmos is not developed and ope-rationalized.
It should also be observed that bitten by the serviceability of SU 30s, IAF for the first time signed for the performance based logistics, whose cost is also involved in the IGA. Keeping aside the other observations, it is cleared from the points 1, 2 and 3 that the Rafales of 2012 negotiations and 2016 IGA have very different configuration and capability but much of it can't be disclosed in public, especially point 3.
Disclaimer : Articles published under " MY TAKE " are articles written by Guest Writers and Opinions expressed within this article are the personal opinions of the author. IDRW.ORG is not responsible for the accuracy, completeness, suitability, or validity of any information on this article. All information is provided on an as-is basis. The information, facts or opinions appearing in the article do not reflect the views of IDRW.ORG and IDRW.ORG does not assume any responsibility or liability for the same. article is for information purposes only and not intended to constitute professional advice .
Article by SHAILJA KANT UPADHYAY ,  cannot be republished Partially or Full without consent from Writer or idrw.org
Note: If you have personal opinion and want to contribute for" MY TAKE "on Defence matters kindly email us at idrw.org