SOURCE: SHAILJA KANT UPADHYAY / FOR MY TAKE / IDRW.ORG
Many spectators seeing the current saga of Rafale are satisfied with all the aspects of it but they are thinking that Rafale aircraft is costly for our nation and defense budget so, we should go with some cheap aircraft to fill the squadron numbers. Their thinking is based on per aircraft cost of other fighters and on the price tag of € 7.87 billion for our aircrafts. So, let us examine the past few deals to know why 7.87 billion is cheaper, cost effective than other past deals.
C 130J SUPER HERCULES
The Indian Air Force purchased six C-130J-30s in early 2008 at a cost of up to US$1.1 billion for its special operations forces. It is to be noted that the Indian government had not signed the Communications Interoperability and Security Memorandum of Agreement (CISMOA) or COMCASA, therefore the above price does not include the cost of communication and navigational equipment, high precision GPS and other sensitive equipment, which IAF had to buy from open market aircraft after delivery. It needs to be mentioned that India got its first C 130J in 2011,but could not get its training simulator.
It got its training simulator by August 2017 after follow on order was placed by Modi government. The more scary part is that the above deal of 2008 didn't include vital equipment which are necessary for its survival in hostile environment, like radar warning receivers etc. Therefore NDA government had topurchase its support package and equipment worth $100s of millions in addition to the above cost for AN/ALE-47 Counter-Measures Dispensing Systems, AN/ALR-56M Advanced Radar Warning Receivers, 9,000 flare cartridges, spare and repair parts, support and test equipment, publications and technical data, technical services, training equipment, logistics support services.
It is to be mentioned that the above planes were purchasedfor special operations. Just imagine 100s of Garud, Marcos or Para commandos flying in them in hostile territory without even IR flare dispensing systems which is basic defense of aircrafts against missiles.
C 17 GLOBMASTER
India ordered of 10 C-17s for US$4.1 billion on 6 June 2011 and deliveries began in June 2013. It is to be noted that the above price does not include the cost of communication and navigational equipments, high precision GPS and other equipment, which IAF had to buy from open market aircraft after delivery. IAF also got its training simulator for pilots at $ 97 million and for maintenance crew at $ 38 million by Mahindra Defence in July 2016, As per CAG report the UPA had not brought proper equipment for handling of plane and cargo, proper infrastructure was also not developed at bases which has led to high operating costs, underutilization of plane capability and lower efficiency. It says that IAF do not have the required material handling equipment (MHE), trained fork lifter driver and trained manpower for palletization of their load.Infact IAF is looking for provisioning and distribution of pallet to all wings and material handling equipment which will cost extra in addition of above costs. For Specialist technical and operational infrastructure such as hangars, ramp, taxiway, storage, maintenance, parachute packing and rigging, hydrant fuel piping, various building, etc., was required for effective operation of C-17 aircraft. IAF had to cough out approximately USD 152.75 million more (`723.27 crore) which was also not ready at the time of CAG report.
P8I
On 4 January 2009, India signed a US$2.1 billion agreement with Boeing for the supply of eight P-8Is.This price does not include the cost of communication and navigational equipments, this contract also does not include maintenance clause, which according to CAG is signed separately costing more money, this deal also does not include proper weapon package including depth charges and proper sonabuoys. Navy got it first P8I by 2012 but has still not got its training simulator which has been ordered by NDA government in 2018 along with 10 years maintenance contract for $ 307 millions extra.
IGA of Rafale deal
As compared to above deals IGA of Rafale is a complete packaged deal which contains every aspect of deal as it is signed for 36 Rafale(buy only)+2 simulators(simulator cost is generally more than the original equipment as can be seen in P8I and above cases )+ weapons+meteor and scalp missiles+training of crews+infrastructure on 2 bases (at Ambala and Hasimara) + guarantees for availability (serviceability) of 75 % planes any time(performance based  logistics)+ maintenance tools+ weapon storage facility in france for 6 months+integration of weapons of Russian, Isreally and Indian origin+free spares for 5 to 7 years+ inflation < 3.5% which was fixed 3.9% in UPA tender+50% offset+pilot mission kits+ India centric modifications was signed on September 2016 for €7.87 billions. On the other hand, all above deals of past were incomplete packageddeals that required frequent coughing out of money whose cost is not shown in main deal, therefore looking cheaper.
Also, price of Rafale is being compared with SU 30s etc is also wrong, because Rafale contains many equipment inherently which in case of SU 30s is carried externally, for example Spectra EW suite, which Rafale carries in its tail rudder and the base price of € 91 millions per plane(670 crores, as provided in parliament) contains the cost of spectra suite while in case of older IAF aircrafts, EW suite of generally Israeli origin is carried  externally on hard points in pod forms and their base aircraft price do not contains the price of these externally mounted systems.
Thus it is a complete deal covering every aspect hence, it is looking costly packge but even the Supreme Court has undergone the pricing details of IGA and MMRCA and is fully satisfied with it as can be seen in Supreme Court Judgment in page 20 para 24.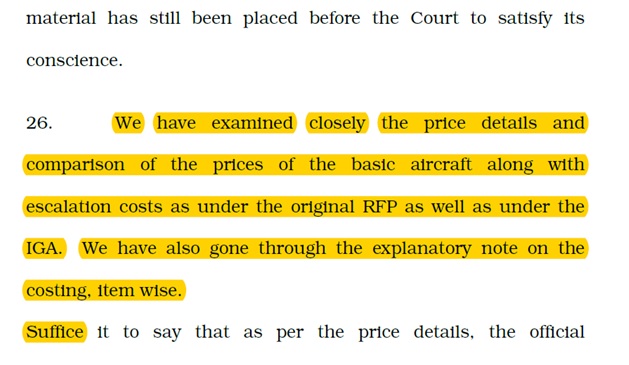 Disclaimer : Articles published under " MY TAKE " are articles written by Guest Writers and Opinions expressed within this article are the personal opinions of the author. IDRW.ORG is not responsible for the accuracy, completeness, suitability, or validity of any information on this article. All information is provided on an as-is basis. The information, facts or opinions appearing in the article do not reflect the views of IDRW.ORG and IDRW.ORG does not assume any responsibility or liability for the same. article is for information purposes only and not intended to constitute professional advice .
Article by SHAILJA KANT UPADHYAY ,  cannot be republished Partially or Full without consent from Writer or idrw.org
Note: If you have personal opinion and want to contribute for" MY TAKE "on Defence matters kindly email us at idrw.org