SOURCE: TNN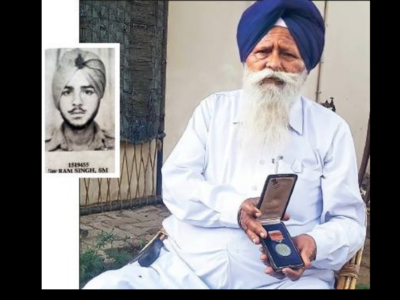 Ram Singh (76), a bomb disposal expert who got the Sena Medal for the 1971 war, still remembers the time he volunteered to defuse a 750-pound explosive mine at an FCI godown in Zeera village of Ferozepur. Hailing from Balala village, Ram Singh retired from the Indian Army as an honorary naib subedar in August 1982. "I joined the army as a sepoy in 1962, even as my father, Gaini Hazara Singh, was a weaver and no one from our family had joined the fauj before. From 1962 to 1971, I was posted at various places, including Nagaland, Sikkim, Assam, and Madhya Pradesh.

In 1971, I was posted at Chandimandir. We were then moved to Jalandhar, and from there to Zeera in Ferozepur. As I was part of the bomb disposal party on the day, we were ordered to dispose of five unexploded 750-pound bombs lying at a Food Corporation of India property in Zeera village," recollects the ex-serviceman, but fails to remember the date.
The citation for the Sena Medal reads: "The explosion of these bombs would have caused great damage to the store buildings. Although the fuses on the bombs were of unknown type, Sapper Ram Singh volunteered to remove the fuse of the first bomb with his own hands. Working in a collected manner and with complete disregard to his safety, he took out the fuse of this bomb to render it harmless and safe, thus encouraging his party to dispose of the rest of the four bombs."

The citation goes on to say that Sapper Ram Singh displayed courage and devotion to duty, On April 6, 1974, the President approved the award of the Sena Medal to Ram Singh for his act of exceptional devotion to duty or courage.
The Sena Medal holder said he got married in 1967 and his children were small when he went on duty to defend his country, but he didn't think twice before risking his life for the country. He added he felt proud to receive the medal from the then GOC-in-C of Southern Command, Gen G G Bewoor, who later became the chief of the Indian Army.
Asked about the difference in the life of soldiers then and now, Ram Singh said during his service in Sikkim, it was difficult to work as the uniform was heavier and there were no heaters inside bunkers. He said army personnel now had the necessary facilities.

Family members of the exserviceman are proud of his achievement. "I was just a few months old when my father had left for the battlefield. We are proud of his achievement. We also thank the government for celebrating the 50 years of victory in the 1971 war," said Lakhbir Singh Balala, an officer in the Punjab rural development and panchayat department and son of the ex-serviceman.