SOURCE:  DIBAKAR ROY / FOR MY TAKE / IDRW.ORG

P-17A stealth frigate programme in on its way. First frigate of this class will enter in Indian navy in 2022 as per Wikipedia. Type-26 Global Combat Ship will enter its service in UK Navy in 2023 as expected. Admiral Gorshkov Class frigate is already in service with Russian navy since July, 2018. Now if we compare P-17A stealth frigate with its modern rivals such as Type-26 of UK and Admiral Gorshkov class frigate of Russia, it seems like under powered and under armed.
Now comparing specifications of  P-17A, Type 26 and Admiral Gorshkov Class frigate.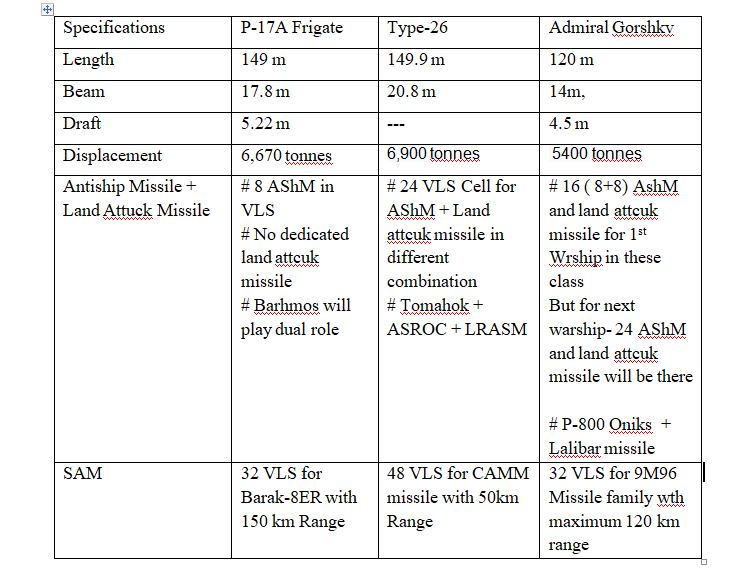 From this above mentioned table, it is cleared that Type-26 and p-17A almost identical in Size and Displacement, but Width of Type 26 is 3m more. P-17A carries only 8 AShM while Type 26 carries 24 VLS for AShM and land attuck missile and Admiral Gorshkov class carries 16 Antiship missile or combination AShM + land attack Kalibir missiles, though it is 28 meter shorter than its predessors. If we assume that Type-26 benifitted with more width, 3 m more wide than P-17A but this theory will become invalid when Admiral Gorshkov come into picture. Admiral Gorshkov with 14 m beam which is 3.8 m shorter than P-17A. Total no SAM is same in P-17A and Admiral
Gorshkov class frigate, but Type-26 carries 48 VLS for SAM, which indicates  that in case of Saturation attuck Type-26 can defend itself with more no of missiles which P-17A cannot perform. These pictures showed that Design supremacy of Type-26 and Admiral Gorshkov class over P-17A class frigates.
Type-26 is a disguised Destroyer, though they called it as a Frigate. But Admiral Gorshkov Class frigate's specifications make it is the one of the most balanced frigate in the World currently in Service. However if anyone make an analysis of P-17A design, a lot of deck space kept open. These space can be used to accommodate more weapons in near future.
Disclaimer : Articles published under " MY TAKE " are articles written by Guest Writers and Opinions expressed within this article are the personal opinions of the author. IDRW.ORG is not responsible for the accuracy, completeness, suitability, or validity of any information on this article. All information is provided on an as-is basis. The information, facts or opinions appearing in the article do not reflect the views of IDRW.ORG and IDRW.ORG does not assume any responsibility or liability for the same. article is for information purposes only and not intended to constitute professional advice .
Article by DIBAKAR ROY /,  cannot be republished Partially or Full without consent from Writer or idrw.org