SOURCE: THE WEEK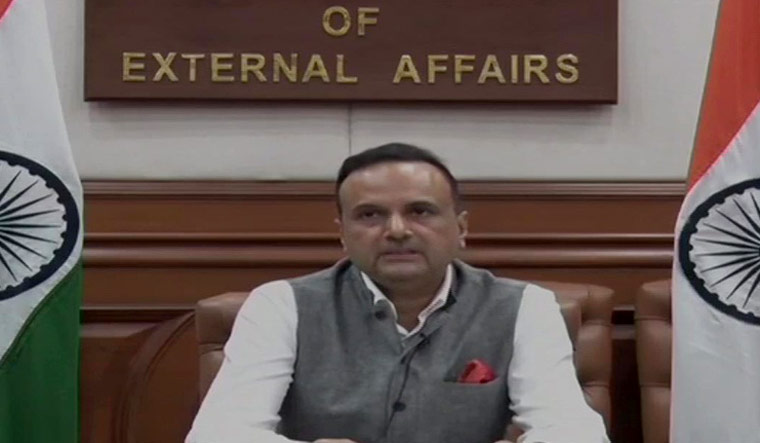 The Ministry of External Affairs has confirmed that seven Indians working for an oil and construction firm had been kidnapped in Libya on September 14. The government is in touch with the family and is working to secure their release at the earliest, the MEA spokesperson said on Thursday.
"Th employer has been contacted by the kidnappers and shown photographs as proof that the Indian nationals were safe and were keeping well,'' said MEA spokesperson Anurag Srivastava at the virtual weekly briefing on Thursday. 
They were abducted while on their way to the Tripoli airport trying to catch a flight to India.
News of the kidnapping broke on October 3 when a cousin of one of the workers had lodged an online complaint with Prasad Nagar police station in the Capital last week. This is the first official confirmation by the government of their abduction.
The workers are from Andhra Pradesh, Uttar Pradesh, Gujarat, Bihar and Uttar Pradesh.
"In September 2015 we had issued an advisory stating that due to the security situation travel to Libya should be avoided. Later in May 2016, the government imposed a complete travel ban irrespective of the purpose in view of the much-deteriorated security situation. This travel ban is still in force'' said Srivastava.
The Indian embassy in Tunisia, however, has been in touch with the Libyan government as well as international organisations to seek their help for rescuing them. "The government is in touch with their family and would like to assure them that we are making all possible efforts, in consultation with Libyan authorities and the employer to trace our nationals and secure their release from captivity at the earliest.''
The kidnappers have demanded $20,000 as a ransom for each of the workers, claimed news reports. According to the complaint filed with Delhi police made by Lallan Prasad, he had last spoken to his cousin on September 13. He had finished his contract, he claimed and was due to return on September 17.