SOURCE: ENS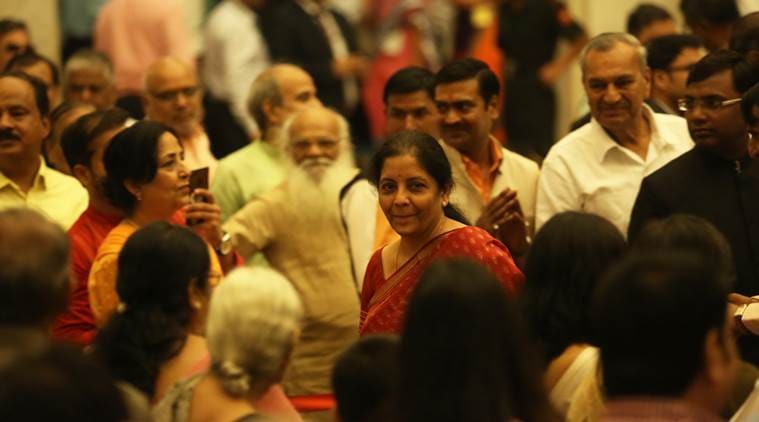 On Sunday, the news channels ran the news in a running loop in big, bold letters. "India Gets a Woman Defence Minister." And again, "Nirmala Sitharaman a Woman Defence Minister." The question on everybody's lips was sometimes said, sometimes implied. "Will a WOMAN do justice to being a Defence Minister ? "
Then the adjectives followed. It was a "Very Sensitive Appointment", said one anchor. Another argued that it was a "Very Demanding Portfolio". A third insisted that the "Appointment (had come) at an Extremely Volatile Time."
Of all the several appointments made that day to prime minister Narendra Modi's expanded council of ministers, this was the only one that seemed to be this newsworthy. I was sure that if it had been a male Defence minister, no one would have found a headline which said, "India gets a Man Defence Minister."
I really admire the woman. The thing that stood out for me was her reply to a journalist when asked the ubiquitous question on gender equality.
"We (women) want it for what we are."
Not by denying men or excluding them.
Bang On ! SIR, Madam Defence Minister, I admire you, for you are ready to be compared with your male counterparts. I say, Sir, because the Indian armed forces do not differentiate according to gender when addressing a woman officer. In the Indian armed forces, where gender discrimination is blatant, you, Madam Defence Minister, are a beacon of hope for its women Officers, whose case for being treated on par with their male colleagues is still pending with the Supreme Court.
We feel proud that a woman has broken a very thick glass ceiling. But this kind of scrutiny, let me add, is only the beginning because a woman cannot afford to falter, unlike her male counterparts. I am sure Mrs Nirmala Sitharaman knows all this already, after all, politics is hardly the great leveler that we think it is.  Though she is already an accomplished woman, fact is this new responsibility comes with a difference. It's on male-dominated turf.
When a student completes her MBBS, her process of initiation is already laid out. In the corporate world when a fresher joins, the traineeship is marked out. But when a Lady officer joins the armed forces, she is scrutinised at each and every step and everyone waits for her to fall. She is enormously dependent on the "perception" of her senior, mostly male, officers.
But with you as Defence Minister, Ma'am, prime minister Narendra Modi has set an example. Merit and performance above everything. We, the present and retired Lady Officers of the Indian armed forces, are hopeful this will be your motto too.
We want to be seen from the one and only lens of Performance and Merit. So if a Man can get a Permanent Commission, why not a woman?  With the same service terms, a male Short Service officer can apply for Permanent Commission, so why is a woman prohibited from that position?
So what would be the motivation level of a woman officer after five years of service, when she can only apply for extension and not a Permanent Commission, like her male counterparts? The Sword of Honour-winning Divya, the martyred Jawan's wife turned officer  Priya Semwal, the leader Sofia Qureshi, the gallant Mitali Madhumita, no one will be spared, as they know, after 14 years, it will curtains drawn without breaking the glass ceiling, despite being capable.
Many a times I hear senior officers, cribbing about a recently married lady officer in their unit, saying, " Oh she will get pregnant,  will take leave for medical procedures through out the pregnancy, then a year long maternity and furlough leaves, then constant child care leave."  God forbid, if a lady officer decides to take medical help for conceiving a child, which is prolonged treatment, I am sure she will be cursed by the Commanding officer.
Truth is, the Army fails women. If a Lady Officer who is on the rolls gets pregnant, the already skewed manpower situation means one less pair of hands on the job; a substitute is impossible till such time she is on the rolls. Perhaps that's why male officers take out their frustration on women. So what does the Army, with its colonial and patriarchal mindset do? It actively discourages women from joining up, refusing them Permanent Comission, which means that they aren't allowed to think of a long-term career in the armed forces.
The same women, when they quit, are lapped up by the corporate sector, where they shine brightly. But the Army, because of its short-sightedness, has lost one talented officer because of its antiquated way of thinking. As an evolving organisation, the Indian armed forces need to find a way out.
For Lady Officers, Serving the Nation is a passion rather than a service. She knows that, no matter how well she performs, she will be shown the door after 14 years, without any pension or medical facilities. It is this passion that keeps the numbers flowing. Those gallant ladies that continue to want to become a part of the Indian armed forces know the odds when they join, but it doesn't stop them. Their 'josh,' their morale remains high !
Major Jyoti Joshi Mitter retired from the Indian army and is now General Manager, Exim Sales, of Gateway Rail Freight Ltd