SOURCE: RAUNAK KUNDE / NEWS BEAT / IDRW.ORG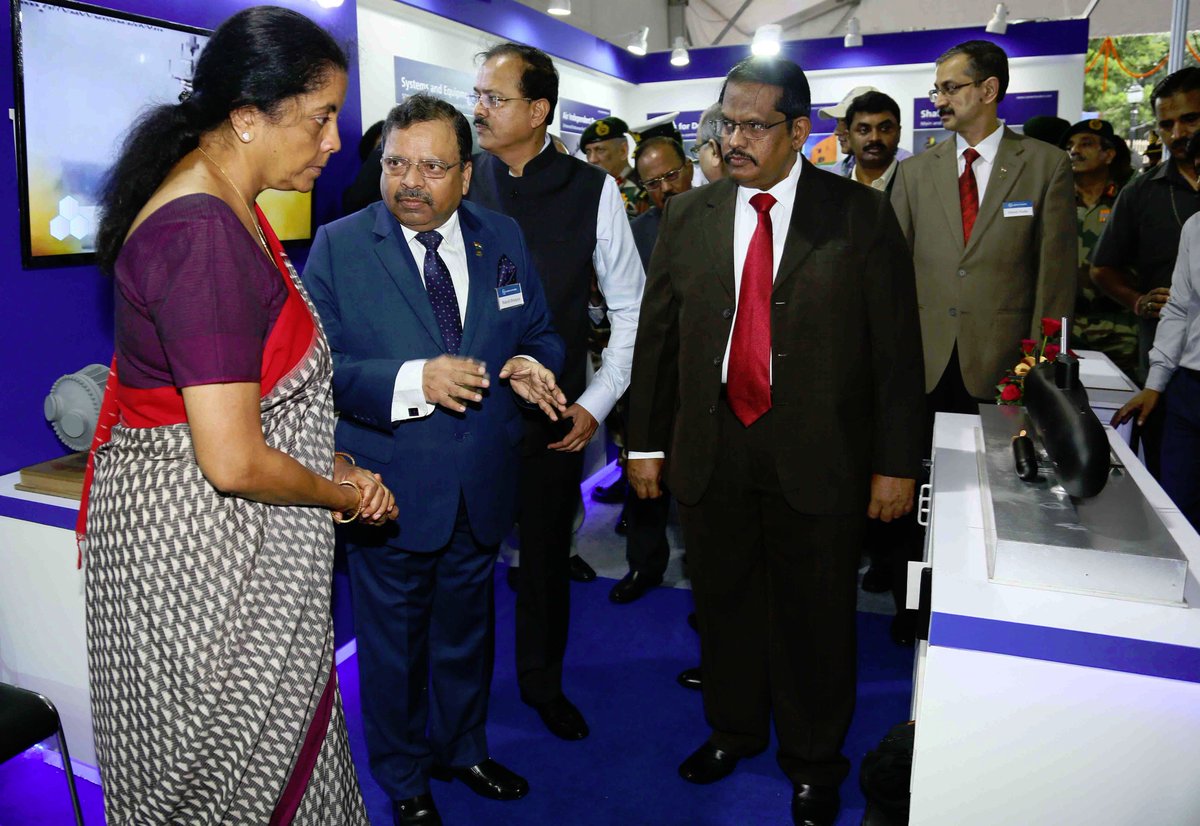 Raksha Mantri Nirmala Sitharaman on her visit to Submarine Tech Exhibition held at DRDO Bhawan last month was seen being briefed by L&T officials on Larsen & Toubro developed Mini-Submarine Concept to be used by Indian Navy's Marine Commandos or MARCOS while DRDO chief S Christopher was also seen closely observing the interaction.
Mini-Submarine has seen in the picture is a miniature submarine equipped with a swimmer delivery vehicles (SDV) to be used by special Marine Commandos drivers for insertion of commandos behind the enemy line.
Mini-Submarine can also be used for other various purposes like attacking enemy units in the harbor with torpedoes and so in mine laying activities. Mini-Submarine can also be used for surveillance and to tail bigger vessels in the vicinity. Mini-Submarine usually have 15 or less member crew which also includes 6-7 Marine Commandos.
Mini-Submarine which is also called as Midget-Submarines usually weight less than 150 tons, but has seen a decline in the adoption of such submarine after WWII in Western and European Navies but countries like North Korea and Iran have used Mini-Submarines as a good platform for carrying out ambushes and to lay a trap against bigger vessels. In 2010 North Korean Yono class miniature submarine fired a torpedo and sank a South Korean Pohang-class corvette in South Korean waters killing 46 sailors.
In over immediate region, Pakistan Navy operates MG110 COSMOS Midget Submarine procured from COSMOS of Italy and in 2017 decided to jointly develop with Turkish defense vendor STM a new mini-submarines to supplement its aging MG110 COSMOS Midget Submarine.
In 2016, State-owned Hindustan Shipyard Limited (HSL) was nominated and awarded a $400 million deal to build two Midget-Submarines for the Navy's Marine Commando Force, which was protested by Larsen &Toubro (L&T). Since then L&T has been asking Ministry of Defence to put a competition, rather than nominating HSL on nomination basis.
According to media reports, Indian Navy needs 10 midgets immediately and further scope of additional orders might be shared with L&T Since HSL has no design of its own for development of Midget Submarine, while L&T apparently has one and also has experience in submarine construction due to its prior experience with Cochin Shipyard in construction of Arihant Class Nuclear Submarines .
NOTE : Article cannot be reproduced without written permission of idrw.org in any form