SOURCE : IDRW NEWS NETWORK (INN) / Aero India 2015 Report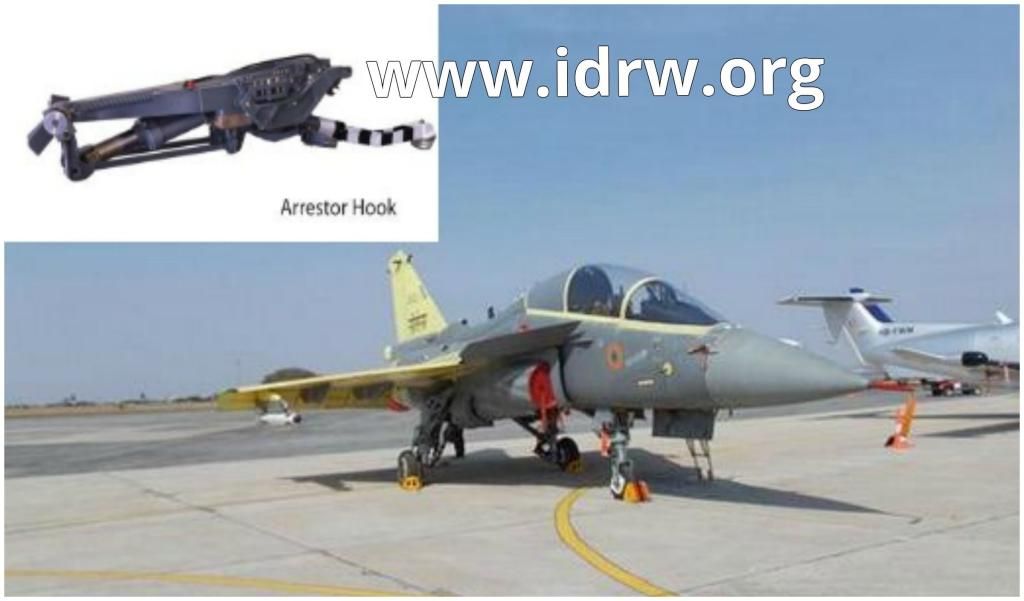 LCA-NP2, second prototype of the Naval version of the Light Combat Aircraft was today spotted with Arrestor Hook, raising curiosity among visitors if Integration of Arrestor Hook has been completed on Naval LCA and tests on NLCA will soon commence to test hook to be used in rapid deceleration of aircraft during routine landings on aircraft carriers .
But idrw.org was later able to confirm from HAL officials that Arrestor Hook device spotted on keel of the aircraft actually was a Dummy and was placed in manner to look like Arrestor Hook as been integrated in the aircraft . when questioned when will actual mounting take place? , HAL officials confirmed that Carrier Compatibility Testing (CCT) of Naval LCA is still in initial phase , further CCT will be carried out on Shore Based Test Facility ( SBTF) which has mechanism to test ski-jump take-off and restraining gear to simulate Aircraft carriers operations.
Focus clearly seems to test ski-jump take-off operations on N-LCA and Integration of Arrestor Hook on N-LCA will take place at later phase of testing most probably in October said sources close to idrw.org. While another confirmation coming is that MK-2 will be sporting new lighter and leaner Landing gear which will go through further weight reduction to improve safety and make aircraft lighter too.