SOURCE: AMIT PANDEY/ FOR MY TAKE / IDRW.ORG
After Years of Struggles with the development of the Nag third generation "fire-and-forget" anti-tank guided missile by India, it is literally raining Anti-Tank Missile Systems as India builds on the technological capabilities which were developed over the years and expertise developed that India has started many parallel projects which are fast maturing and soon India will not require them to be acquired from abroad anymore.
India already has declined American offer to jointly develop next-generation Man-portable Javelin Anti-tank missile system with them and have also recently limited purchase of spike Anti-tank missile system from Israel only to meet its immediate requirement before locally developed Anti-Tank Missile Systems are ready to enter production.
Anti-Tank Missile Systems currently under development are listed below
NAG: Homegrown Anti-Tank Guided Missiles (ATGM) NAG earlier this year cleared final user trials and was cleared to be inducted into Indian Army after years of developmental trials. 12 Nag ATGMs mounted on a NAMICA (BMP-2 infantry fighting vehicle ) has a range of 4kms and has high single-shot hit probability.
HELINA: Helicopter-launched, anti-tank guided missile with a range of range of 7-8 km also has been cleared for production from 2019 onwards and will be equipped on ALH Rudra WSI and LCH Light Attack Helicopters both which provide crucial aerial firepower to the strike corps against armored vehicles and main battle tanks.

SANT: SANT(Stand-off Anti Tank) Missile was tested for the first time, last year from a Mi-35 attack helicopter and according to media reports is a variant of HELINA ATGM developed to be used from Unmanned Aerial Vehicles (UAVs) of MALE and HALE Class with a similar range of HELINA.
CLGM: Cannon-launched Laser Guided Missile [CLGM] developed by DRDO is a semi-active Laser homing cannon launched missile that can be launched from a 120mm main gun of the Arjun Tank. The 5 km range CLGM can target armored vehicles, including Tanks, as well as low-flying aircraft. It can be fired from the barrel of the indigenous Arjun MBT, thus enhancing that platform's versatility, as well as a standalone system.
SAMHO: SAMHO is an infantry launched version of CLGM which requires a tripod launcher and has a range of 6kms. Army also has tested SAMHO to be used as Jeep mounted system. CLGM and SAMHO are capable of both direct and indirect laser designation and the target can be laser-designated by the launching platform (firing tank) or by the launch platform or by a forward scouting team.
AMOGHA-1: Bharat Dynamics Limited (BDL) Developed Amogha -1 is a wire-guided indigenous Anti-Tank Missile which has a range of 2.8km. Amogha -1 was first tested in 2016 and is low-tier ATGM which will supplement and replace older second-generation ATGMS in Indian Army inventory.
AMOGHA-2: Bharat Dynamics Limited (BDL) Developed Amogha -2 is an advanced Wireless Anti-Tank Missile with RF Guidance. The system has the capability of being remotely launched and piloted from a safe distance equalling the advantages of expensive third-generation ATGMs. Amogha -2 was also tested in mid of 2016.
AMOGHA-3: According to Bharat Dynamics Limited (BDL), Amogha -3 is a fire and forget, 3rd generation Anti-Tank Missile which is equipped with an Active Imaging infra-red (IIR) seeker. The system configuration of the Amogha -3 has been finalized and development of sub-system of the missile system is currently progressing well.
MPATGM: Man-Portable Anti-Tank Guided Missile' (MPATGM) system developed by DRDO with VEM Technologies Pvt.Ltd is a fire-and-forget anti-tank, 3rd generation missile which has a maximum strike range of approximately 2.5 km. MPATGM was successfully tested by DRDO in 2018 twice and missile system is likely to enter full-scale developmental trials from 2019 followed by Army trials.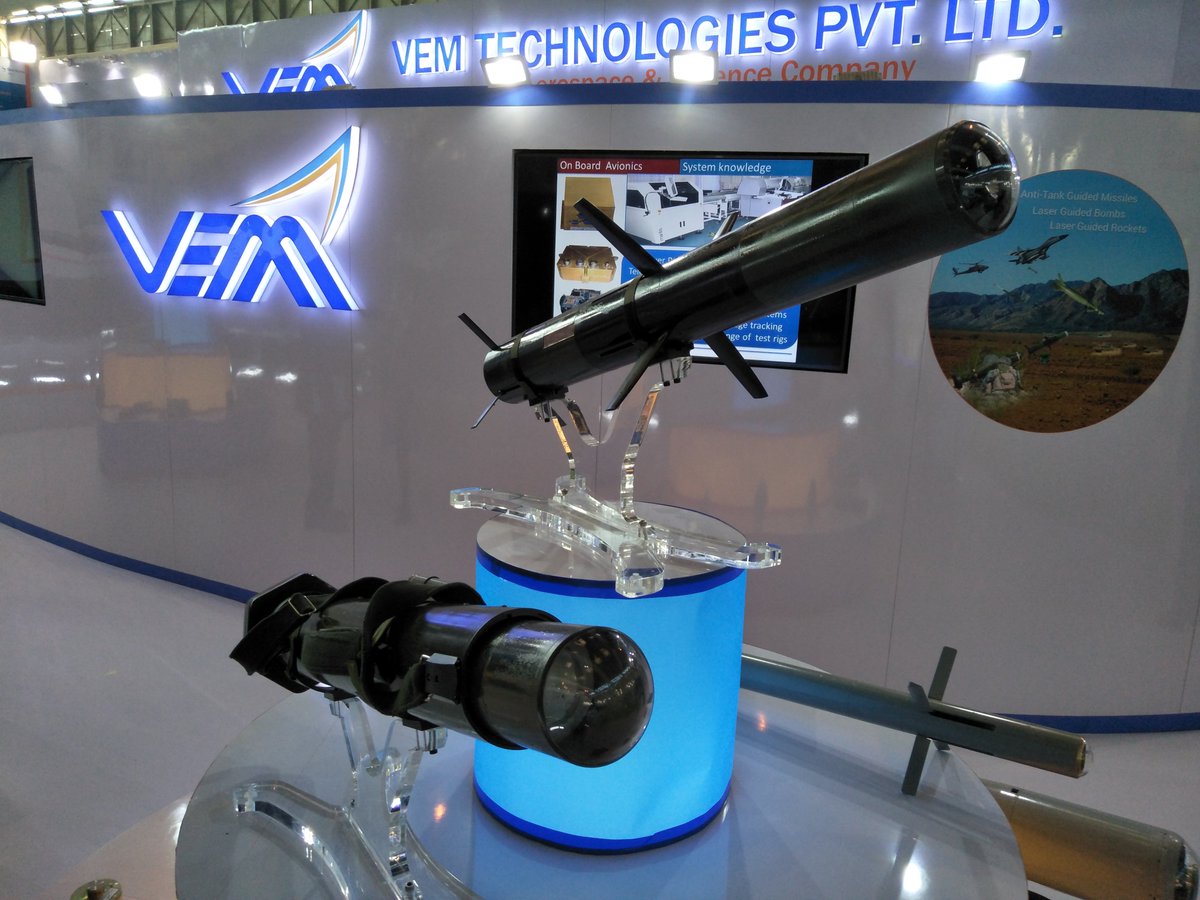 JASMINE: VEM Technologies Pvt.Ltd proposed 3rd generation Anti-Tank Missile missile was based on their in-house expertise developed by the company and was called "Jasmine" which the company claimed were capable of developing in a short time since they had all requisite technologies to develop it in-house if interest were shown by the armed forces of the country.
Disclaimer : Articles published under " MY TAKE " are articles written by Guest Writers and Opinions expressed within this article are the personal opinions of the author. IDRW.ORG is not responsible for the accuracy, completeness, suitability, or validity of any information on this article. All information is provided on an as-is basis. The information, facts or opinions appearing in the article do not reflect the views of IDRW.ORG and IDRW.ORG does not assume any responsibility or liability for the same. article is for information purposes only and not intended to constitute professional advice .
Article by  AMIT PANDEY ,  cannot be republished Partially or Full without consent from Writer or idrw.org
Note: If you have personal opinion and want to contribute for" MY TAKE "on Defence matters kindly email us at idrw.org@gmail.com