SOURCE: AJAY NAIK / NEWS BEAT / IDRW.ORG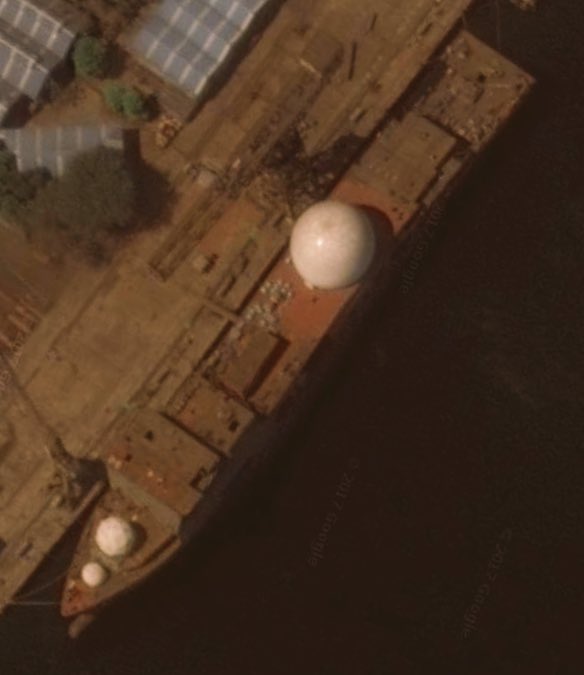 Latest satellite imaginary confirms installation of Radar dome on India's VC 11184 Ship currently under construction at Hindustan Shipyard Limited in Visakhapatnam. VC 11184 will be India's first Ballistic Missile Tracking Ship which will propel India into an Elite Club Four Countries (US, Russia, China and France) who have developed similar ships to track Ballistic missiles launches.
VC 11184 will have two AESA radar arrays, one in the S band and one X band. The S Band array is used for scanning large volumes of the sky for objects and for tracking missiles in flight, while the X band array is used for zeroing in on small hard to detect objects like reentry vehicles, missile interceptors, or even tiny satellites.
VC 11184 will be very handy in collecting data for India's ballistic missile defence (BMD) system and will also aid in tracking the performance of Submarine Launched Ballistic Missiles (SLBMs) out there in open ocean fired from India's Arihant class of Submarines.
AESA radars also can track hostile ballistic missiles and can also identify decoys with actual warheads fired from multiple independently targetable reentry vehicle (MIRV) warhead capable ballistic missiles. AESA Radars are so lethal that they can provide detailed tracking of enemy fired ballistic missiles for a ground-based interceptor to take them down and can also be used to track space objects and projects, particularly if it is related to missile defence.
VC 11184 will be critical components in India second phase development of ballistic missile defence (BMD) system which requires detection of a hostile missile fired from long range to be picked up early, once they are launched. Due to the limitation of ground based Radars and sensors, ballistic missile tracking ships stationed at high sea thus comes in handy for such long range tracking.
VC 11184 at at 175 metres will be as big as INS Jalashwa, which is an amphibious transport dock currently in service with the Indian Navy and also tagged as second biggest ship after INS Vikramaditya aircraft carrier. VC 11184 once formally induced will go out for sea trials and the crew will be made of Indian Navy.DRDO, NTRO and other agencies when the ship is operationised .
Disclaimer : News Beat reporting is an idrw.org initiative to let our Readers and upcoming Journalist Students report News. News Beat will also be a platform to burst Hoax Internet Rumors on Indian Military
Note : IDRW.ORG is not responsible for the accuracy, completeness, suitability, or validity of any information on this article. All information is provided on an as-is basis. The information appearing in the article do not reflect the views of IDRW.ORG and IDRW.ORG does not assume any responsibility or liability for the same. an article is for information purposes only and not intended to constitute professional advice.
NOTE : Article cannot be reproduced without written permission of idrw.org in any form