SOURCE:  ABHOY ROY / FOR MY TAKE / IDRW.ORG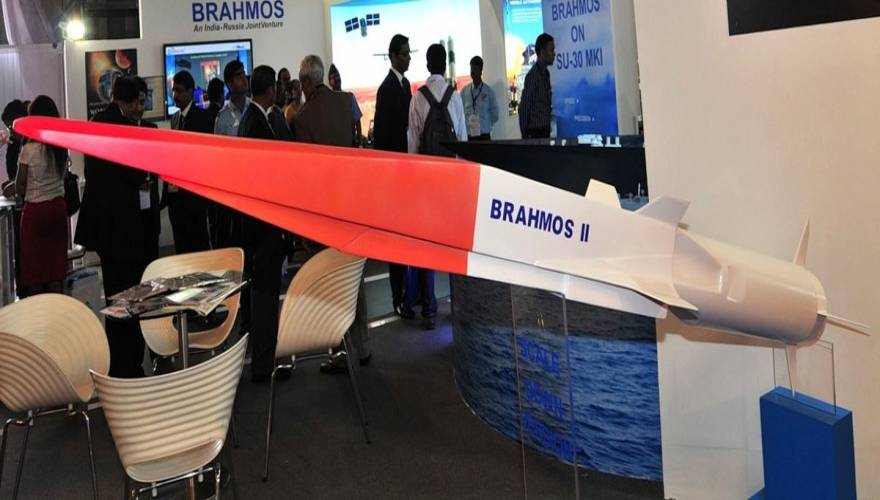 Russian-Indian joint venture Brahmos Aerospace was supposed to work on the development of hypersonic BrahMos 2 cruise missile which was later renamed as BrahMos 2K, K standing in memory for Kalam but the program development which has been in talks from 2011 onwards is yet to see the light of the day, makes many wonder, why the program is yet to take off and remains only to be seen at defense expo.
BrahMos 2K missile was capable of flying at speeds of Mach 5-Mach 7 and according to then BrahMos chief in 2012, they had carried out series of lab tests at the speed of 6.5 Mach and first fully-functional prototype of the missile was supposed to make it debut by 2017-18 which has long gone.
BrahMos Aerospace Ltd after entry of India into MTCR, rather has concentrated in increasing range of BrahMos which is based on the Russian-designed NPO Mashinostroyenie 3M55 Yakhont(SS-N-26) to 450 km range but with bump in speed from Mach 2.9 to Mach 3.5 speed and further range will be increased 850 km but no clarity when it will be ready for trials. BrahMos Aerospace has confirmed that it is taking up the development of BrahMos-NG (Next Generation ) which will be a lighter variant with the same intensity of kinetic punch and warhead to deliver the same level of performance as seen in current missile system.
BrahMos-NG will be a game changer both for Indian Airforce and Indian Navy since Air-launched variant can be carried from LCA-Tejas to Su-30mki for IAF and for Indian Navy lighter BrahMos will mean it can more missiles in its warship and can still use them to be armed on carrier-borne fighter jets like Mig-29K, Rafale -M and Navy Mk2 which will further boost aerial firepower of the Indian armed forces.
While the US, China, and Russia have joined the Elite Hypersonic club, entry of India into it has been denied or refused to maintain elitism of the Hypersonic club, since it clearly seems that Russia is reluctant to transfer Hypersonic weapons system or is simply asking for too much money to develop BrahMos 2K with India. Like seen in the ASAT program, India will need to develop its own Hypersonic missile system to enter into this Elite Hypersonic club or be ready to be left out behind. since the Hypersonic missile system are considered as Game changer in any war, for now, Russia is holding the high bargaining chip and might have agreed to increase range of current BrahMos from Mach 2.9 to 3.5 only as interim measure to satisfy current need to modernize BrahMos system.
According to Sudhir Mishra, Current CEO of BrahMos Aerospace Ltd, the current engine used in BrahMos cannot achieve a speed of Mach 5 even with modification and tinkering and will require a brand new engine for hypersonic speeds but many Indian institutions like DRDO are working on new engine propulsion technology which will have speed in excess of Mach 7 but it won't be ready in next 5-7 years, even if meets its schedule it won't be ready for production for another 5-7 years which means India is yet least good 10-12 years behind the development of the technology from members of the Elite Hypersonic club.
Disclaimer : Articles published under " MY TAKE " are articles written by Guest Writers and Opinions expressed within this article are the personal opinions of the author. IDRW.ORG is not responsible for the accuracy, completeness, suitability, or validity of any information on this article. All information is provided on an as-is basis. The information, facts or opinions appearing in the article do not reflect the views of IDRW.ORG and IDRW.ORG does not assume any responsibility or liability for the same. article is for information purposes only and not intended to constitute professional advice .
Article by ABHOY ROY /,  cannot be republished Partially or Full without consent from Writer or idrw.org