SOURCE : IDRW NEWS NETWORK (INN)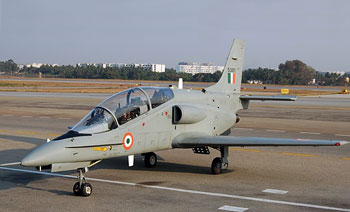 HAL's Director Design Swarna Raju in interview to Oneindia has confirmed that Hindustan Aeronautics Ltd (HAL) designed Intermediate Jet Trainer (IJT) Sitara to be used for Stage-II training in Indian Air Force and which will replace Kiran-MK1/2 trainers has undergone modification to airframe and in next 15 days will take its first flight .
Intermediate Jet Trainer (IJT) already has missed its Initial Operational Clearance (IOC) set for last year, HAL's Director Design is hopeful that IJT will get its IOC this year. IJT for last few years has been facing issues with spin and stall of the aircraft which is considered too risky for newbie pilot to execute and recover while, in training.
HAL in past had carried out various realignment to wings and dead weight shifting ,Anti-Spin strips on its nose cone section for better recovery too were added but still issues remained and later BAE Systems, was roped in to provide consultancy to sort out some of the issues with the Intermediate jet trainer (IJT).
BAE Systems, after carrying out assessment in its recommended had suggested that aircraft's tail will have to be redesigned to address serious stall and spin issues. Questions now remains is whether HAL claims of a modification been carried out will resolve stall and spin issues, which are important aspects in trainings of new pilots.