SOURCE: Satyajeet Kumar/ FOR MY TAKE / IDRW.ORG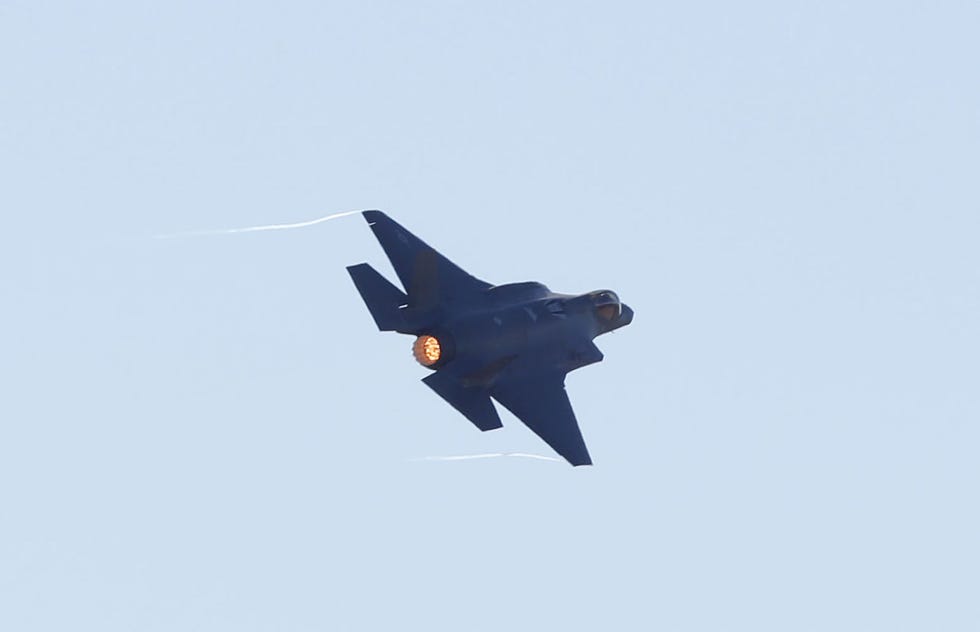 Longtime Critic of F-35 Program, US President Donald Trump has reportedly cleared US Militaries officials and Lockheed Martin's proposal to explore completely new potential customers for its 5th Generation F-35 fighter aircraft outside its traditional circle of allies who largely procure the US made weapons.
One of the reasons for the exploring new potential buyers of F-35 is due to the United States Air Force's inability to procure 1,763 F-35A jet by end of 2038. With a shorter production run of only 60 F-35A per annum from earlier proposed 80 per annum could seriously derail cutbacks in the cost which Lockheed Martin had announced after President Trump took office.
Stretching of F-35A production timeline changes economies of scale since now Lockheed Martin will have to keep F-35A production line open for another 6-7 years more than originally planned, lesser per annum production run also means Lockheed Martin will be forced to procure lesser materials from its Contractors and Sub-contractors which can lead to re-negotiation of prices leading to steep increase in input cost which will lead to steep rise in the cost of F-35A to the customer .
US Air Force's F-35A is projected to fall to $80 million per plane by 2020 but shorter orders means price will again climb back up, but due to budget constraints it is unlikely USAF can stick to its original F-35A procurement timeline and since it is likely to fail to commit and with far fewer orders coming from its allies, US is on a hunt for other potential customers who can procure F-35A in good numbers .
Saudi Arabia, UAE and India are seen as Potential Markets which has the capability to place orders for 250-300 aircrafts within themselves, with Saudi Arabia and India still counted among largest importer of the weapons in the world. First few deals are likely to be stuck in the middle east were fear of F-35A in Israeli hands will lead to panic buying but cracking India market won't be easy for the United States.
Recent flipflops regarding customised F-35A or F16 for India and other media reports also indicating that IAF might ask Government of India to inquire about F-35A from the United States, which hints that both Governments have formally discussed possible sale of F-35A to India, with India has been accepted as only Regional power in the region which can take on China , Trump Administration is now more than willing to offer its top of line Weapon system to India to help it contain China .
India instead of procuring F-16 Block-70 under its Single Engine Fighter (SEF) Tender should ask Trump Administration to offer F-35A which can be customised or Assembled locally in line similar deal stuck between US and Japan on the assembly of F-35A in Japan.
Customized F-35A if offered to India in real will be assembled in India and will see different avionics and sensors than some other export manufactured versions of the F-35 to maintain security interests. With FGFA deal with Russia stuck and AMCA Project yet to take off, procurement of Vintage F-16s from the United States will lead not lead to any strategical imbalance in contrast to growing Chinese PLAAF in the region, India should either place follow up order for more Dassault Rafale and close FGFA deal with Russia for 104 aircrafts or start thinking beyond F-16s to modernize its air force .
Disclaimer : Articles published under " MY TAKE " are articles written by Guest Writers and Opinions expressed within this article are the personal opinions of the author. IDRW.ORG is not responsible for the accuracy, completeness, suitability, or validity of any information on this article. All information is provided on an as-is basis. The information, facts or opinions appearing in the article do not reflect the views of IDRW.ORG and IDRW.ORG does not assume any responsibility or liability for the same. article is for information purposes only and not intended to constitute professional advice .
Article by Satyajeet Kumar ,  cannot be republished Partially or Full without consent from Writer or idrw.org
Note: If you have personal opinion and want to contribute for" MY TAKE "on Defence matters kindly email us at idrw.org