SOURCE:  ABHINANDAN RAO / FOR MY TAKE / IDRW.ORG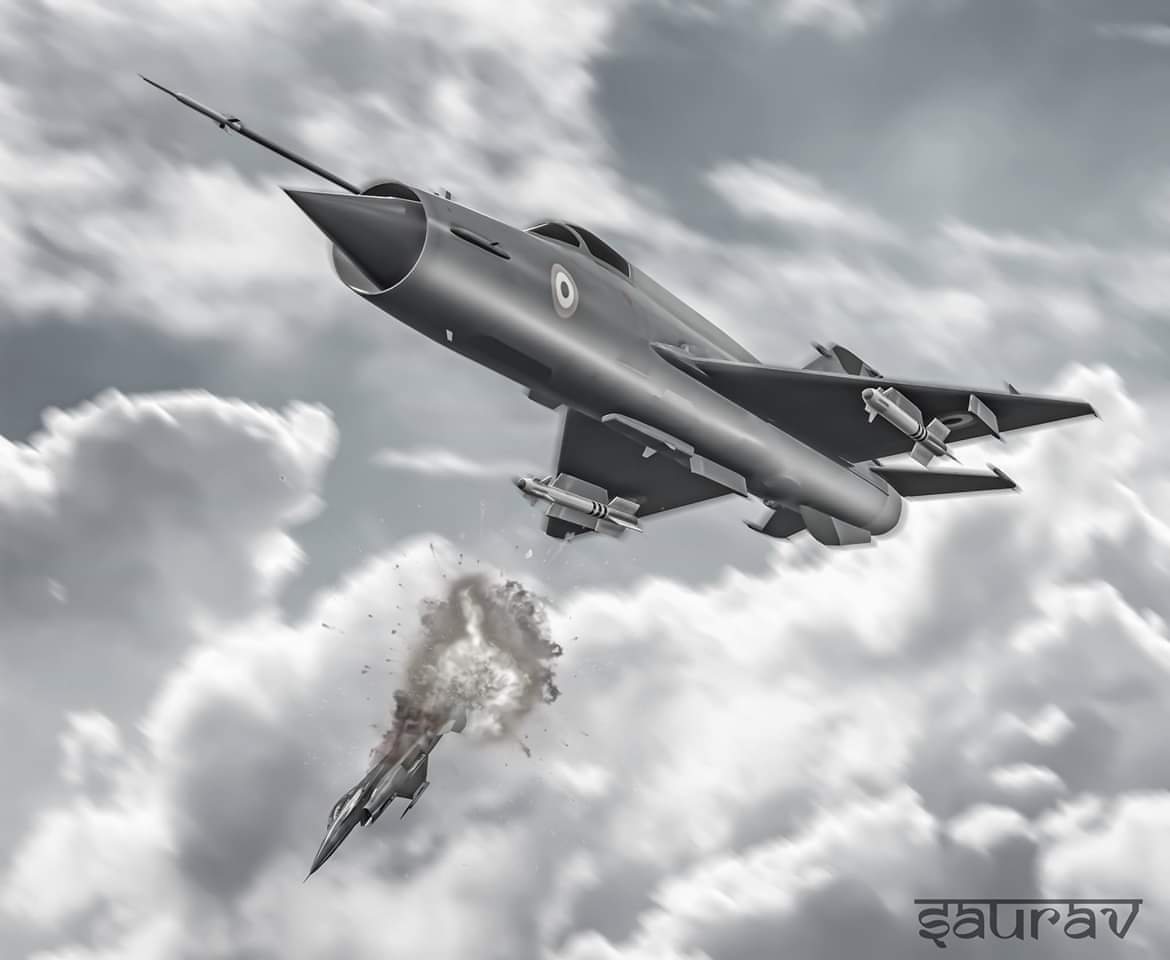 Since its induction from the early '80s and after its action inside Afghanistan is drowning of some Soviet Helicopter gunships and Strike aircraft, F-16 became the poster boy of the Pakistan Air Force and Air Machine which was not only worshiped by their Media and Public but repeated propaganda about them created such a cult following of the F-16 that it was seen as invincible weapon which could win them any war for Pakistan Guaranteed.
The myth of PAF's F-16 superiority was no doubt oversold to the public that even reports of PAF losing F-16 inside Afghanistan while chasing a Soviet Su-25 which was brought down by trigger happy PAF F-16 pilot shooting down his own wing-man didn't dampen its myth. At the height of Kargil war a single Indian Mig-29A fighter aircraft had a radar lock on two F-16s with its superior R-77 BVRAAMs and was just few seconds away before both Pakistani F-16s disengaged and made run for their own airspace thus saving their ass from getting shot down by a single Mig-29A on Combat Air Patrol it was denied and most of the PAF officer's called it Indian imagination.
But Years later, Retired Air CMDE Kaiser Tufail of Pakistan Air Force not only confirmed the event narrated by IAF but also shed more light into whole operational level of F-16 at Kargil War. F-16s due to Sanctions from US Administrations was rarely used for Combat Air Patrol at Kargil War, with their Mythical Air Machine out of service for the most part of the three month Kargil war ensured that Indian Air Force went unchallenged and carried out operations at will without worrying about PAF.
Tufail also confirmed that whatever limited F-16 sorties did take place, spares for the jet had already had taken up a large chunk of war reserve and it was reaching a situation where availability of 40 F-16 was less few handful and could have forced PAF to ground them completely if the war had continued for long.
Pakistani F-16s were not only outdated in terms of avionics but it was also finding it hard to source it spares, lack of Beyond visual range missiles meant IAF Jets had the edge if a full-fledged war had taken place but Resumption of old republished F-16s to PAF and upgrade package for the old ones in lieu of Pakistan's support against United States War against Terror in Afghanistan drastically improved their conditions but restricted end-user agreements also meant threats of sanctions on possible use of them against India could bring back old days of poor maintenance support from United state administration.
Pakistan has breached that End-User agreement and Indian evidence of the missile part and Radar signature will ensure that Americans are briefed by Indian Diplomats soon. IAF also has confirmed that one single F-16B a Two Seater Trainer was also shot down by the Indian Mig-21 which is why Pakistani military have made all-out effort to not only hide its casualty of one dead pilot which was reportedly killed by the local mob but also denied participation of the F-16s in attacks against Indian military installations in fear of American backlash.
According to Indian Air Force, they have Electronic Radar recording of the F-16 which went down from the time of air space breach near LOC till the time it was shot down by the Mig-21 which now will be shared first with Americans and later with friendly countries like Russia, UK, and France. Loss of a 4th generation F-16 against Russian build 3rd generation fighter like Mig-21 will ensure that congressmen in the United States will call for total sanctions for the supply of military spares for their fleet.
IAF's Mig-21 Bis is last of its breed left in the long history of Mig-21 variants which have served India from 1965 on wards and are up for retirement by 2019 on wards and will be all gone by 2021. Loss of a Jet which was up for retirement anytime now which took out an F-16 which won't retire by 2040 is a big loss for PAF more than India.
Disclaimer : Articles published under " MY TAKE " are articles written by Guest Writers and Opinions expressed within this article are the personal opinions of the author. IDRW.ORG is not responsible for the accuracy, completeness, suitability, or validity of any information on this article. All information is provided on an as-is basis. The information, facts or opinions appearing in the article do not reflect the views of IDRW.ORG and IDRW.ORG does not assume any responsibility or liability for the same. article is for information purposes only and not intended to constitute professional advice .
Article by ABHINANDAN RAO /,  cannot be republished Partially or Full without consent from Writer or idrw.org