SOURCE: VISHAL KARPE / FOR MY TAKE / IDRW.ORG
                                                          REPRESENTATIONAL PICTURE
Indian Air Force is getting a Desi Aerial fire power make over as DRDO and Ministry of Defence have been clearing major projects to develop a cluster of aerial weapons systems which will replace expensive imported weapons systems used by Indian Air Force for its operations.
What started off almost a decade back to replace basic aerial weapons with indigenous replacement is fast gaining space to develop series of new aerial weapons which will make Indian Air Force completely independent from foreign weapons manufacturers in less than a decade. Few of the Project initiated by the DRDO has been listed below.
Garuda: 1,000 kg indigenously-developed glide bomb is a Non-winged version with a range of range of 30 km.
Garuthma: 1,000 kg indigenously-developed is the winged version of Garuda with a range of range of 100 km.
Sudarshan laser-guided bomb: Indian laser-guided bomb kit which was used in Aeronautical Development Establishment (ADE) developed 450 kg class dumb bombs to improve their accuracy.
High-speed low drag (HSLD) bomb: 500 kg Indigenously developed general purpose bomb was tested successfully and will join 250 kg and 450 kg variants which are already in service.
C.L.G.M (Cannon Launched Guided Missile ): ARDE developed 5 km range C.L.G.M is an Anti-Tank Guided Missile [ATGM] which will replace imported Israeli LAHAT missiles in Arjun Tanks. ARDE is reportedly also working on the development of Air launched C.L.G.M for Combat Helicopters and UAVs.
HeliNa ATGM: Helicopter launched version of 'Nag' called " HeliNa" is an 8km range third generation 'Fire and forget' Anti-Tank Guided Missile (ATGM). HeliNa will see service in Indian Army's ALH WSI (Rudra) and IAF's and IA's LCH (Light Combat Helicopter).
NGARM: Next generation anti-radiation missile (NGARM) is a DRDO developed 100-km range anti-radiation missile tasked to pickup up various radio frequencies to attack radars and communication systems.
Astra BVRAAM: Astra is an active radar homing beyond-visual-range air-to-air missile (BVRAAM) which has entered limited production with 50 units. Astra has operational range varying from 20km-100km.
SFDR (Astra 2): Solid Fuel Ducted Ramjet Propulsion Project will be India's Next Generation beyond-visual-range air-to-air missile (BVRAAM) program, which India is developing with Russian Help. SFDR will have operational range varying from 35km-150km.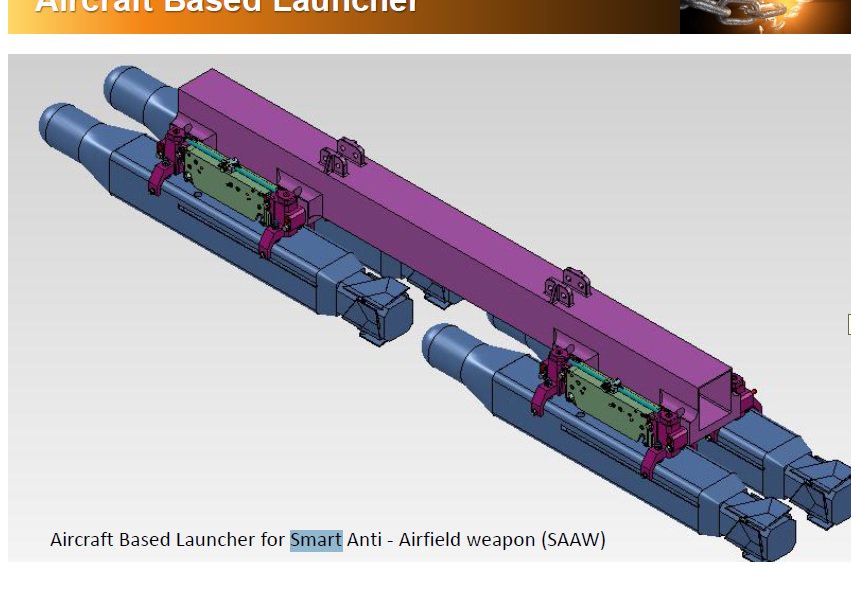 SAAW: Smart Anti-Airfield Weapon (SAAW) is a 120-kg class smart weapon with long standoff range of 100 km specially designed to destroy runways, bunkers, aircraft hangers and other special concrete reinforced structures.
REPRESENTATIONAL PICTURE
Rudra M-2: Sanctioned in 2016 with a budget of 489.06 crores. Rudra M-2 is speculated to be another of the DRDO's Smart Class Air to Surface Missile (ASM) designed for Precision long range anti-armor strike missions which can destroy even moving targets. Launch platforms will be Fighter aircraft, along with Combat Helicopters and HALE Class Drones.
BrahMos-A: Air-Launched BrahMos-A is a Mach 3 Capable heavyweight supersonic cruise missile which will see service with 40 modified Su-30MKI platforms.
Future Aerial Weapons Systems under Consideration
Nirbhay ALCM: Air Launched Nirbhay Sub-sonic Cruise missile is reportedly under design stage with a range of 1000km. Nirbhay ALCM will be adapted for Su-30MKI platforms and might also see service with Indian Navy.
Mini Nirbhay ALCM: Smaller Nirbhay Air Launched Cruise missile with half of its range was proposed for services in other IAF fighter aircraft like Mig-29, Mirage-2000 and nonmodifed Su-30MKI platforms.
BrahMos-NG: BrahMos-NG (Next Generation) is a mini version based on the existing BrahMos which will also see the development of Air launched variant. Unlike BrahMos-A which is limited to Specially modified Su-30MKI platforms only, BrahMos-NG will be able to be adapted to all Fighter fleet of Indian Air force.
DRDO-BrahMos Air Launched AShM: DRDO and BrahMos Corporation have joined hands to develop a family of missiles based on New anti-ship cruise missile which they are developing for Indian Navy. Unnamed AShM will be indigenously developed 1000+ km ranged anti-ship cruise missile which will travel most of its flight duration at subsonic speeds but will perform a supersonic sprint in the terminal approach towards its target. One of the Proposed variants is Air launched AShM to be equipped with Su-30MKI platforms.
CCM: Success of Indigenous Beyond-visual-range air-to-air missile (BVRAAM) Astra Program and Longer ranged SDRF BVRAAM Program already in the pipeline has prompted IAF and DRDO to discuss possibility of future  development of Within Visual Ranged Close Combat Missile for its entire fleet.
Disclaimer : Articles published under " MY TAKE " are articles written by Guest Writers and Opinions expressed within this article are the personal opinions of the author. IDRW.ORG is not responsible for the accuracy, completeness, suitability, or validity of any information on this article. All information is provided on an as-is basis. The information, facts or opinions appearing in the article do not reflect the views of IDRW.ORG and IDRW.ORG does not assume any responsibility or liability for the same. article is for information purposes only and not intended to constitute professional advice .
Article by VISHAL KARPE ,  cannot be republished Partially or Full without consent from Writer or idrw.org
Note: If you have personal opinion and want to contribute for" MY TAKE "on Defence matters kindly email us at idrw.org@gmail.com