SOURCE: TUSHKAR SHIRODKAR / FOR MY TAKE / IDRW.ORG.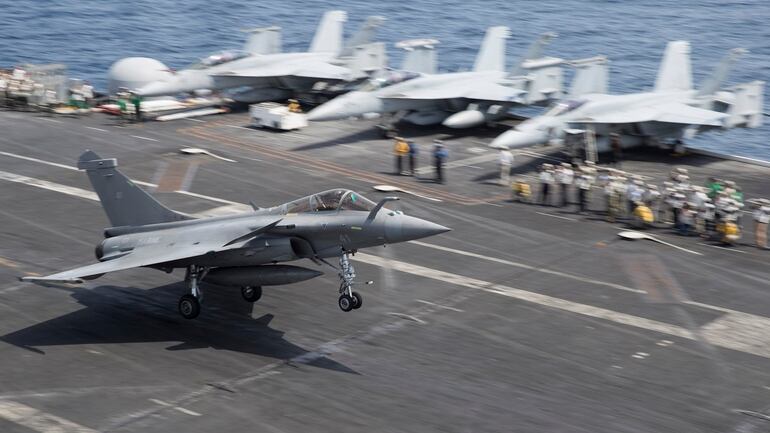 Indian Navy (IN) has reduced it earlier forecast requirement for multirole carrier-based fighters (MCRBF) from 57, now down to 36 jets and now wants, Government and Indian Air Force (IAF) to help select a platform that will be common between both the forces to reduce the need for multiple RFI/RPF and other documentary processes and also have a Naval Aviators in the IAF team that will be conducting Technical Trials of the jets on the offer.
IAF has requirements for 114 jets that probably will be the last time, India ever will be buying a foreign designed and manufactured jets since off late the focus is now shifting towards locally made fighter jets to meet present and future requirements. Navy's plans to piggyback on the IAF's deal could mean additional orders for the selected vendor of 36 jets more, making it the largest fighter jet deal in recent history but, only if accepted by IAF. it will also mean that aircraft capable of carrier-based operations and normal operations from Airforce Stations could see considerable fewer options in the contest.
IAF allowing IN to join its fighter jet program will also help to remove the unwanted need to scrutinize vendors and their jets which airforce is not interested in purchasing thus eliminating the need to carry out the time-consuming technical evaluation rounds and paper process of documentation . Limited options will also help IAF push its first choice that is the Dassault Rafale jet that also has different models for both IAF and IN to meet its requirements.
The Second option left will be that of Boeing's F-18 E/F Block-III Fighter jets that can be used by both IAF and IN since it is cheaper than Dassault Rafale, it will also come as a cost-effective solution to India that is still struggling due to an economic slowdown due to CCP Virus and Boeings open willingness to move production of the jet to India and also help India build its 5.5th Generation AMCA fighter jet as a trade-off for the deal.
Sea-Gripen was one of the Paper jets that were on offer to India, but IN has rejected the very idea of operating single-engine carrier-based fighters after it turned down ADA's offer of the LCA-NAVY Mk2 program that eventually lead to the program approvals for the Twin Engine Deck Based Fighter (TEDBF) concept that will automatically eliminate any such proposal for the same made by the SAAB and same is expected from IAF that is backing Tejas Mk2 program.
Since Lockheed-Martin offered F-21 (F-16V) will be automatically rejected from the combined MMRCA/MCRBF tender process, the company will find it hard to let go of such a big procurement tender when it has an alternative fighter jet that can meet requirements of both IAF and IN, that is their F-35A for IAF and F-35B / F-35C for IN at quite a reasonable price, even undercutting Dassault Rafale cost, if issues with ToT are sorted out between India and United States.
Since IAF is not eager to join Navy's TEDBF Program that is still in its infancy stage, the Navy has made calculated moves to ensure that any delays in the TEDBF Program don't have any direct effect on its fighter jet fleet of Russian Mig-29K that is literally falling a part and since IAF is keen on procuring more Dassault Rafale, Navy has right to demand the same since it has been procuring jets ordered by IAF to be used as a common platform for both the forces to reduce its bills like in case of Mig-29K, HAWK-132 AJT, and Dornier. Will the entry of F-35 Variants, complicate the matter for IAF? sure it can, Will the F-35 capabilities exceed that of Dassault Rafale and come at lower cost ? Yes it can put IAF in a peculiar spot if ever Biden administration allows F-35 to compete in Indian tender for combined fighter jets.
Disclaimer : Articles published under " MY TAKE " are articles written by Guest Writers and Opinions expressed within this article are the personal opinions of the author. IDRW.ORG is not responsible for the accuracy, completeness, suitability, or validity of any information on this article. All information is provided on an as-is basis. The information, facts or opinions appearing in the article do not reflect the views of IDRW.ORG and IDRW.ORG does not assume any responsibility or liability for the same. article is for information purposes only and not intended to constitute professional advice .
Article by TUSHKAR SHIRODKAR ,  cannot be republished Partially or Full without consent from Writer or idrw.org