SOURCE: RAUNAK KUNDE / NEWS BEAT / IDRW.ORG.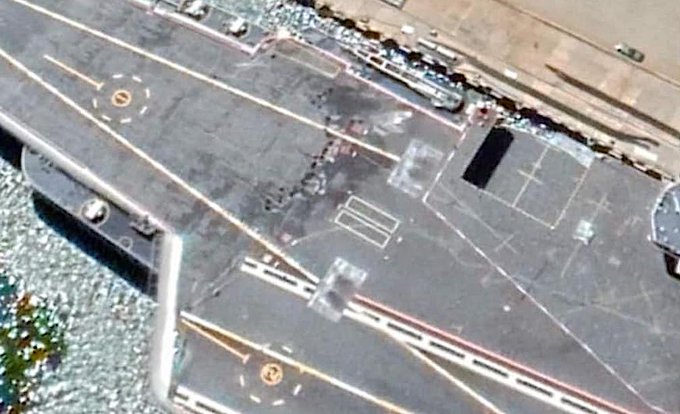 China's second aircraft carrier, the Shandon was captured in satellite images showcasing huge cracks with parts sunk in on its flight deck either caused by an explosion or by a strong fire that might have melted some section of the flight deck visible from the satellite pictures. While the Chinese analysts are speculating it was some oil leak that makes it appear like a cracked surface but some Western Defence Analysts are buying this theory since damage seems to be structural and inward. But equally number of Western Defence Analysts are also claiming that it probably just some crew members of the ship are seen cleaning the deck which resulted into dizzy satellite images. American Navy personnel's who have in past worked on aircraft carriers claim, deck cleaning is usually performed while the ship is at sea due to remove excess sea waters collected on the flight deck with fresh water to avoid rusting issues and damage to the upper flight decks are common occurrence specially when new carrier borne fighter jets is undergoing certification trials.
Another theory floating around is that the Chinese People's Liberation Army (PLA) Navy in May this year was conducting a series of exercises in the South China Sea for combat preparedness and it is likely the damage was suffered while coming for landing by a carrier-borne aircraft by inexperienced pilots. J-15 carrier-based fighter jet which is a copy of the Russian Su-33 is one of the heaviest carrier-based fighter jets in service with PLA Navy and is increasingly accident-prone leading to being grounded for months at a time due to inherited design flaws due to which even Russians have withdrawn the Su-33 fleet and replaced it with Mig-29K. China is already working on J-15's successor due to high crash records of the aircraft.
The some defense Analyst are also hinting at the possibility of poor workmanship that might have attributed to the damage to the flight deck. China's second aircraft carrier entered service in December 2019 and underwent further trials and training sessions in 2020, and crew and pilots are still not combat-ready, even though Chinese state media like Global times have claimed that it can be deployed in real combat if required.
NOTE : Article cannot be reproduced without written permission of idrw.org in any form even for YouTube Videos to avoid Copy right strikes.