SOURCE: NDTV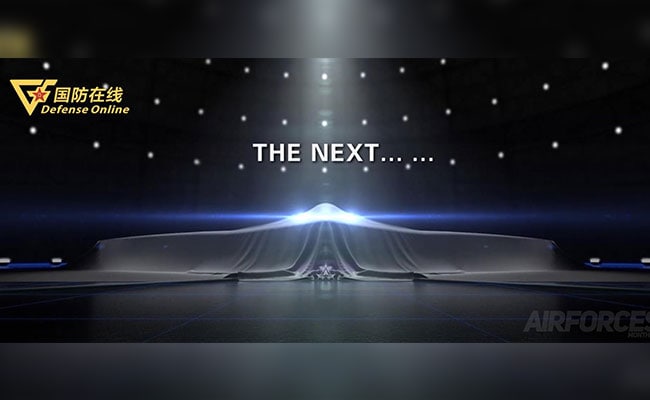 Its official – China has a new long range stealth bomber, a rival to the US Northrop Grumman B-21 Raider, a futuristic jet yet to enter service with the US Air Force. Both the B-21 and the Chinese stealth bomber, which is likely to be called the H-20, have an easy-to-identify flying wing design.
For the first time ever, the Chinese government sponsored website chinamil.com.cn has posted a teaser image of the new aircraft which is covered in cloth. The image is a screenshot from a video released by the Aviation Industry Corp of China (AVIC) on WeChat, the Chinese version of WhatsApp.
According to the China Military website, footage of the H-20 lasting only 6 seconds in duration was placed at the end of the video "in an unmistakable attempt to highlight the plane's significance and mystery".
China Military also quotes General Ma Xiaotian, the former Chief of the Chinese Air Force saying "we are now developing a new-generation, long range strike bomber that you will see sometime in the future".
The release of the footage is a clear show of confidence in the ability of China's aviation industry in developing the most sophisticated aviation designs. "I think the new bomber will be unveiled to the public in the near future," Shi Jian of Aviation World Monthly magazine told the China Military website. "It is not uncommon for the PLA (People's Liberation Army Air Force) to make public its top weapons before their delivery thanks to the increased level of transparency and confidence brought about by our technological advancement," said Shi.
According to estimates, the new Chinese stealth bomber will be able to fly 12,000 kilometres and carry 20 tonnes of nuclear armed bombs and missiles. It would, therefore, be a key part of Beijing's strategic arsenal.
China has made rapid strides in developing stealth aircraft, jets that are difficult, if not impossible, to detect on radar. This means that these aircraft can penetrate enemy airspace and hit targets on the ground or attack other aircraft in the air without being tracked themselves.
At the moment, China has deployed its Chengdu J-20 stealth fighter, a single seat, twin-engined jet with a distinctly stealthy design. The J-20 is the third stealth fighter presently in service.The American Lockheed Martin F-22 Raptor is widely considered the most advanced air superiority fighter in its class while the F-35 Lightning II, manufactured by the same firm, has been optimised for ground attack missions. China is at an advance stage of testing its Shenyang J-31, thought to be a competitor to the F-35.
India has no stealth aircraft in its inventory though an indigenously designed fighter called the AMCA (Advanced Medium Combat Aircraft) is on the drawing board at Hindustan Aeronautics. It would likely take close to a decade for this fighter to begin prototype testing.