SOURCE: ENS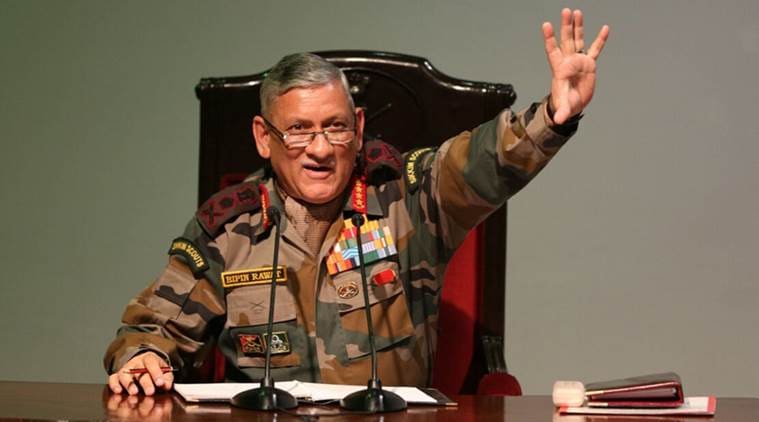 Army Chief General Bipin Rawat, in a strict tone, asserted that India is not a weak nation and will not allow its territory to be invaded. Addressing concerns over the incursion of Chinese troops into Indian mainland, the COAS said, "China is a powerful country but we are not a weak nation."
Amid increasing efforts from Beijing to create an influence in the region, the COAS said that neighbouring countries cannot be allowed to drift away towards China. The four-star General expressed that the time has come for India to shift its focus to the northern border and added that the forces are capable of handling increasing Chinese advances in the region.
Accepting that the Chinese government is exerting pressure, General Rawat said that if a situation arises the troops are ready. "If things escalated, we are prepared to handle the situation. We are continuously manning the border. Yes, we should try that it is not escalated, we will not allow our territory to be intruded. Troops are earmarked, should a situation arise we are ready to cater," General Rawat said.
Rawat emphasised that India needs to have capacities to ensure that ammunition can move from one sector to another quickly and ensured that government is focussed on it. "We also need to build capacity to move forces from western sector to northern sectors," he added.
In a positive news for Army personnel posted in Sikkim and along the north-eastern border, the government has sanctioned the much-awaited demands of stylised bullet-proof helmets. General Rawat said, "It is not because we saw a threat, Chinese troops were very well equipped so we felt why not send better quality equipment for our own jawans – better jackets and helmets. It shows that we are better prepared."
Meanwhile, the Indian Army in a bid to curb growing insurgency is all set to shift its focus from South Kashmir to North Kashmir in 2018. The Army had conducted a series of operations and raids in South Kashmir with unprecedented success flushing out terrorists last year, as part of Operation All Out. General Rawat said, "In 2017, our focus of the operations was in South Kashmir. This year it will shift its gaze to North Kashmir's Baramulla, Pattan, Handwara, Kupwara, Sopore, Lolab valley and some northern areas of Bandipore so that the infiltration can be thwarted there."
On the increased cases of ceasefire violations and cross-border firing in Kashmir, the COAS said that India is ready to retaliate against any threat and will continue the approach till it sees a decrease in violations. General Rawat said, "The casualties which Pakistan has suffered are three to four times more than we did. Pakistan is sending messages regularly to return to the ceasefire. We are ready, but we will continue till we see a decrease in ceasefire violation," he added.
Reacting for the first time, since the United States threatened to suspend the financial aid being given to Pakistan, the Army chief said that New Delhi should not be expecting that Washington will take over the work that it needs to do. He averred that it was premature to talk how much of an impact it would have on Islamabad. He said, "It would be too premature to start saying that everything is going to be hunky-dory. Let's not expect the US to do what we are expected to do."