My Take
SOURCE: Satyajeet Kumar/ FOR MY TAKE / IDRW.ORG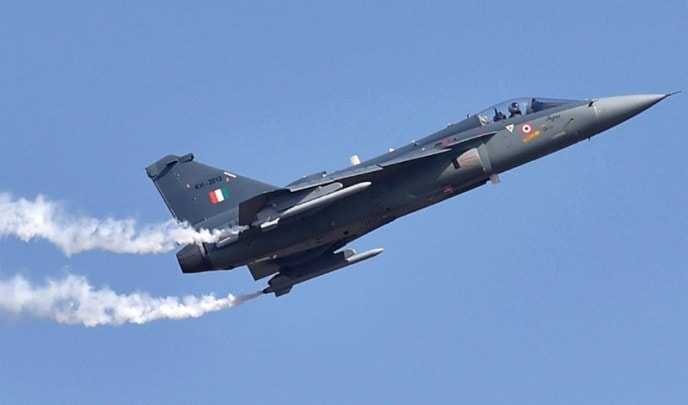 India's Single Engine Fighter requirement is facing rather unexpected questioning, Ministry of Defence which first formulated purchase of single and twin-engine fighter aircraft on the backdrop of collapsed MMRCA tender is now questioning IAF's requirement after Lockheed Martin refused to oblige to carry out full Transfer of Technology of its F-16 to India which could lead to awkward single vendor situation .
MOD officials are also worried the new deal could cost over $ 20 Billion for the purchase of 114 units of aircrafts and will also face an allegation of irregularities in their procurement since only two vendors have responded and there is growing realisation that both F-16 and Gripen-E were rejected by IAF under Technical rounds of MMRCA evaluations. Continue reading →
SOURCE: Indrajit Majumdar / FOR MY TAKE / IDRW.ORG
DRDO has developed 250 KWs Silver Oxide Zinc (AgOZn), both primary and secondary batteries for propulsion of heavy weight torpedo Varunastra
DRDO's Varunastra, the first indigenous heavy weight ship launched anti-submarine electric torpedo.It is capable of targeting quiet and stealthy submarines, both in deep and littoral waters in intense counter measure environment . The battery, which is used for heavyweight torpedo propulsion, will enhance the propulsion characteristics of the weapon. This will help in increasing the speed of torpedoes due to increased power from the present 100 kW to 250 kW, almost within the same space. Continue reading →
SOURCE: MANJUNATH REDDDY/ FOR MY TAKE / IDRW.ORG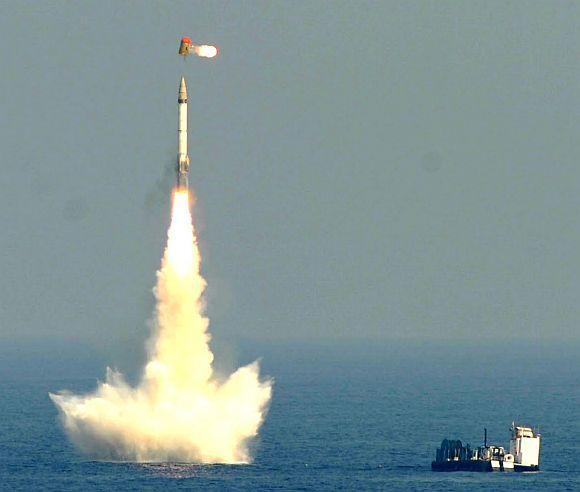 Nearly a decade back on 26 February 2008 for the first time, DRDO confirmed and admitted in Public that India's first K-15 nuclear-capable submarine-launched ballistic missile with a range of 750-1000 kilometres was successfully test fired and the missile had undergone 6 Previous trials in secret and by 2013 K-15 had completed 12th and final trials before it was cleared for induction .
Development of submarine-launched ballistic missile was part of India's few Military Black Projects which was guarded under secrecy act and developed as a part of India's nuclear triad to ensure second retaliatory nuclear strike capability in case rivals decides to nuke India first. Continue reading →
SOURCE: VISHAL KARPE / FOR MY TAKE / IDRW.ORG
INS Arighat, India's Second Nuclear Ballistic Missile Submarine had a quiet launch away from the media limelight but India has already started groundwork to develop its next successor with the development of next-generation Ballistic Missile Submarine internally codenamed S5.
Unlike S4 and S4 * which are just an extended version of Arihant class, S5 SSBN will be a new design and will be nearly double the size of S4 SSBN when it is ready in another decade time. S5 will have reported surface displacement of over 13500 tonnes which is about same as Triomphant class of ballistic missile submarines operated by the French Navy but still smaller then Ohio-class submarine operated by United States Navy. Continue reading →
SOURCE: VISHAL KARPE / FOR MY TAKE / IDRW.ORG
According to latest article by India Today, India last month launched its Second Nuclear submarine into the water in a low-key event held at Ship Building Centre (SBC) in Visakhapatnam. The article which was penned down by India's foremost Defence Journalist Sandeep Unnithan who was first to break the story on India's Secretive "K SLBM" Program which does bring some reliability in the picture due to his close association with India's Nuclear submarine program over the years.
India has named its Second submarine INS Arighat and not INS Aridhaman as quite popularly known in the media for quite some time. Arighat is set to be a mirror copy of the lead Arihant class submarine, but with advancement and improvements in the submarine technology and not as speculated in media reports that second submarine will be larger and bigger than INS Arihant. Continue reading →
SOURCE: Anand SG / FOR MY TAKE / IDRW.ORG
By the end of this year, India's Classified Black Project to develop Six Nuclear Powered Attack Submarines will go official but it will be years before we hear anything credible report coming out in public, officially in the media but years of experience in development of Arihant class nuclear powered Ballistic missile submarines will no doubt come handy and technological partners in the project will make sure project is fast-tracked and don't take ages to become operationalises .
French shipbuilder, DCNS has been very keen on becoming India's Non-Nuclear Technology partner in India's Nuclear Powered Attack Submarine project in lieu for further Submarine orders under Project-75I under which India plans to procure Six Conventional Attack Submarines. Indian Navy Chief along with India's Top Submariners and key decision makers on their recent visit to DCNS Shipyards in France were given exclusive access to French Barracuda-class nuclear attack submarine which is yet to become operational. Continue reading →
SOURCE: MANJUNATH REDDDY/ FOR MY TAKE / IDRW.ORG
Recent test firing of Mach 3 Capable Supersonic BrahMos cruise missiles from a Sukhoi-30 MKI fighter aircraft brings multi-dimensional enhanced firepower to India's growing dominance in the Indian Ocean, which India likes to call it India's Ocean.
400km ranged BrahMos ALCM (Air Launched Cruise Missile ) which was tested against a stationed ship in the middle of the ocean might not have got any coverage or any fiery response from the western media like they do with each North Korean Ballistic missile tests but magnitude of BrahMos ALCM test could have been more dangerous for rivals since basically, it can impose Sea Denial capacity to countries which are trying to make aggressive ingress in Indian ocean off lately . Continue reading →
SOURCE:  HIMANSU SWAIN / FOR MY TAKE / IDRW.ORG
It was a serious concern for Indian military top brass since MMRCA fall out & the decade long deal was cancelled with a conclusion of buying only 36 Rafale aircraft instead of 215 (126 + 89 follow on order). The decision made everyone upset leaving with a doubt at IAF air superiority in the region. As the Migs are getting obsolete, there is an urgent need of around 400 fighter planes for Indian air force to get combat ready for two front scenarios. Currently India is facing shortage of modern fighter aircrafts.
However, it's sure that Pakistanis wouldn't be able to pose a threat on india while Chinese dragon may pose something which we should be aware of. Continue reading →
SOURCE: Indrajit Majumdar / FOR MY TAKE / IDRW.ORG
At first, lets check the outline of media claims:
1. The Israeli SPIKE-MR ATGM is selected as the replacement of the current stockpile of 2nd generation ATGMs.
2. The developer of the SPIKE ATGM that is the Rafale of Israel has entered into a JV with Kalyani Group to manufacturer the ATGM in India as per Make In India.
3. The Spike ATGM acquisition program is now canceled. Continue reading →
SOURCE:  HIMANSU SWAIN / FOR MY TAKE / IDRW.ORG
Some media reports that INDIA having two options for fighter plane acquisition at current scenario. Either they must Buy Single engine or Twin-engine birds. But IAF is in hurry for both Twin & Single engine fighters in her squadrons. Currently INDIA has around 250 Mig-21MF & Bison including 100 of MIG-27ML, estimated a strength of 18 obsolete squadrons.
Meanwhile, there is also shortage of Medium weight fighter planes in IAF's inventory. So, these loopholes making IAF combat readiness & power projection in Trouble. With these 3rd gen fighters, IAF can't fight two front war with her rivals. Continue reading →
SOURCE: MANJUNATH REDDDY/ FOR MY TAKE / IDRW.ORG
It was interesting to see how top management of state-owned India's Aerospace major Hindustan Aeronautics Limited (HAL) came out with all guns blazing in support of India's ingeniously developed LCA-Tejas amid recent onslaught of negative propaganda by Import lobbyists in India.
People like me who have lived long enough to follow LCA-Tejas program from its early days of its inception in mid 80's do remember how HAL as India's major aerospace company was highly critical of the project at one point of time, that it had even refused to build it for the country leading to creation of Aeronautical Development Agency ADA as a nodal agency for the design & development of LCA. Continue reading →
SOURCE: Anand SG / FOR MY TAKE / IDRW.ORG
With a Sword hanging on the project, Nibhay Project Team were under immense pressure reportedly from Previous ex-Defence Minister Manhaor Parrikar after 2016 Nirbhay Cruise missile trial failed speculatory leading to quite a few red faces in the Ministry of Defence. Repeated failure might have been attributed to different abnormalities taking place in Nirbhay Cruise missile trials but one thing was clear that Nirbhay project required one successful flight which met all objectives to sustain project development which had dragged on for over a decade without much success.
Nibhay Project after reaving multiple extensions also received another 18 months extension which was seen as last chance for the Nirbhay project Team to fix missile or be ready to see the closure of the project. Parrikar asked DRDO to Give him one perfect test flight to prevent the closure of the project so DRDO came up with another solution. Continue reading →
SOURCE:  HIMANSU SWAIN / FOR MY TAKE / IDRW.ORG
Located at the entrance of straits of Malacca having spread over 350 Islands & an area of 8250 Sq.km, The Andaman & Nicobar Island is the one of the most strategically island chain in the world. It is the only place where India's tri-service military command is operational. The straits of Malacca, world's second-busiest waterway is the passage which amounts China's 80% of China's oil imports ( nearly six million barrels of oil per day), meaning that some 40% of general consumption.
It is also known as the vocal cord to china, Japan & south Korea's energy economy. The ANC (Andaman & Nicobar Command) is the vital military establishment keeping India's hawk eye in the region as stubborn China is being more assertive now-a-days. The growing ties between INDIA & US has forced china to paly Anti-India card in geopolitics.
Continue reading →
SOURCE:  ABHOY ROY / FOR MY TAKE / IDRW.ORG
What could be the biggest flip-flop of the Modi Government in modernization of Indian air force after reducing Dassault Rafale order from 126 to just 36 is that Modi Government is actively mulling scrapping of Make in India single engine fighter (SEF) after both Swedish Saab and the American Lockheed Martin refused to Transfer Deep Technology for their Gripen-E and F-16 Block-70 to their selected partner and also trying to maintain a dominant position in their proposed local joint venture.
Request for Information issued under Single engine fighter (SEF) tender by India had called for procurement of at least 100 jets in partnership with the Private Defence companies like Adani and TATA after whichever proposal is declared a winner. Move to push Tejas over Gripen-E and F-16 Block-70 seems to be a classic case of last-minute realization that government doesn't have enough funds to procure additional Dassault Rafale, along with India's 5th generation AMCA and FGFA Program still hangs in balance. Continue reading →