India
SOURCE: TNN
Come next January and India will be able to know the exact position of aircraft flying over the vast stretches of Indian Ocean falling in airspace of its own as well as that administered by it, every 30 seconds. The Airports Authority of India (AAI) has tied up with American company Aireon that with its partners provides space-based global air traffic surveillance system. On land, planes equipped with automatic dependent surveillance-broadcast (ADS-B) systems beam their positions to ground-based receivers every few seconds.
India has 30 such receivers, which, in turn, send the positional data to connected ATC monitoring systems, giving exact position of aircraft. But when over the vast ocean, air traffic controllers (ATC) get only a rough idea of position of aircraft. Continue reading →
SOURCE: REUTERS
India hopes the US will allow its allies to continue to buy some Iranian oil instead of halting the purchases altogether from May, a source familiar with the talks between the two countries said today. The United States is expected to announce on Monday that buyers of Iranian oil need to end imports soon or face sanctions, a source familiar with the situation told news agency Reuters, triggering a 3 per cent jump in crude prices to their highest for 2019 so far.
"They (the US administration) have to take care of their allies, strategic partners. Under sanctions from the beginning, there was talk of a gradual reduction and not going to zero on one stroke," said the source, who did not wish to be identified due to the sensitivity of the issue. India, Iran's biggest oil client after China, has almost halved its Iran oil purchase since November. That was when Washington granted significant reduction exceptions (SREs) from sanctions to countries, including India. Continue reading →
SOURCE: ANI
India on Monday raised the issue of blacklisting Pakistan-based terrorist Masood Azhar with China as Foreign Secretary Vijay Gokhale met Chinese State Councillor Wang Yi and told him that Beijing needed to be "sensitive" to New Delhi's concerns. On a two-day China visit, Gokhale is understood to have made attempts to convince Wang Yi not to block a resolution to declare Azhar an international terrorist at a UN panel.
China in the past has repeatedly blocked all such resolutions by India, the US, Britain and France by placing a "technical hold" on them at the UN 1267 sanctions committee. This has soured China's ties with India where Azhar is wanted for plotting deadly terror attacks. Azhar heads a Pakistani terror outfit Jaish-e-Mohammed that claimed responsibility for killing 40 killing CRPF personnel in a suicide bombing in Jammu and Kashmir in February.
SOURCE: NEWS18
Congress president Rahul Gandhi on Monday expressed "regret" over his 'chowkidar chor hai' jibe against the Prime Minister and gave an undertaking to the Supreme Court that he will not attribute any views to the court in his political addresses unless there are specific orders.
Submitting his affidavit in response to the criminal contempt petition moved by BJP MP Meenakshi Lekhi in the top court, Gandhi accepted that the words were never used by the court and his attribution came in the heat of the moment when he was campaigning in Amethi. "It is unfortunate that this slogan got intermingled with my comments on and references to the apex court's order dated 15.04.2019. My statement was made in the heat of political campaigning. It has been used (and misused) by my political opponents to project that I had deliberately and intentionally suggested that this Court had said Chowkidar Chor Hai! Nothing could be farther from my mind," he said in his affidavit. Continue reading →
SOURCE: PTI
Pakistan on Monday criticised India for arresting and confining separatist leader Yasin Malik in connection with a case related to the funding of terror and separatist groups in Jammu and Kashmir. The National Investigation Agency (NIA) arrested JKLF chief Malik on April 10 after a special NIA court in Jammu gave the go ahead for his custodial interrogation by the probe agency.
Malik, who was shifted to Tihar jail under police protection, was taken into preventive custody in February by the Jammu and Kashmir police and shifted to Jammu's Kot Balwal jail. Malik, whose organisation JKLF was banned last month by the Centre, is also facing two CBI cases. These relate to the kidnapping of Rubaiya Saeed, daughter of then Union home minister Mufti Mohammed Sayeed, in 1989, and the killing of four IAF personnel in 1990. Continue reading →
SOURCE: NEWS 18
Even as India gave specific intelligence inputs to Sri Lanka about a possible attack, Colombo did not take "adequate precautions" to prevent the explosions that killed 218 people and injured at least 450 in the decade's worst terror strike.
Prime Minister Ranil Wickremesinghe on Sunday accepted that they had information regarding a possible attack but did not take adequate steps to prevent it. According to top intelligence sources, Zahran Hasim of National Thowheed Jama'ath of Sri Lanka and his associates had hatched a plan to carry out an Istishhad (suicide attack) in the island country. They had also conducted a dry run and deployed an explosives-laden motorcycle at Palmunai near Kattankudy on April 16 as a part of their plan. Continue reading →
SOURCE: The Statesman
The burst of (planted and motivated) stories by a section of the Western media to negate the shooting of a US-made F-16 Falcon by an IAF pilot flying an "inferior" MiG-21 Bison is neither surprising nor unexpected. It's but natural; at least to this author. Why? What's the reason?
Because, the West finds it well nigh impossible for its machine to be downed by a non-Western fighter pilot's superior performance. One, therefore, has to take into stride the condescending attitude and cacophonic propaganda to underplay, if not undermine, the performance of the Indian Air Force in trying circumstances, taking on the much-hyped "indisputable" technology superiority of the west. Continue reading →
SOURCE: Tribune News Service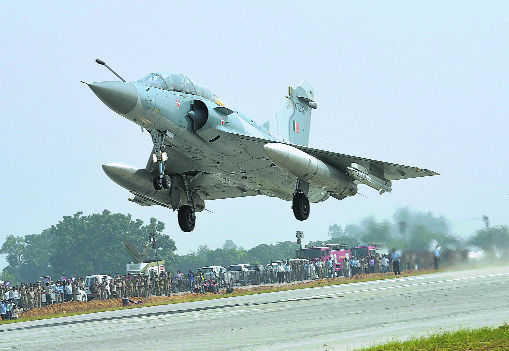 As shortage of officers crops up again after a brief spell of having no deficient vis-à-vis the authorised strength, the Air Force is revamping its publicity campaign to attract the youth. The IAF is roping in private firms to carry out market surveys to assess the impact of publicity campaigns and also to understand the mindset, aspirations, lifestyle parameters and influencers of prospective candidates, sources said.
In December, the Ministry of Defence had told Parliament that the IAF had a shortage of 192 officers against the sanctioned strength of 12,584, a deficiency of about 1.5 per cent. In 2017, the Air Force had reported that there was no deficiency in its officer cadre, a significant achievement considered that over the past couple of decades the shortfall, which at times had crossed over a thousand, was a cause for serious concern, particularly in the flying and engineering branches. Continue reading →
SOURCE: DH NEWS SERVICE
Indian Navy had no role to play in the Battle of Imphal in 1944 between the Allied forces and the Japanese during the World War-II. But the naming of one of its new warships as INS Imphal, on the 75-year of the battle on the hills, has made many in the Northeast elated and thankful to the Navy.
"In recognition of Imphal being the major battleground during WW-II, the Indian Navy launched guided missile destroyer INS Imphal. I on behalf of the people of Manipur appreciate the Government of India for the befitting recognition," Manipur Chief Minister N Biren Singh posted on Facebook, hours after the warship was "launched" in the water from Mazagon docks in Mumbai, on Saturday. Continue reading →
SOURCE: HT
The Congress said on Sunday it accepted the five pillars of Let Gen (retd) DS Hooda's national security vision paper, which proposes plans to secure India's neighbourhood and improve internal security, even as the architect of the 2016 surgical strikes said a single assault on Pakistan was not enough to change its behaviour.
The report submitted by Hooda, who was picked by the Congress to head its task force on national security, emphasises on five key issues – assuming India's rightful place in global affairs, achieving a secure neighbourhood, peaceful resolution of internal conflicts, protecting the citizens, and strengthening the country's capabilities. While addressing a joint news briefing with Hooda and former Union minister Jairam Ramesh, senior Congress leader P Chidambaram said that if the party is voted to power in this summer's Lok Sabha elections, it will try to implement the five proposals. Continue reading →
SOURCE: Air Marshal Anil Chopra (Retd) / THE HINDU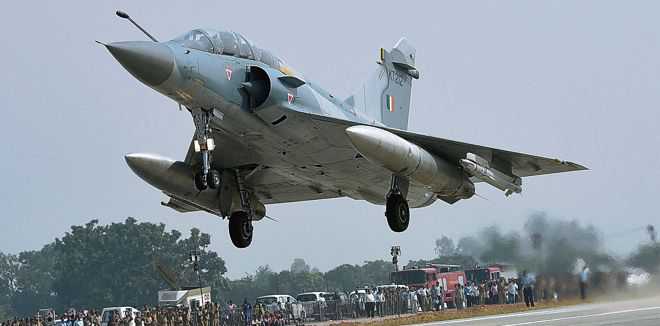 The amount of intellectual energy that the Indian intelligentsia has invested in looking for evidence to prove the failure of the surgical strike is so incredible that their 'failure-hunger' needs to be explored to look for an explanation for this undoubtedly unique Indian talent, a columnist has written. Pravin Sawhney, in his article 'Fighting tactical battles for one-upmanship' in The Tribune (April 18), has made a case that the IAF is 'following the wrong argument'. He feels that the IAF's action of breaching Pakistani airspace to hit the Balakot camp was 'tactical' and not strategic, whereas the Pakistan Air Force's (PAF) response the next day was at the operational level.
The Indian action was a deep ingress pre-emptive strike into Pakistani territory to hit a non-military target located not in Pakistan-occupied Kashmir, but in Khyber-Pakhtunkhwa. The Indian action was a departure from years of restraint in using a potentially escalatory component of military and national power. It marked a paradigm shift with strategic implications. More importantly, the action shattered the long-held Pakistani nuclear bogey. The strikes, I feel, were strategic in nature. Continue reading →
SOURCE: PTI
India must be prepared for unilateral, limited military actions against terror groups in Pakistan as it can be assured of peace only if it demonstrates its capability to defend national interests through the use of force, according a report by the Congress-constituted task force on national security. The report by the task force headed by Lt. Gen (retd.) D S Hooda, made public on Sunday, stated that India's military preparedness will have to cater for a range of response options from surgical strikes to an all-out conflict as future conflicts will see an increased blurring between the tactical, operational and strategic levels of war.
The task force also called for long-term resolution to the difficult problem of conflict in Jammu and Kashmir and said serious efforts are required for countering radicalisation in the state. Continue reading →
SOURCE: OUTLOOK INDIA
Security and terrorism are likely to be back as major issues in the Indian parliamentary elections following Easter Sunday's serial bomb blasts in Sri Lanka. A series of bomb attacks in churches and high-end hotels In capital Colombo and other parts of Sri Lanka yesterday led to the death of over 200 people and injured nearly 500 others.
So far the Sri Lankan government has taken a conscious decision of not naming the organization that was behind these attacks. This could be because it either does not have all the details yet or are afraid that revealing the names of the terror outfit could lead to further law and order problems for the government at this juncture.Though, it may not come as a surprise if in the coming days, as investigation progresses authorities in Colombo to come out with names of those behind the attacks. Continue reading →
SOURCE: PTI
For the first time in its history, Pakistan has put on display rare documents of the Jallianwala Bagh massacre to mark its 100th anniversary. The six-day exhibition showcasing about 70 historical documents related to the Jallianwala Bagh massacre and Martial Law in Punjab in April 1919 opened at the Lahore Heritage Museum here on Saturday. A year earlier, Pakistan had exhibited the archives of the trial of revolutionary leader Bhagat Singh in Lahore.
The massacre took place at Jallianwala Bagh in Amritsar (undivided Punjab) during the Baisakhi festival on April 13, 1919, when troops of the British Indian Army under the command of Colonel Reginald Dyer opened fire at a crowd of people holding a pro-independence demonstration, leaving scores dead. Continue reading →
SOURCE: ENS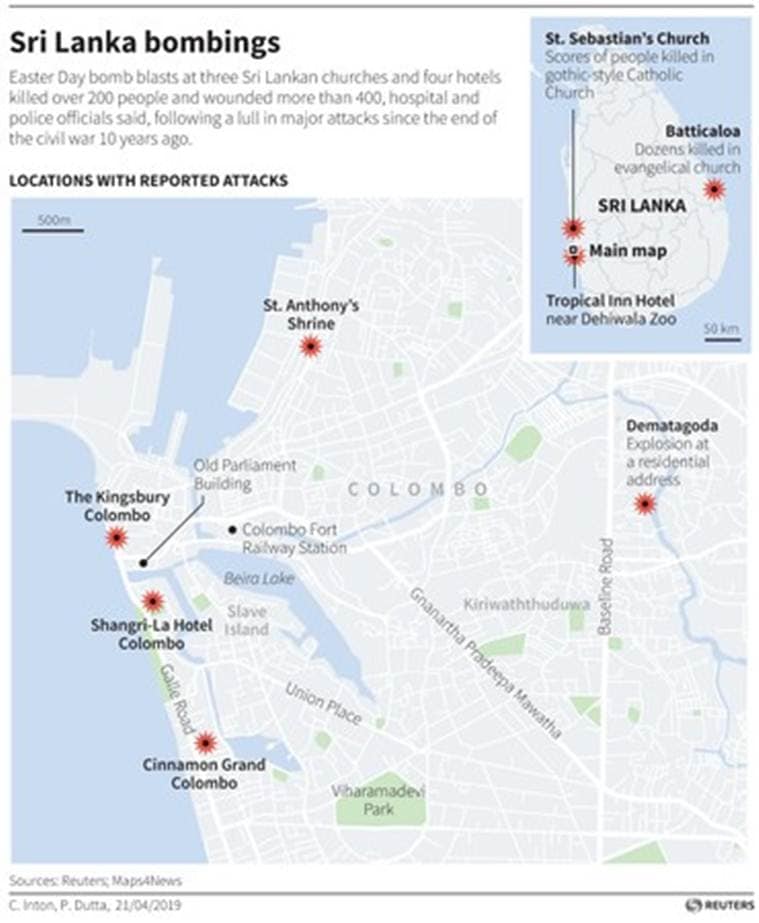 Eight serial explosions ripped through the island nation of Sri Lanka on Easter Sunday killing over 200 and wounding 450 people. The explosions which targeted three churches and prominent hotels went off at around 8:45 am (local time) when the Easter Sunday masses were underway. Seven suspects have been arrested in raids as security agencies spring to action in the country.
Four Indians are among the victims of the serial explosions, the Indian High Commission in Colombo conveyed to the MEA. They have been identified as Lokashini, Narayan Chandrashekhar and Ramesh. Continue reading →