Exclusive
SOURCE:  IDRW NEWS NETWORK
DRDO Chief Dr S Christopher has confirmed Tejas-PV1 combat aircraft, currently used to test advanced electronic warfare suite (EW suite) by Defence Avionics Research Establishment (DARE) will also be test bed aircraft to be used to integrate indigenously developed Kaveri engine .
According to Air Marshal Philip Rajkumar (retd) in his Book " The Tejas Story " had mentioned that Tejas-PV1 was specifically designed to accommodate Kaveri engine in its engine bay but it later flew with American engines but it still has been maintained by DRDO due to this attributes of the jet, so it is not surprising so see oldest Flying LCA-Tejas aircraft been selected to become test bed for Kaveri engine . Continue reading →
SOURCE:  IDRW NEWS NETWORK
HAL plans to wrap up production of its Dhruv Helicopter and complete all orders placed by Indian armed forces in 2018. Latest Dhruv Mk-III version are currently been produced at 24 helicopters a year and all 159 ordered will be delivered by 2018.
According to industrial sources close to idrw.org, HAL might bag further smaller orders from Indian Army which might keep the production line open for next few years but gradually focus will now shift towards other indigenous helicopter projects like LUH, LCH and IMRH in future. Continue reading →
SOURCE:  IDRW NEWS NETWORK / IMAGE COPYRIGHT : IDRW.ORG
After years of delays and countless hours of refinements to the radar, DRDO has finally started delivering made-in-India AEW&C to the IAF. Dubbed " Netra " (Eye) by Indian Air Force it was also the star attraction at this years republic day parade.
Indigenous AEW&C programme has succeeded in almost all aspects and recently also cleared final trials in a scenario where aircraft was actually tracking and coordinating with nearly dozen combat jets similar to operational situations under which it could normally operate in. But the bigger challenge is now to shift focus on next version that is bigger AWACS-I (India). Continue reading →
SOURCE:  IDRW NEWS NETWORK
Mistral ATAM ( Air-to-Air Mistral) are currently being integrated into HAL's Light Combat Helicopter (LCH) and are on schedule confirmed MBDA spokesman to Flightglobal. Mistral ATAM already has been integrated into Dhruv Mk IV Weapon System Integrated (WSI) and also has been test fired from Dhruv Mk IV successfully.
MISTRAL ATAM is currently the only helicopter mounted air-to-air missile in full operational service and is based on the MISTRAL missile with its fire-and-forget engagement mode, ease of operation and unrivalled kill probability. Continue reading →
SOURCE:  IDRW NEWS NETWORK
According to Government sources closer to India Today, CCS meet chaired by PM Narendra Modi cleared a proposal to ramp up the production of indigenously built LCA Tejas fighters.
CCS meet was chaired yesterday by PM Modi and one of the crucial agenda was approval for HAL to set up third Tejas production line. Continue reading →
SOURCE:  IDRW NEWS NETWORK
HAL is all set to showcase initial design mockup of Indian Multi-Role Helicopter (IMRH) at Aero India 2017. HAL is also aware that Army and Navy which have backed the indigenous project are also looking for a weaponised variant of Multi-Role Helicopter and HAL has agreed to work on developing one after consulting with Army and Navy, said an informed source close to idrw.org.
Indian Navy already has decided not to use 'Dhruv' advanced light helicopter, manufactured by HAL for Anti-submarine warfare due to size and weight of Dhruv which was found unsuitable to carry out anti-submarine warfare operations but Naval IMRH will come with Anti-submarine warfare operations requirements. Continue reading →
SOURCE:  IDRW NEWS NETWORK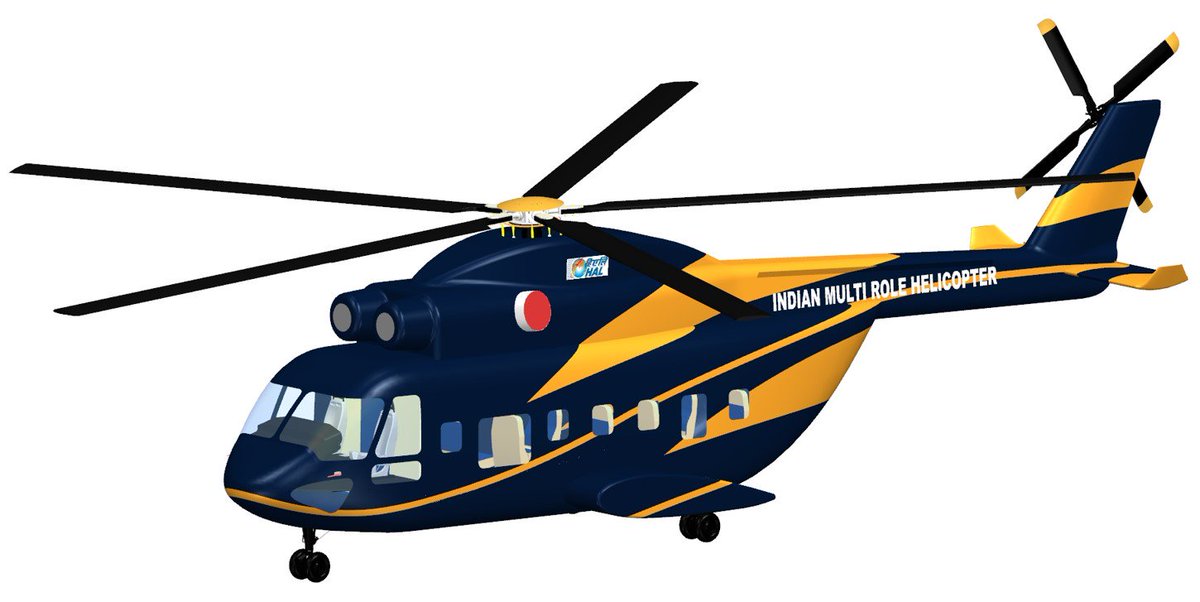 After coming under fire for initiating Upgraded Combat Hawk Project without backing from Indian Air force, which firmly rejected BAE-HAL proposal to buy the Advance version of Trainer jet. HAL has confirmed that it will be displaying a full-scale mockup of Indian Multi-Role Helicopter (IMRH) at Aero India 2017.
HAL also confirmed that IMRH both Indian Army and Indian Navy have shown interest in the big-lift next-generation chopper and both have agreed to be on board the project and IMRH is not an in-house HAL project . Continue reading →
SOURCE:  IDRW NEWS NETWORK
After been offered recently for Co-development of Kamov Ka-60 Kasatka helicopter by Russia. HAL now plans to showcase Mockup of Indian Multi-Role Helicopter (IMRH) which will replace older Mi-8/17 Helicopters from Indian armed forces. (Russia offers India Co-development of Kamov Ka-60 to replace older Mi-8 Helicopters )
Russians sensing an opportunity had earlier proposed Co-development of Kamov Ka-60 with HAL and idrw.org was first to report this development.Proposed Medium Class Helicopter will be of 13-tonne class and will be powered by twin engines and will feature blade folding option for ship deck operations. Continue reading →
SOURCE:  IDRW NEWS NETWORK
In a Bid to Push export of indigenously developed LCA-Tejas for export, HAL plans to exhibit the fighter jet in International Aerospace and Defence exhibitions in coming months.
As per Industrial sources close to idrw.org, Many countries in past who have shown interest in the jet and many high ranking officials from this countries will be in India during Aero India 2017 and HAL plans to further brief them about progress about new MK1A Standard for which Indian Air force already has placed orders for 83 units. Continue reading →