Exclusive
SOURCE : IDRW NEWS NETWORK (INN)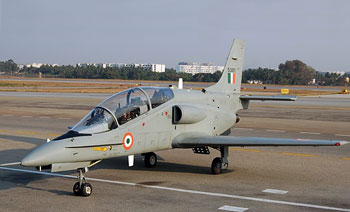 HAL's Director Design Swarna Raju in interview to Oneindia has confirmed that Hindustan Aeronautics Ltd (HAL) designed Intermediate Jet Trainer (IJT) Sitara to be used for Stage-II training in Indian Air Force and which will replace Kiran-MK1/2 trainers has undergone modification to airframe and in next 15 days will take its first flight . Continue reading →
SOURCE : Pranav D Sharma FOR IDRW.ORG
India has an air space of 3,287,264 km2 to guard against its formidable enemies, Pakistan and China, both of whom possess significant aerial threat in case of a war. More concerning is the fact that both are allies and that raises the possibility of a two front war.
So how is the Indian air defenses ready for this threat? Continue reading →
SOURCE : IDRW NEWS NETWORK (INN)
India and US after renewed and enhanced Defense Framework Agreement have agreed to work on Joint development and Production of four key defense Projects and one of them is to enhance Indian air forces C-130J with specialized electronic intelligence kits called as "Senior Scout " which is a Intelligence, surveillance and reconnaissance (ISR) system.
Senior Scout, a pallet mounted communications and electronic intelligence system, built into a trailer-like container that can be rolled on and off C-130 aircrafts. Senior Scout container also accommodates operators who collect SIGINT (signals intelligence), ELINT (electronic intelligence) and COMINT (communications intelligence). Continue reading →
SOURCE: IDRW NEWS NETWORK (INN)
India and US officials Under the Defence Technology and Trade Initiative (DTTI) talks have agreed in joint development of the jet engine technology, Indian Ambassador to US S Jaishankar to avoid further confusion also clarified that " it was much broader than the Kaveri jet engine that India is already working on" .
Clarification coming from Indian Ambassador for joint development was clear that it will not be further or enhanced development of Kaveri engine which last year was officially terminated after engine project failed to achieve its design parameters. Kaveri engine was also officially De-linked from LCA Tejas Project in 2009 and GTRE plans for a Joint venture to develop a new engine based on French designed Snecma M88-2 core with French Snecma company failed to materialise after few years of negotiation. Continue reading →
SOURCE : IDRW NEWS NETWORK (INN)
India and US Under the Defence Technology and Trade Initiative (DTTI) have agreed upon to develop next-generation hand-launched remote-controlled mini UAV which will be an advanced variant of "Raven" UAV system is manufactured by a US firm AeroVironment. Continue reading →
SOURCE: IDRW NEWS NETWORK (INN)
Defence Research and Development Organisation (DRDO) is set to conduct the first canister-based trial of the Agni-V intercontinental ballistic missile (ICBM), off the Odisha coast on 31 January. Agni-V will be first missile to get Canister variant which give missile system  short reaction time and high mobility for requisite operational flexibility' . Continue reading →
SOURCE: IDRW NEWS NETWORK (INN)
Indian Air Forces Poster Boy " Sukhoi-Su-30MKI " might have never been purchased if not to "Help a Friend in need, " said Retired IAF officials to idrw.org few years ago.
Same year, when Soviet Union Collapsed, Soviet Union desperately in need of funds and Defence orders in 1991, supplied 8 Sukhoi-Su-27 Long range air superiority fighter to China after almost gap of 30 years. Su-27 deliveries represented a major watershed moment in Sino-Soviet defence relationships, since last supplied aircraft was Mig-19, which was Produced in China without a licence and also supplied to India's Arch rival Pakistan which created a political rift between two countries. Continue reading →
SOURCE : VINAYAK SHETTI FOR IDRW.ORG
At height of Kargil War with Pakistan, in 1999, Indian Army then asked Indian Air Force to provide Air support to Indian ground troops and target Pakistani Army mens holding key positions in Mountain terrain of Kargil sector. Operation Safed Sagar was the code-name assigned to the Indian Air Force's strike to support the Ground troops during Kargil war.
IAF deployed ground attack aircrafts like MiG-21s, MiG-23s, MiG-27s, Jaguars and Mirage 2000. Mig-29A due to its limited Air to Ground capabilities was deputed to provide fighter cover for other aircrafts in conflict zone in case Pakistani jets intervened, While older Sukhoi Su-30K was kept of the war due to limited numbers operated by IAF back then. Continue reading →
SOURCE: IDRW NEWS NETWORK (INN)
Flightglobal an information based website related to the aviation and aerospace industries. have listed out widely used Top 10 military aircraft types, Interestingly India operates 4 military aircraft types and 2 military aircraft types currently are in the process of procurement.
Criteria for selection are based on Production numbers of the aircraft type and how widely it is used and in operation around the globe with countries around the world. Flightglobal list of Top 10 widely used military aircraft types are … Continue reading →
SOURCE: PRASAD CHAWAN  FOR IDRW.ORG
Media is reporting that US aims to secure agreements with India to start pilot projects for joint production of drones, as well as equipment for transport planes in talks next week ahead of a visit by President Barack Obama.
After much Hype about possible deal on Global Hawk was denied by Us officials, New media report says that US will take joint project with India of local production of RQ-11 "Raven" Hand-held Mini-UAV built by AeroVironment Inc.. Continue reading →
SOURCE : VINAYAK SHETTI FOR IDRW.ORG
US President Obama will coming to India next week and Indian media have been on overdrive on possible military deals with United States on key technologies which will kick start "Make In India" campaign started by India's Prime Minister Modi for Defence production in-country.
Contrary to the Hype which has been created in India media, reality is completely opposite. United States in past and even now does not support full Transfer of Technology (TOT) to many key allies and there is no special exemption to India too, Many of the defence deals with United States have been through Foreign Military Sales (FMS) which means there is no Transfer of Technology (TOT) involved in such deals . Continue reading →