SOURCE: TUSHKAR SHIRODKAR / FOR MY TAKE / IDRW.ORG.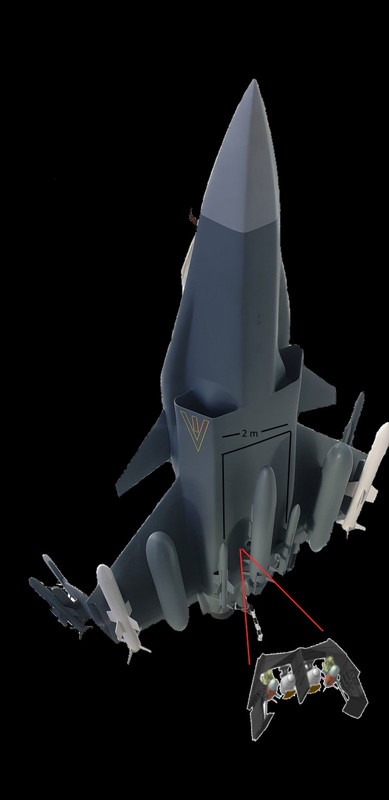 South Korea has rolled out the prototype of its next-generation indigenous fighter, officially named it the KF-21 Boramae. KF-21 exhibits some low-observable features, adopting the canted twin tails, fuselage shaping, and edge alignment, among other features but it still can't be called a 5th generation fighter jet, due to lack of internal weapons carriage and use of not so advance radar observing materials, but Koreans have plans to commence work on a more advanced derivative, featuring internal weapons carriage that will be Block 2 version of the KF-21, that can be classified as 5th generation.
Twin-Engine Deck Based Fighter (TEDBF) that ADA is developing for the Navy's Carrier-based Multi-role fighter jet also seems to have a low frontal cross-section along with Edge Extension (LEX), sharp-edged frontal fuselage, and Diverterless Supersonic Inlet (DSI) some of the elements that bring it close to a 5th generation fighter jet but it misses out on internal weapons carriage and 5th generation avionics since it will be based on most of the avionics, mission computers, cockpit display system that is borrowed from the LCA-AF Mk2 program and not AMCA program.
But does that mean the Navy has given up on its plans for operating a 5th generation Carrier-based fighter jet? it seems so for now, but the ADA has designed TEDBF that promises further development of derivates that could incorporate other features that are the key elements of any 5th generation fighter jet.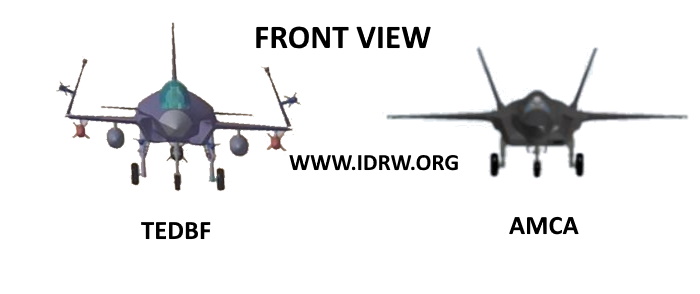 TEDBF design has a flat belly and seems to have enough space to incorporate an internal weapons carriage and above frontal landing gear comparison between AMCA and TEDBF clearly shows that TEDBF might have longer and reinforced landing gear for greater control in the demanding carrier takeoff and landing environment, but the landing gear positions also confirm that it has enough space between the undercarriage section to incorporate an internal weapons carriage.
ADA has not said much about what materials will be used in the manufacturing of the TEDBF, but going by the experience of Tejas Mk1 and LCAAF-Mk2, it is expected that it will also see high usage of composite but for AMCA we might see the use of special composite materials that are designed to absorb a high degree of radar waves in a certain section of the aircraft. ADA is not going for expensive and high-maintenance stealth coating but rather it will be using Composite Materials and Stealthy Paint to get the results, at this point of time we don't know what will be RCS of the TEDBF and if ADA plans to use special composite materials developed for AMCA in construction of the TEDBF, if they do then we can expect a good degree of stealth in the aircraft.
Most of the technologies for the AMCA are still under development especially its avionics, sensor data fusion, passive sensors, net-centric warfare, IVHM, conformal antenna, and AESA radar but most of this will be incorporated in the Mk2 variant of the jet that should be ready in 2030 at the time, TEDBF Block-I might be ready to enter production and work can start on the Block-II that includes most of this technologies.
AMCA will be getting a metallic coating of indium-tin-oxide added to the canopy to reflect the radar waves, which will give it a golden tint and ADA has confirmed the development of such coating and the same can be introduced to the TEDBF program as well. By 2030, India will have all the elements for the stealth aircraft and the same can be incorporated in the TEDBF derivate that can be stealth aircraft and the same methodology used by the Koreans to achieve its objective for its KF-21 program can be used by the ADA and Indian Navy to achieve same results.
Disclaimer : Articles published under " MY TAKE " are articles written by Guest Writers and Opinions expressed within this article are the personal opinions of the author. IDRW.ORG is not responsible for the accuracy, completeness, suitability, or validity of any information on this article. All information is provided on an as-is basis. The information, facts or opinions appearing in the article do not reflect the views of IDRW.ORG and IDRW.ORG does not assume any responsibility or liability for the same. article is for information purposes only and not intended to constitute professional advice .
Article by TUSHKAR SHIRODKAR , cannot be republished Partially or Full without consent from Writer or idrw.org