SOURCE: TUSHKAR SHIRODKAR / FOR MY TAKE / IDRW.ORG.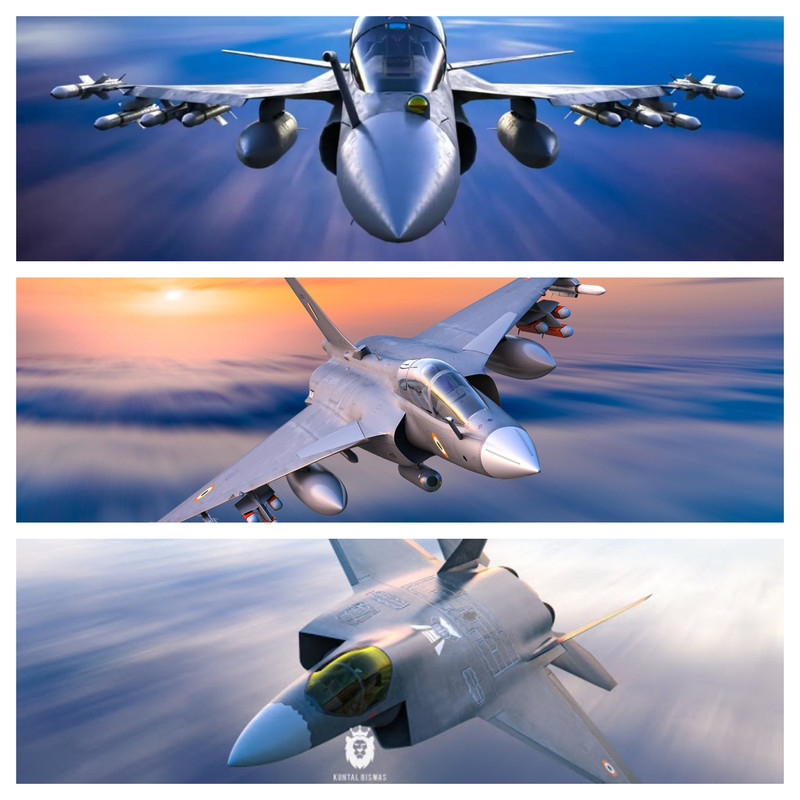 Is India moving backward when the air force around the world is advancing its self to the 5th generation fighter jet era is regular criticism that we hear in India and it has become more vocal after India revealed plans to develop two more 4.5 Generation Tejas Mk2 and TEDBF for its Air force and Navy, while it also works to develop a 5.5 Generation fighter jet called AMCA that will take another decade to materialize and enter production sometime after 2030?
While Technological superior air force like USAF has committed to carrying on operating 4.5Gen legacy jets like F-15 and F-16 till 2050, deals are still been made for procurement of American legacy jets like F-16 and F-15 even in 2021 that could mean they will remain in service fleet of their operators even beyond 2060. F-35 is the only 5th generation fighter jet in mass production in 2021 with deliveries of 123 jets in 2020 and over 600 builds to date with 11 countries and around 6-8 countries in the process of contracting a deal with the US Government. Over 3000 F-35 will be manufactured that will keep the production line busy till mid-2040.
F-35 is the benchmark aircraft for all other 5th generation fighter jets program that many countries plan to emulate but the program also highlights several problems that are associated with a 5th generation fighter program even after being produced in a most advanced country in the world by an aerospace giant that has decades of aerospace experience behind it and with two stealth aircraft (F-117/F-22) experience behind them. No Country can produce jets at the rate F-35 is being produced nor it can operate over 2000 stealth jets like USAF plans to do, yet USAF is struggling to maintain aircraft-availability rates that have dipped across with the two stealth fighter jets that USAF operates that could come as an eye-opener to many who advocate induction of more stealth jets in IAF.
F-22 fleet is facing more downrange these days, due to more breakage, and thus the need for more spare parts. the strain on the airframes and other issues with the stealth features also mean it is requiring more maintenance to maintain its stealth aspect. According to US media reports, the F-22 fleet has only 49.01% mission-capable aircraft at any period and that has plunged from initial years of 72.70% to 49.01% in the last few years. Downtime is largely attributed to stealth material cracking and chipping on the plane's nose and other sections that are additional maintenance activities that 5th generation fighters need to be addressed over regular maintenance issues with the engines and avionics of the jets.
Pentagon has confirmed that F-35 has several design flaws that are yet to be addressed and around 873 deficiencies identified in 2019. Software instability is another issue that has been one of the issues found in the F-35. Air Force's F-35A variant comes equipped with an internally mounted gun that caused structural damage in the underlying chine longeron skin near the gun's muzzle following training flights during which the pilots fired the gun. to top that F-35A internal gun system remains unacceptable since it can't shoot correctly. Even with higher induction rates, F-35 availability is just 54.67%.
Legacy jets like F-16 and F-15 continue to maintain availability rate from 65% to 72% by USAF even after decades of being in service even when 5th generation jets continue to face an poor availability rate that is below acceptable levels for the USAF that many see will be hard to reach in comparison to the legacy jets.
ADA Chief Dr. Girish Deodhare cited the same issues related to heavy downtime of the 5th generation fighter planes in a recent interview and how ADA carried out detail studies before arriving at optimal AMCA design that could reduce its downtime and keep high serviceability of the whole fleet but if big powers like USAF who have the technical experience to operate 5th generation jets for the last two decades now, yet is still not able to overcome its issues than India simply can't afford to have Hangar queens in a large number. if IAF manages to convert 50% of its fleet to 5th and 6th generation fighter jets by 2050, it will need to have the remaining 50% of its fleet of 4.5 and 4.5++ generations fighter jets maintain a high availability rate.
The U.S. Air Force Chief of Staff General Charles Q. Brown Jr. is launching a months-long study into the service's future force mix, which could include a "clean-sheet design" to replace the F-16 is looking at an all-new fighter jet design to replace its F-16s, the F-35A, originally intended as the F-16's successor and with a drop in price per unit is still struggling with a host of technical issues with the aircraft and availability rate of the jet, U.S. Air Force having a relook at its fighter jet fleet and open admission of 5th and 6th gen fighter jets will continue to suffer from low availability rate and proposal to invest in a new 4.5 gen fighter jet, in a way vindicates stand taken by the Indian Air Force that has been saying for a while now that it can't afford to have a higher fleet of 5th or 5.5 gen fighter jets without compromising its operational capabilities and why it continues to invest in 4.5 gen fighter jets like Tejas Mk1A and Mk2.
Disclaimer : Articles published under " MY TAKE " are articles written by Guest Writers and Opinions expressed within this article are the personal opinions of the author. IDRW.ORG is not responsible for the accuracy, completeness, suitability, or validity of any information on this article. All information is provided on an as-is basis. The information, facts or opinions appearing in the article do not reflect the views of IDRW.ORG and IDRW.ORG does not assume any responsibility or liability for the same. article is for information purposes only and not intended to constitute professional advice .
Article by TUSHKAR SHIRODKAR , cannot be republished Partially or Full without consent from Writer or idrw.org