SOURCE:  MAHESHA M / FOR MY TAKE / IDRW.ORG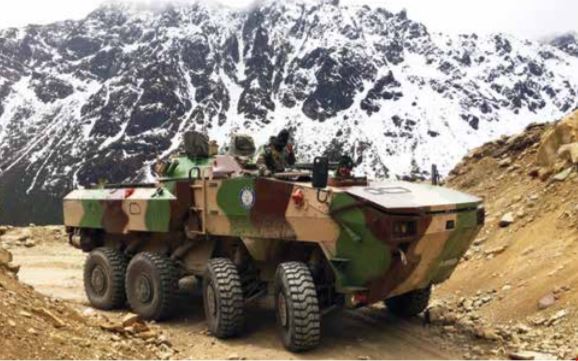 Indian Army owned WhAP 8×8 Platform which was jointly developed by the DRDO and the Indian Company TATA Motor has been spotted carrying out High Altitude trials in the Himalayan range. In 2018, the Indian Army had procured a WhAP 8×8 prototype fitted with a two-man BMP-2 turret, from the Soviet-made Infantry Fighting Vehicle.
WhAP 8×8 was first spotted in DefExpo 2018 where it was part of the live demonstration exercise. WhAP 8×8 Platform had Army registration which confirmed that it was procured by Indian Army for Internal testing which is a really rare sight to do especially a product which is yet to enter limited production. The WhAP with its BMP-2 turret comes with a Soviet/Russian 2A72 30mm autocannon which has an effective range of 2kms. WhAP can also be armed with a "Konkurs" (AT-5 Spandrel) and 9M113M "Konkurs-M" (AT-5B Spandrel B) anti-tank missiles.
Developmental trials of the WhAP were carried out in two phases. Onroad and Off-road mobility trials were conducted at National Centre for Automotive Testing (NCAT) at VRDE and a vehicle track at Mechanized Infantry Regimental Centre (MIRC), Ahmednagar.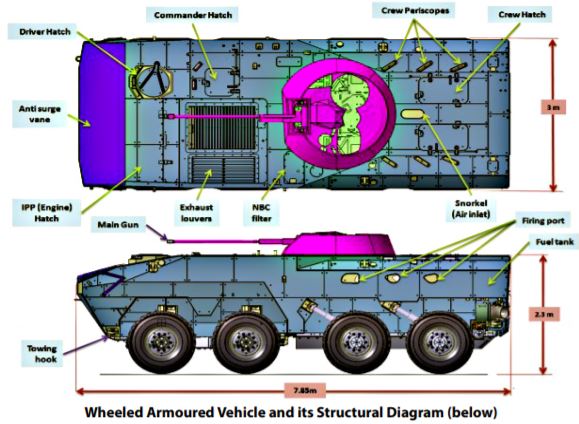 The second phase of the trials with emphasis on sand mobility and on the effect of high ambient temperature on vehicle performance were carried out at Mahajan Field Firing Range, Suratgarh. On realization of the prototype, general checks and initial running in of the vehicle was carried out. In all, the vehicle went through the following trials: (i) on-road performance trial on high speed track at NCAT, (ii) vehicle condition trials (vehicle mode: 8×8 and 8×4; CTIS and Highway mode at 80 bar; and Gross Vehicle Weight of 24770 kg), (iii) measured ambient condition (100 k Pa atmospheric pressure, 41 o C atmospheric temperature and 0.872 kg/m3 air density at test site), (iv) maximum speed performance with headlight, parking lights and the emergency flashlights ON position.
The vehicle was driven in clockwise direction for two rounds of the entire high speed track and two rounds in anti-clockwise direction with full throttle at maximum speed of 104 km/h, (v) the fuel consumption test using the top-up method on tarmac road (average fuel consumption was 1.3 km/l); (vi) vehicle range measurement (distance traveled with full tank diesel was 478 km).
Disclaimer : Articles published under " MY TAKE " are articles written by Guest Writers and Opinions expressed within this article are the personal opinions of the author. IDRW.ORG is not responsible for the accuracy, completeness, suitability, or validity of any information on this article. All information is provided on an as-is basis. The information, facts or opinions appearing in the article do not reflect the views of IDRW.ORG and IDRW.ORG does not assume any responsibility or liability for the same. article is for information purposes only and not intended to constitute professional advice .
Article by  MAHESHA M /,  cannot be republished Partially or Full without consent from Writer or idrw.org