SOURCE: ASHOK VERMA / FOR MY TAKE / IDRW.ORG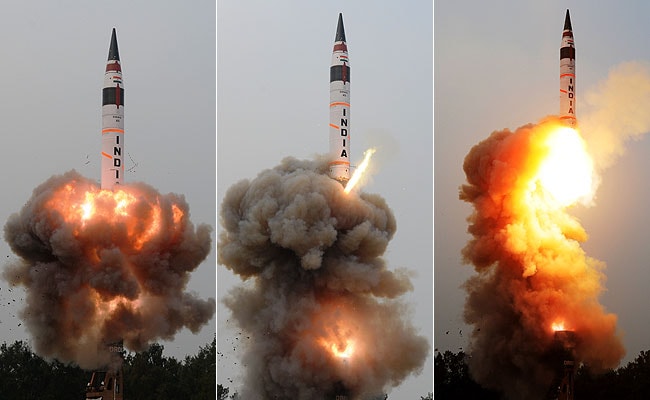 19 April 2012 will always be remembered when India barged into an Elite club of countries who have technology to develop an Intercontinental ballistic missile with a minimum range over 5500km.
Three-stage solid fuelled missile with composite motor casing in the second and third stage carried forwarded many technologies which were already developed for Agni-III, but this 50-tonne mammoth missile system did make more countries nervous about India's intention then the country which was specifically developed for.
China Killer
Dubbed " China Killer " by Indian and Western media for its ability to strike any target in the whole of China, made even Chinese media and Diplomats take notice and respond to Indian missile development for the first time. Chinese military Analysts were first to call India's bluff when they predicted that the 50-tonne missile had the capability to strike targets as far as 8000km bringing in its range many European and South-east Asian countries and the whole of Australia.
Agni-V for China was a major development in the region which could do serious damage to its cities and military infrastructure in case of war with India. Agni-V was also a better realisation to Chinese military planners that Agni-V with its range and Canister Road Mobility can be fired from anyplace in India thus providing India certain level of immunity against Chinese pre-emptive strikes on Mobile units of the missile systems.
Agni-V out of Public View?
India's Quest for membership of Nuclear Suppliers Group (NSG) and Missile Technology Control Regime (MTCR) meant in last two years serious efforts were made in India, not to hype capabilities of the Agni-V missile in the media and to avoid unnecessary world attention missile system also has disappeared from Republic Day Military Parades held in New Delhi every year.
In last 5 years it has been tested four times and in last two tests missile has been tested fired from a canister, which has rapidly improved mammoth missiles road-mobility features.with all developmental trials successfully been completed, Next will be user trials of the missile by the Strategic Forces Command (SFC) which will be initiated this year before it enters mass scale production .
Where is Agni-VI ??
The government of India under Domestic and International pressure is not confirming if the development of next land based long range missile dubbed Agni-VI is under development with a range of 6500km to 10000km nor there is any official confirmation that DRDO has got government approvals and funds for development of next land based long range missile.
DRDO already has confirmed to media that it has all necessary technologies in place to develop next long-range missile with Multiple independently targetable reentry vehicle (MIRVs) capabilities but Western Defence Analysts have questioned why India requires MIRV Capable Long range missiles when both Pakistan and China do not have any Anti-Ballistic missile system in place which can intercept Indian Agni Missile Series .
Do we still need New land-based ballistic missiles?
Indian Defence Analysts have predicted that Agni-V or Agni-VI could be last Long range Intercontinental ballistic missile ever developed by India and focus might now shift to increase the range of Agni-V and Agni-VI (if ever developed) with the use of better technologies and MIRV warheads to increase the reach of the missile and India's depth without actually taking next big step.
While other Indian Defence Analysts have suggested that it is high time for India to move underwater and focus more or developing long range Submarine-launched ballistic missiles which will further cement India's Strike Capabilities.
Time to go Under Sea ?
DRDO under India's Secret " K " Series SLBM Program already has developed K15 (1000-1800km) and K-4 (3500-5000km) Submarine-launched ballistic missiles both of which have completed its developmental trials successfully and reported already integrated into lone lead Nuclear Arihant class ballistic missile Submarine already inducted into Indian Navy.
Indian media reports suggest India might be developing Two more new " K " Series SLBMs which might have an official range of 6000-12000 km and more, thus ensuring Indian missile systems does get Strategic depth to target any place in the world while keeping heat and pressure of the Indian land- based ballistic missiles programs.
Disclaimer : Articles published under " MY TAKE " are articles written by Guest Writers and Opinions expressed within this article are the personal opinions of the author. IDRW.ORG is not responsible for the accuracy, completeness, suitability, or validity of any information on this article. All information is provided on an as-is basis. The information, facts or opinions appearing in the article do not reflect the views of IDRW.ORG and IDRW.ORG does not assume any responsibility or liability for the same. article is for information purposes only and not intended to constitute professional advice .
Article by ASHOK VERMA ,  cannot be republished Partially or Full without consent from Writer or idrw.org
Note: If you have personal opinion and want to contribute for" MY TAKE "on Defence matters kindly email us at idrw.org@gmail.com