SOURCE: IDRW NEWS NETWORK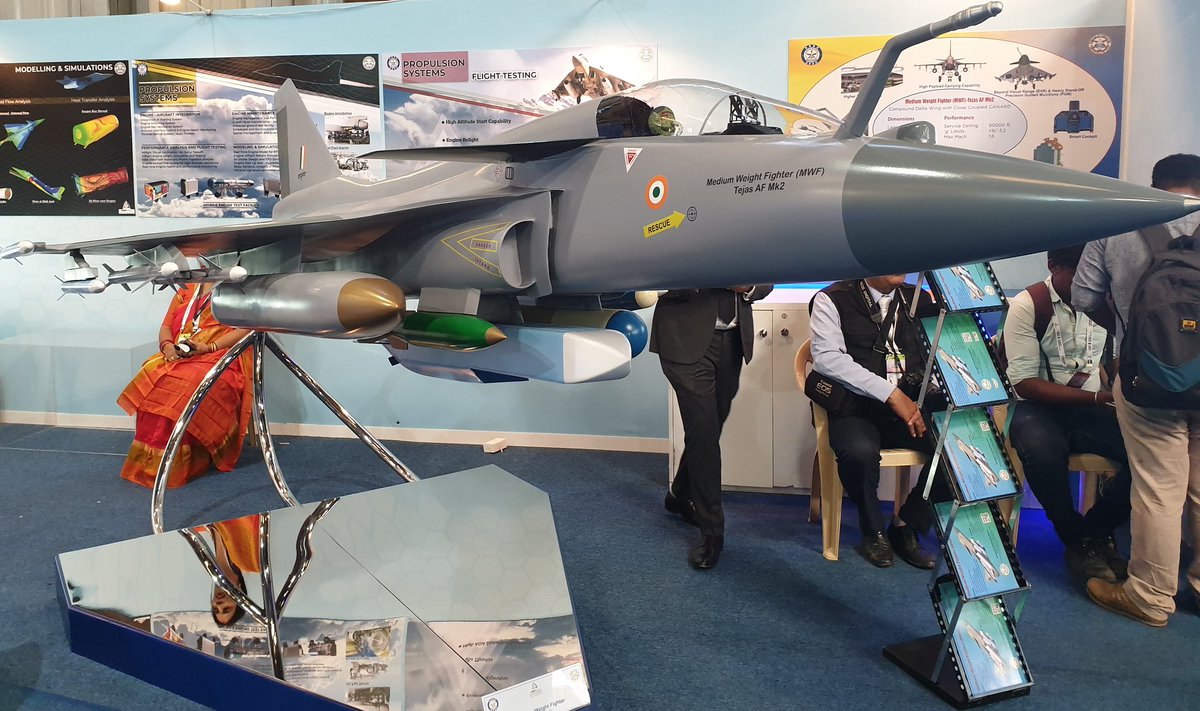 DRDO has finally showcased its Medium Weight Fighter (MWF) also known as Tejas Mk-2 at ongoing Aero India 2019. As previously reported by idrw.org, MWF now Sports Canards but the most interesting revelation has been wingtip pylon which means MWF will now sport 11 Hard-point instead of previously estimated 9 hard-points after Gryazev-Shipunov GSh-23 gun position was moved from right intake to the upper spine of the MWF.
Additional Wingtip pylons for Close Combat Missile (CCM) and use of Dual pylons for BVRAAMs will mean MWF will be able to carry huge mix badge of weaponry in Mixed configuration if required for Multi-role operations.
MWF can also been seen with Long Range Dual Band Infrared Imaging Search and Track System (IRST) on its nose cone. Addition of IRST allows MWF fighter to identify and track enemy aircraft through their heat signature and engage them with heat-seeking air to air missiles. All modern aircraft come with IRSTs either mounted on its air-frame in front of the canopy or on the belly of the aircraft. It helps aircraft to track enemy aircraft without using radars and exposing itself to passive detection.
OFFICIAL DIMENSIONS 
LENGTH: 14.60M
SPAN : 8.50M
HEIGHT: 4.86M
SERVICE CEILING : 50000 ft
G LIMITS: +9/-3.2
MAX SPEED : 1.8 MACH
MTOW : 17500 KG / 17.5 TONNES 
NOTE : Article cannot be reproduced without written permission of idrw.org in any form