SOURCE: RAUNAK KUNDE / NEWS BEAT / IDRW.ORG
Light Combat Helicopter (LCH) will be holding several demonstrations for Military attachments of foreign embassies in India at the upcoming Aero India 2019 who have previously shown interested in procurement of the attack helicopters after program recently achieved a major milestone last month when LCH was cleared of all weapon trials.
LCH TD-4 which is near production variant of the LCH will be holding flying demonstrations for potential customers after Ministry of Defence (MOD) cleared HAL developed LCH for export. HAL will be soon be awarded a contract for 15 Limited Serial Production (LSP) of LCH at Aero India 2019 and HAL already have started work on first 7 LSPs of LCH. Continue reading →
SOURCE: Tribune News Service
An upgraded version of the Arjun tank, having better firing and mobility, has been accepted by the Army following month-long validation trials in Rajasthan.The trials were completed in December last and a report has followed. The Army is looking at 118 pieces of the new version. In 2010-11, the first version of the Arjun had joined the Army and 124 pieces had been ordered.
The production of the new version, dubbed as Arjun 'Mark 1-A', is likely to commence within this year at the existing facility at Avadi in Tamil Nadu. It has a total of 14 upgrades over the existing version. These include an auto-target tracker, automatic gear system and improvement in suspension.Only the missile firing ability remains to be validated, which will be done once the missiles, being developed by the DRDO, are ready. The DRDO missile programme has been a major success and firing of missile from a tank is being fine-tuned. Continue reading →
SOURCE: PTI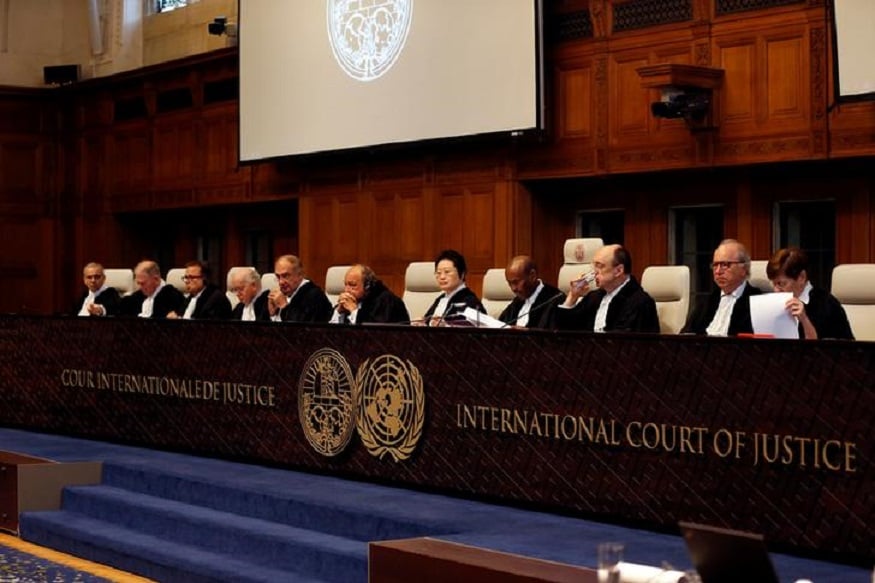 The ad hoc judge for Pakistan in the International Court of Justice (ICJ) suffered a cardiac attack during the hearing of Indian national Kulbhushan Jadhav's case on Monday, according to a Pakistani media report.
Tassaduq Hussain Gillani, 69, suddenly suffered a heart attack and was rushed to the hospital, however, his health was said to be stable, Abb Takk news reported. Sources said that he is being given treatment in hospital.The ICJ began a four-day public hearing in Jadhav's case on Monday. Continue reading →
SOURCE: Tribune News Service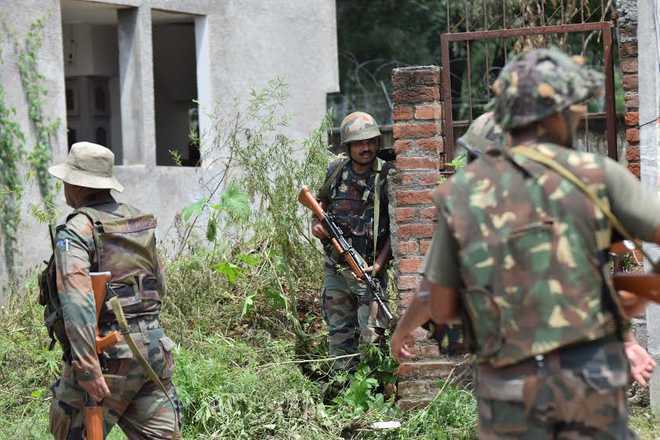 Four Army personnel, including a major, and two Jaish militants were killed in an encounter in Jammu and Kashmir's Pulwama district on Monday, three days after a suicide bomber from the group drove his explosives-laden vehicle into a CRPF bus in the area, defence officials said. A civilian was also killed in the exchange of fire in Pinglan area of Pulwama district, they said."The militants are believed to be linked to the February 14 car bombing," a defence spokesperson said.One of the militants killed had been identified as Hilal Ahmed, a local believed to be from the Jaish-e-Mohammed, officials said.
Police have identified the soldiers killed in gunfight as Major Vibhuti Shankar Dhoundiyal, Havildar Sheo Ram, Sepoy Hari Singh and Sepoy Ajay Kumar. Continue reading →
SOURCE: ANI
Actor-turned-politician Kamal Haasan has batted for a plebiscite in Kashmir and questioned the government as to what they are "afraid of". At an event here on Sunday, the Makkal Needhi Maiam leader Haasan said, "Why India is not holding a plebiscite in Kashmir?  What are they (government) afraid of?"
Referring to Pakistan occupied Kashmir (PoK) as 'Azad Kashmir', he said: "In Azad Kashmir, they are using Jihadis' pictures in trains to portray them as heroes. That is a foolish thing to do. India too behaves with an equal amount of foolishness, it is not a correct thing to do. If we want to prove that India is a far better country then we should not behave like this. That is where politics begins, a new political culture begins," he said. Continue reading →
SOURCE: ET
Pulwama attack has brought terrorist Maulana Masood Azhar, the Jaish-e-Mohammad founder who was released following the hijacking of IC-814, back in the spotlight. Former Intelligence Bureau official Avinash Mohananey , who served in J&K and Pakistan, revisits his long interrogatory sessions with 'Pulwama mastermind' at Kot Bhalwal Jail, Jammu, from 1994 to 1999
Twenty-five years ago in November 1994, I showed Omar Saeed Sheikh's photograph to Maulana Masood Azhar to find out more about their relationship. By that time, Azhar had been in detention for about eight months and I had been regularly interacting with him. Every meeting with him would be an addition to the knowledge about Pak-based 'jehadi' groups, their mentors and the role of the ISI. He was always forthcoming with details to fill any gaps in our understanding of various 'jehadi' organisations. Azhar did not recognise Omar Saeed Sheikh. Continue reading →
SOURCE: ENS
The Indian Space Research Organisation has recently had a discussion with representatives from various armed forces in the country to select astronauts. "The process (of selecting astronauts) is already on and an announcement for selection will be made soon," said K Sivan, Chairman, ISRO, here on Monday.
He was speaking at the inaugural of a two-day international seminar on "Emerging Frontiers in Aerospace Technology", organised by Defence Research and Development Organisation ahead of Aero India 2019. Taking a dig at critics, he said that ISRO was capable of completing Gaganyaan by the scheduled deadline of 2021. "The speciality of Gaganyaan is that it has to be completed in 40 months. Many, even people from aerospace sector, are doubting whether we can achieve it.  Continue reading →
SOURCE: PRESS TV
Pakistani Foreign Minister Makhdoom Shah Mahmood Qureshi says Islamabad will send an expert delegation to Tehran to hold talks with Iranian officials about a recent bloody terrorist attack that targeted members of Iran's Islamic Revolution Guards Corps (IRGC). In a phone call with Iranian Foreign Minister Mohammad Javad Zarif on Sunday, Qureshi condemned the bomb attack in Iran's southeastern province of Sistan and Baluchestan on Wednesday and expressed sympathy with the bereaved.
The top Pakistani diplomat said his country was ready for any cooperation with Iran to probe the tragic incident and boost the joint fight against terror.The attack killed 27 IRGC members and wounded 13 others with the so-called Jaish ul-Adl terrorist group claiming responsibility for the bombing. Iranian officials say the group moved to carry it out from inside Pakistan. Continue reading →
SOURCE: ET
China appeared to be reviewing its stance on the issue of declaring Masood Azhar — head of Pakistan-based Jaish-e-Mohammed (JeM) — a global terrorist, after the uproar in India over the Pulwama killings. While the Chinese foreign ministry has condemned the attack , there was no mention of Azhar in its statement.
Beijing is weighing its options before taking a decision on the sensitive issue because it will upset its close ally, Pakistan. It had repeatedly helped Pakistan by blocking India's efforts to get Azhar listed by the UN Security Council as a global terrorist. Continue reading →
SOURCE: Tribune News Service

Multiple scenarios are emerging in Kashmir — some scripted by the Pakistan army, others stemming from the evolving status of Afghanistan where Taliban is being 'mainstreamed' , thanks to the US, Russia and China bringing their versions of what should define 'peace' in the troubled country.
On Thursday, an explosive-laden vehicle driven by a suicide bomber had rammed into a CRPF convoy in Pulwama killing 40 personnel. The style is similar to attacks carried out by the 'Islamic State' and the Taliban. For India, its security forces and the people of Kashmir, such suicide attacks threaten to become the new normal. And that is a reason to worry, says a serving Army officer, who has recently commanded a unit in Kashmir. An explosive-laden vehicle can be rammed literally anywhere and "predicting it would be impossible", he says. Continue reading →
SOURCE: PTI
The Supreme Court Monday refused to entertain a PIL seeking court-monitored investigation into incidents of fighter plane crashes including the recent crash of Mirage-2000 trainer aircraft near Bengaluru in which two Indian Air Force (IAF) pilots were killed.A bench comprising Chief Justice Ranjan Gogoi and Justice Sanjiv Khanna said there cannot be a judicial inquiry into such mishappenings."The Supreme Court cannot undertake judicial enquiry into mishappenings involving fighter jets," the bench said.
"From which generation, this Mirage aircraft belongs," the bench asked petitioner lawyer Alakh Alok Srivastava. As the lawyer couldn't respond, the apex court said, "The Mirage aircraft belongs to 3.5th generation of fighter jets" and added, "You don't know the factual things, but you need judicial enquiry". Continue reading →
SOURCE: PTI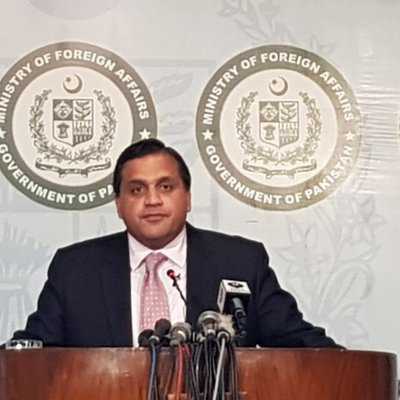 In a tit-for-tat action, Pakistan on Monday called back its High Commissioner from India for "consultations" amid heightened bilateral tensions after the Pulwama terror attack, days after New Delhi asked its envoy in Islamabad to return.
Foreign Office spokesperson Mohammad Faisal said envoy Sohail Mahmood left New Delhi on Monday morning."We have called back our High Commissioner in India for consultations. He left New Delhi this morning," he said on Twitter.It was not immediately clear as to how many days he will stay in Pakistan. Mahmood was on Friday summoned in New Delhi by Foreign Secretary Vijay Gokhale who lodged strong protest over the killing of 40 CRPF soldiers in Pulwama. Continue reading →
SOURCE: PTI
The Opposition Shiromani Akali Dal Monday sought dismissal of Punjab minister Navjot Singh Sidhu for his "utterances" in the aftermath of the Pulwama attack even as Akali leader Bikram Singh Majithia and the cricketer-turned-politician exchanged barbs in the House. Before the start of the Punjab Budget session, Akali leaders led by Majithia burned the photographs of Sidhu including those in which he is seen hugging the Pakistan Army chief, outside the House.
Sidhu visited Pakistan to attend the oath-taking ceremony of Khan, a cricketer-turned-politician, on August 18 last year "Before everything else, we want to know the clear stand of the Congress and the Punjab government. Continue reading →
SOURCE: IDRW NEWS NETWORK
In Aero India 2017, Hindustan Aeronautics Limited (HAL) showcased a 1.1 scale mock-up of 12.5 ton Indian Multirole Helicopter (IMRH) which company believed will be an ideal replacement for the imported Mi-17 Helicopter fleet which has been the backbone of the Indian armed forces in the helicopter flying units for decades now. Hindustan Aeronautics Limited which is suffering from huge financial crunch is mulling stopping development of the program from its internal funding due to this impact.
But IMRH according to sources close to idrw.org was a non-starter after Indian Army and Indian Navy both were not much impressed with the program and also raised concerns if the final product will be any better than the Mi-17-V Helicopters which it plans to replace in the first place. Continue reading →