SOURCE: US NAVY PR
The U.S. Naval Research Laboratory (NRL) with funding from SwampWorks at the Office of Naval Research (ONR) and the Department of Defense Rapid Reaction Technology Office (DoD/RRTO) demonstrated the launch of an all-electric, fuel cell-powered, unmanned aerial system (UAS) from a submerged submarine. From concept to fleet demonstration, this idea took less than six years to produce results at significant cost savings when compared to traditional programs often taking decades to produce results.  Continue reading →
SOURCE: FOX NEWS
Submarine had capability to carry aircrafts ( Model Image )
A Japanese submarine that was lost at sea after it was intentionally scuttled by the U.S. Navy during World War II has been located by a team of explorers off the coast of Hawaii.
A spokesman for the University of Hawaii at M?noa said in a press release the discovery of the Imperial Japanese Navy's mega-submarine, the I-400, solves the decades-old mystery of where the submarine lay on the ocean floor. Continue reading →
SOURCE: GIZMODO
Representation image
This is not the first time that the US Army Research, Development and Engineering Command (RDECOM) has talked about their desire to get a real life version of Iron Man's suit for soldiers, but now it's giving a very specific time frame: "The goal is to have a contract in place by next fall and have suits ready for full field testing in about four years." Continue reading →
SOURCE: WANT CHINA TIMES
The Fleet Air Recon Squadron One of the United States Navy — also known as VQ-1 — has been described as an "old friend" of China, according to a commentary published by the Global Times, a tabloid under the auspices of the Communist Party mouthpiece People's Daily.
The commentary comes after Beijing established its Air Defense Identification Zone (ADIZ) in the disputed East China Sea on Nov. 23. According to the Global Times report, aircraft assigned to VQ-1 have once again begun to carry out reconnaissance missions against China. On Nov. 29, a EP-3E from VQ-1 and a P-3C from another US unit entered the Chinese ADIZ twice before being intercepted by the PLA Air Force's Su-30 and J-11 fighters. Continue reading →
SOURCE: PTI
The US should change its policy to allow more Indian-Americans to join the military without compromising on their religious beliefs and practices, the only three Sikh soldiers in the US Army say.
Major Kamaljeet Singh Kalsi, Captain Tejdeep Singh Rattan and Corporal Simran Preet Singh Lamba are the only three Sikhs serving in the US Army currently.  Continue reading →
SOURCE: ANI
The secret code for authorizing the launch of US nuclear missiles and used for nearly 20 years, was a shockingly simple '00000000′.
The no-brainer code was in use between 1962 until 1977 when John F Kennedy required the use of Permissive Action Link (PAL) security encoding on nuclear weapons. Continue reading →
SOURCE:  USA TODAY
 An American carrier battle group and a flotilla of Japanese warships will arrive Wednesday near a vast stretch of ocean claimed by China in what is shaping up as a test of how Prime Minister Shinzo Abe and the USA will stand up to the challenge.
The joint U.S.-Japan exercises in the sea are a direct challenge to China's claim. On Tuesday, the U.S. military said two Air Force B-52 bombers flew over the sea without notifying Beijing despite China's demand that it be told if anyone plans to fly military aircraft over its self-claimed "air defense zone." Continue reading →
SOURCE: INDRUS
What do terrorists and air force generals have in common? The answer is both have recurring nightmares about drones. This is because these unmanned aerial vehicles threaten to put both groups out of business.
The irony is that despite the growing sophistication and endurance of drones – which are performing strike missions that were until recently the air force's exclusive preserve – both Russia and the United States have green-lighted the development of long-range strike bombers. The new projects are not going to substantially improve Russian or American security but are guaranteed to leave gaping holes in their defence budgets. Continue reading →
SOURCE: THE AVIATIONIST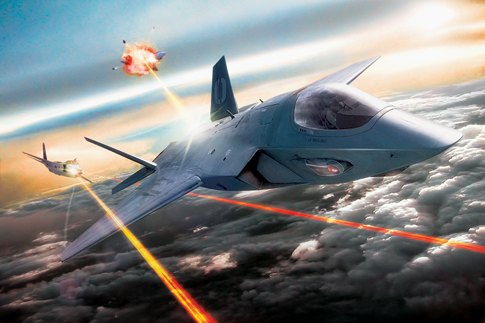 According to the recently published RFI (Request for Information), the ARFL (Air Force Research Laboratory) is looking forward to development of the laser weapons for next generation fighter jets.
Even if this is an Air Force initiative, it is possible that the Navy and US Army will run similar independent research programs.The U.S. Air Force plans to employ laser based weapons by 2030. Continue reading →
SOURCE: THE AVIATION
Earlier this year, Pentagon Press Secretary George Little, said that an IRIAF (Islamic Republic of Iran Air Force) F-4 Phantom combat plane attempted to intercept a U.S. MQ-1 drone flying in international airspace off Iran.
As we reported back then, one of the two F-4 Phantom jets came to about 16 miles from the UAV but broke off pursuit after they were broadcast a warning message by two American planes escorting the Predator. Continue reading →